These frosty Watermelon Slushies are great on hot days when you want a healthy treat. Five easy ingredients make them super simple to make!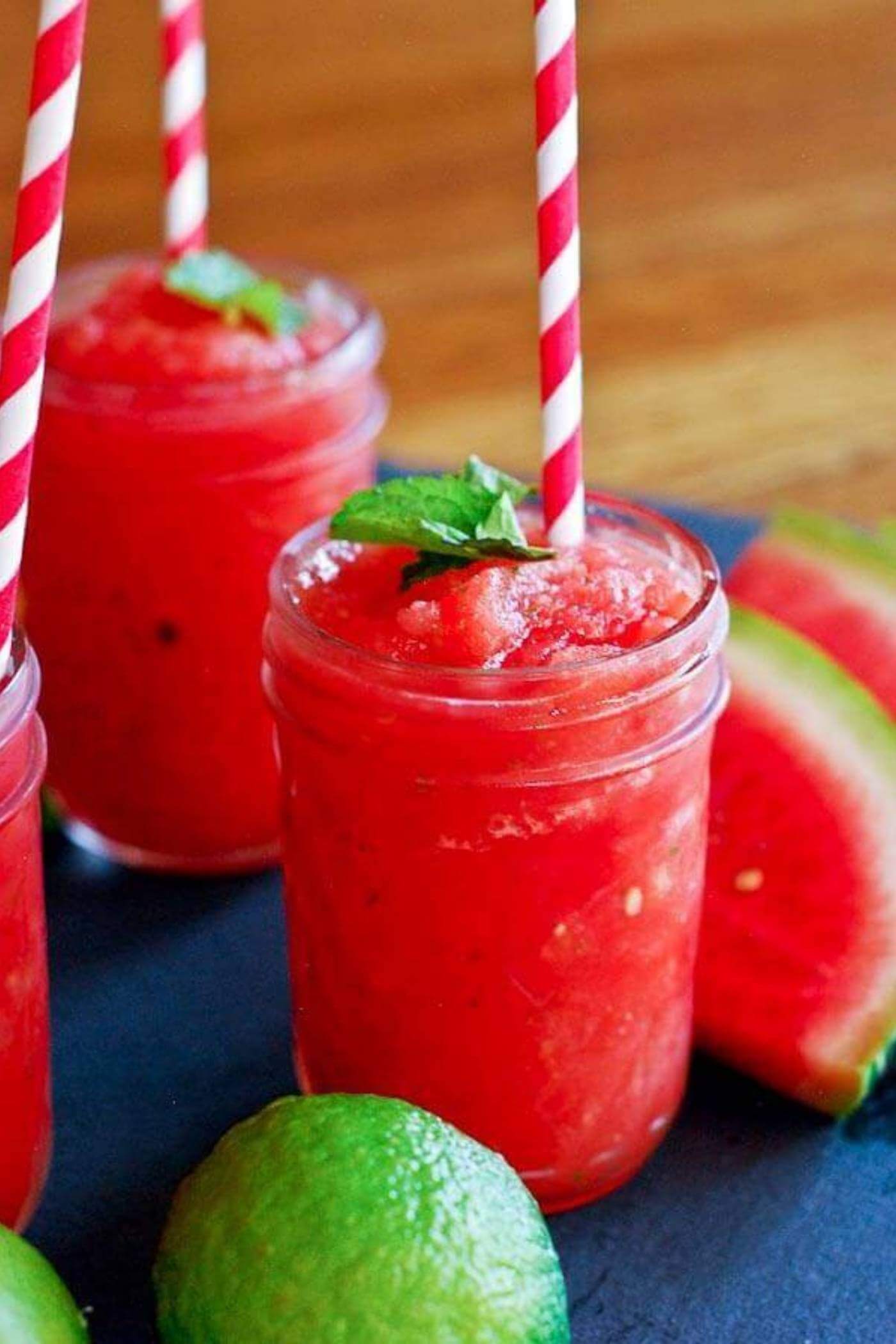 Ok, so here's a predicament you may find familiar. You're strolling through your neighborhood Costco and find a giant watermelon for only $4.99. And by giant, I mean huge. Massive. Even Costco labels them as jumbo, which, for a store that regularly sells 25-pound bags of sugar is saying something.
How can your family even consume that much watermelon? "But it's only $4.99", you reason. "Surely we will eat it and there must be something I can do with it if we don't."
Five days later: Barely a dent is made in said watermelon and you're wondering how on earth it's taken over your whole fridge.
Not to fear!! This problem is easily solved by……watermelon, cucumber, and mint slushies! (And a little room in your freezer for future batches!)
These watermelon slushies are best served on HOT days (we still have a few!), and are a great, mostly healthy treat if you want to serve your kids something special but don't want it weighed down with artificial sugars and additives. It has only 5 ingredients and can be whipped up in a snap.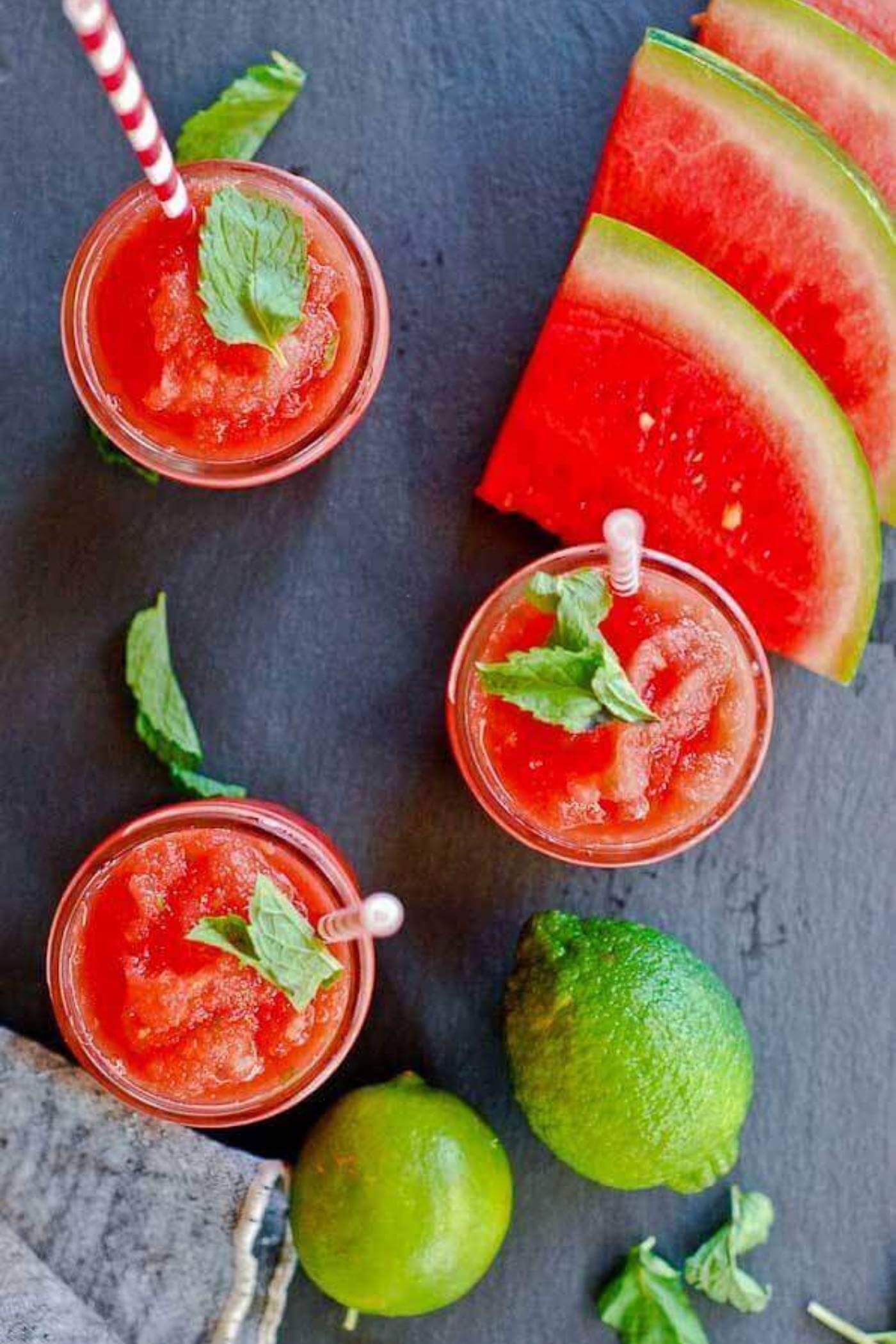 What's In These Watermelon Slushies?
This recipe is so fresh and healthy due to the simple ingredients used:
Watermelon, of course. One nice thing you may appreciate is that if your watermelon has been lurking in your fridge for longer than you'd like, and has taken on that slightly mushy consistency, this is a great use for it. Freezing it, blending it, and adding a few other bright ingredients will help cover up watermelon that may be slightly past its prime.
Fresh cucumber. They're filled with tons of vitamin k, b, and c and other minerals. I prefer to peel and seed the cucumber for these smoothies as the skin can be a bit tough and give the smoothies more of a bitter taste and no one wants to find the stray seed in their drink.
Honey. For just a touch of sweetness
Mint and Lime. These flavors complicate each other so much and really round out the flavors in this watermelon smoothie.
How To Make Them
Ready to make these delicious watermelon slushies? Here's what you do:
First, chop up your watermelon into smallish chunks and pop them in a few freezer bags. This recipe uses about 3-4 cups of frozen watermelon so if you segment your bags like that, it makes it super easy when it comes time to make these. Then, into the freezer they go! (If you're happening upon this recipe for a drink NOW, sorry, it's best to let the watermelon cubes freeze for the best slushie. But, you can thank me for at least making a little bit of room in the fridge for now.
Once your watermelon cubes are frozen and you're ready to make your slushie, take them out of the freezer (you may need to let them thaw for just a couple of minutes to soften), throw them in your blender, add 1 cup of peeled, chopped, seedless cucumber (you can just cut the cucumber core out if you don't have a seedless one), a ½ tablespoon of finely chopped mint, the juice of half a lime, 1 tablespoon of honey, and then blend until you reach a nice smooth consistency.
If your mixture is a little thicker than you'd like, you can add a handful of ice to thin it out a bit.
That's it. Done! The easiest frozen drink on the planet!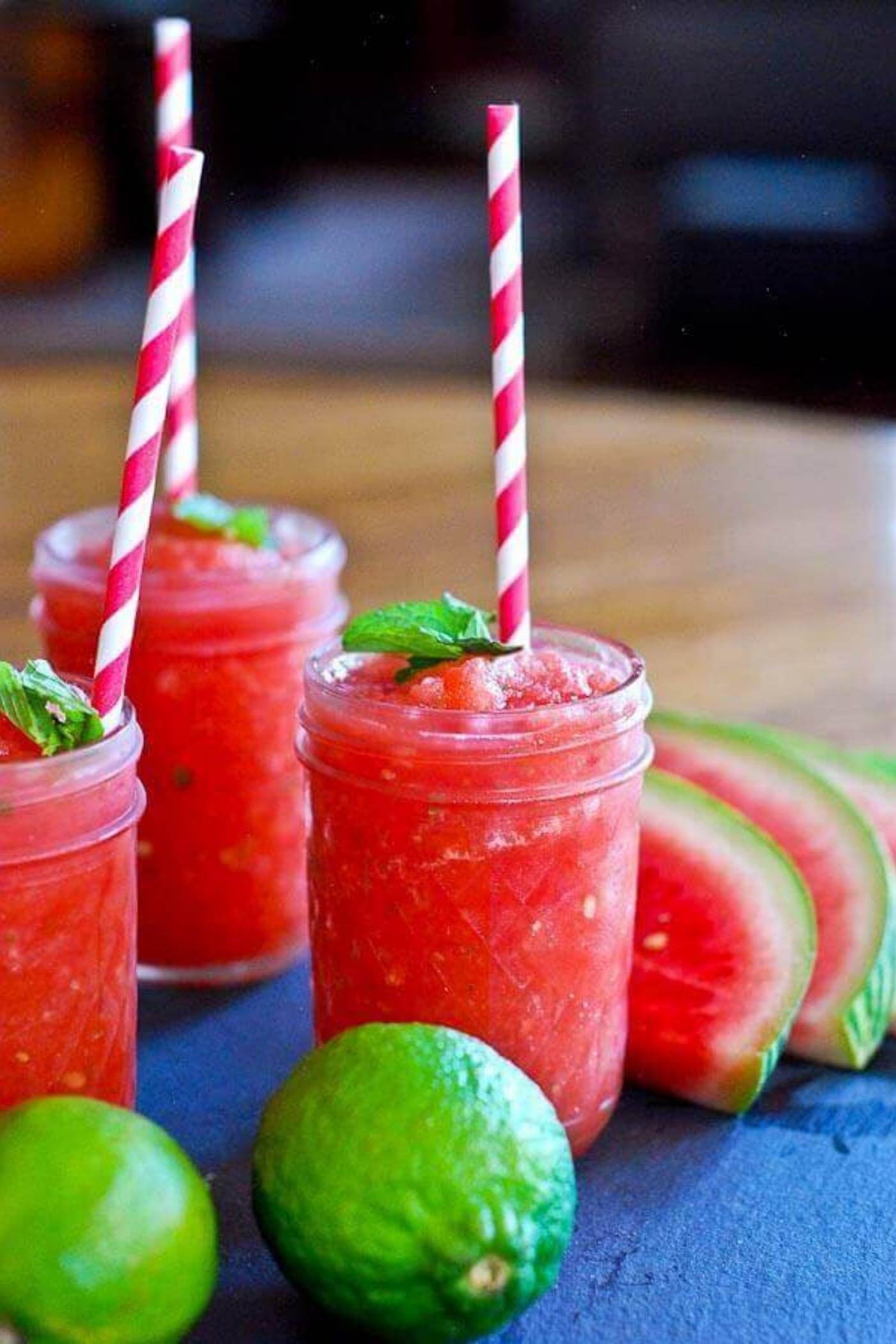 So refreshing and simple that even my 5-year-old could make them, and perfect for the whole family. And if you find yourself serving these on a warm Friday evening, topped off with a little bit of vodka or gin, all the better. No judgment here my friend.
If you make these Watermelon Slushies, I'd love it if you'd take a pic and tag me on Instagram!
More Great Summer Recipes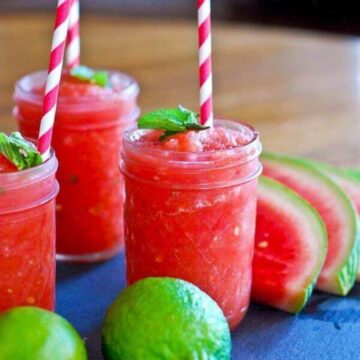 Watermelon Slushies
These frosty watermelon slushies are great on hot days when you want a healthy treat. Five easy ingredients make them super simple to make!
Ingredients
3-4

cups

chopped, frozen watermelon

1

cup

chopped seedless cucumber, peeled

½

tablespoon

finely chopped mint

juice from ½ lime

1

tablespoon

honey
Instructions
Add frozen watermelon, cucumber, mint, lime juice and honey to a blender.

Blend mixture until well combined and consistency is smooth.

Garnish cups with fresh mint or lime wedges.