This recipe for Peach Ice Cream is the best and uses fresh, ripe in-season peaches and a creamy custard base for the perfect summertime treat! Plus, it's a snap to make in your ice cream maker!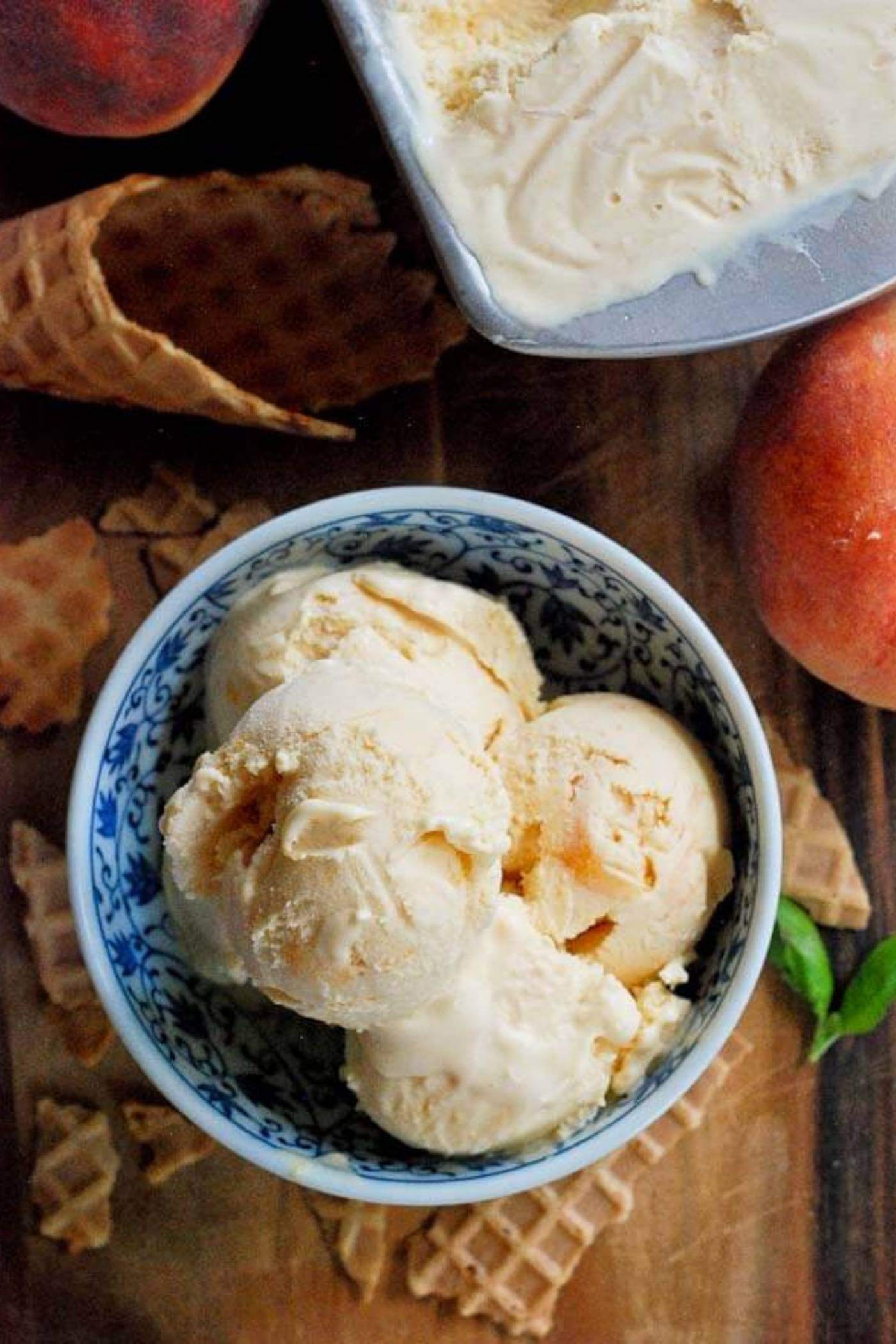 Hellooooo!! By now you probably all know how much I love peach season…salads, pies, cobblers, chutneys…..I can't get enough! So it's no surprise then that I'm now coming to you with a new recipe for homemade peach ice cream.
This peach ice cream recipe is so creamy a
Ice cream is one of those things that sounds a bit intimidating to make but actually isn't at all. We use to have homemade ice cream at birthday parties growing up. My uncle would make it with rock salt and it's still one of my favorite food memories. You can of course make ice cream the old-fashioned way, using ice, rock salt, and a lot of mixing (my preschooler did this with his class last year so it's not as complicated as it sounds). However, a modern ice cream maker makes this process even easier by doing all the freezing and churning for you.
You can make ice cream in a couple of different ways. The first way is with a custard base, which uses egg yolks, milk and cream, and sugar. The second way uses just milk and/or cream and sugar (which is just regular ice cream). And, while custard-based ice creams take a bit longer to make, the thick, rich, creamy results are by far worth the extra effort.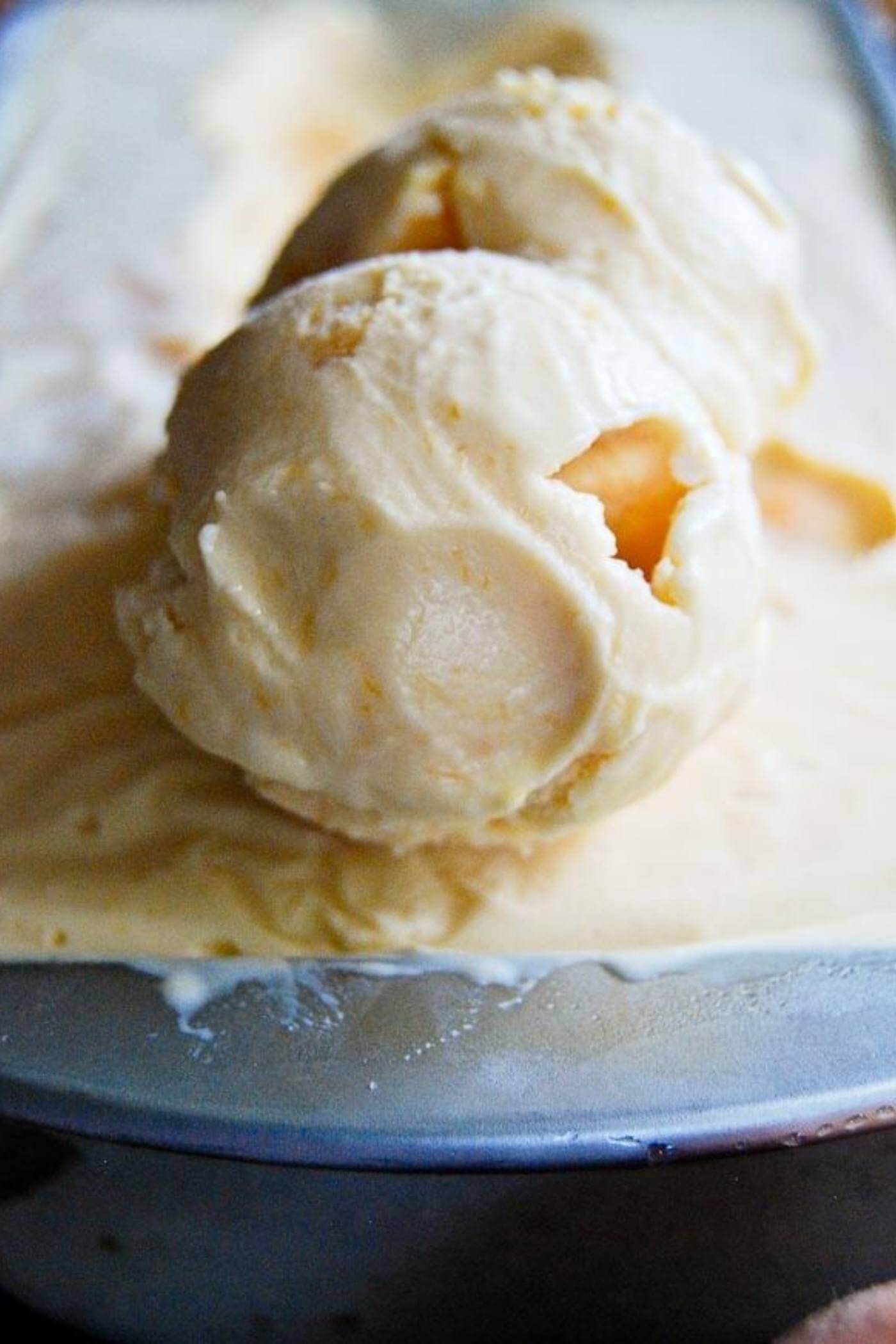 How To Make Peach Ice Cream
This recipe uses (surprise) a custard base and fresh, ripe peaches, slightly sweetened and pureed to give it a smooth, creamy texture and a delicious peaches and cream summery taste. I also strayed away from using the traditional vanilla extract here and added a bit of almond extract instead, which compliments the peach flavor and really lets the sweetness of the peaches shine.
Here's how to make it:
Start by peeling your peaches (see a super easy tutorial on how to do that here!). Once your peaches have been peeled, slice them up and place them in a bowl with half a cup of sugar, lemon juice, and some almond extract. This will macerate your peaches, a process that softens them and makes them nice and juicy. Allow your peach mixture to sit for 60 minutes, then blend everything to a nice and smooth consistency in a food processor or blender.
This custard base can really be used with any flavor of ice cream you choose. Making the custard is a bit of an art, but really just takes time and patience. You have to heat your cream mixture up, and then slowly add a portion of it to your egg yolks and sugar (a process called tempering) before combining everything and heating it some more. Slow and steady wins the race here – after all, no one wants scrambled eggs in their ice cream.
Once your custard is made, just cool it in the fridge, and combine it with your peach mixture.
Add your peach custard to your ice cream maker and churn according to the manufacturer's instructions.
After churning everything in your ice cream maker, you can choose to eat it right away (soft serve!) or place it in a container to freeze for a few hours. You can pretty much use any airtight container to freeze it in. Or place the ice cream in a small pan and cover the whole thing with plastic wrap (making sure to press the plastic wrap to the top of the ice cream to prevent any ice crystals from forming).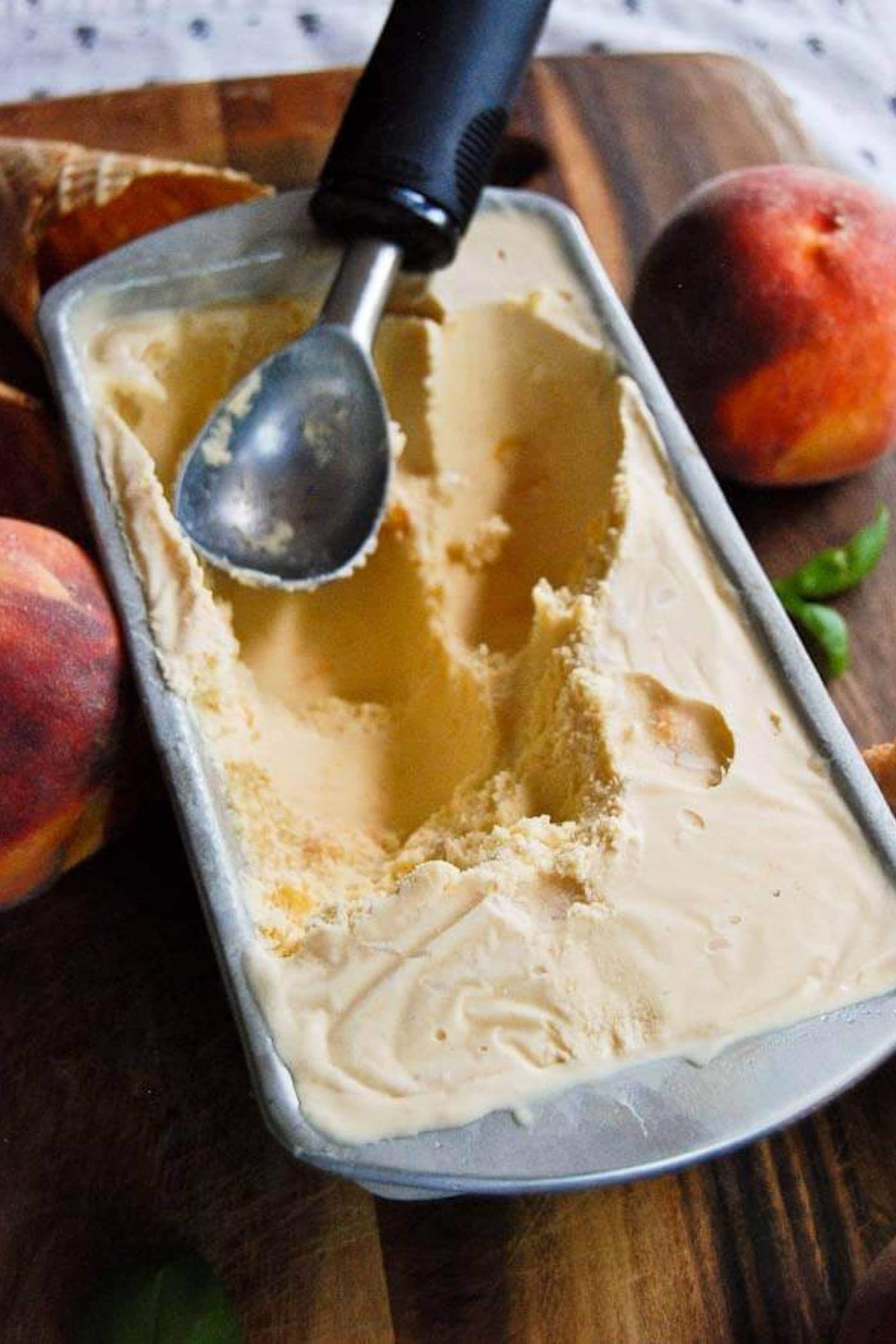 Helpful Hints
Give your peaches enough time to macerate. Make sure you're allowing the peaches enough time to sit with the sugar, lemon juice and almond extract. Not only will this make it easier for you to get the peaches to blend to a nice and smooth consistency, it allows the flavors of the peaches to really open up and gives this ice cream that delicious peaches and cream taste.
Strain your custard! Let's face it, tempering eggs can be somewhat difficult, even for the most experienced cook. It's entirely possible that you will have some bits of scrambled egg in your custard mixture. Do yourself a favor and make your custard extra smooth by straining it before placing it in the refrigerator to cool. It just makes the texture of your ice cream so nice and creamy.
Keep the peach bits small. Unless you want to bite into a giant peach ice cube, keep any bits of peaches as small as you can.
Allow the custard to cool completely before adding it to your ice cream maker. This is just common sense. You want the ice cream to turn cold so give your custard time to cool off in the fridge before you start the churning process.
Don't fill your ice cream maker too full. The whole point of churning the ice cream is to whip air into it, making it light and fluffy (can ice cream be fluffy?) This means that the volume of ice cream you put in will increase in size as the machine churns, leaving you with a giant overflowing mess if you add too much of your custard mixture at once. (I may have experienced this once or twice).
Keep your ice cream from getting too hard. While I didn't do it in this recipe, a tip to keeping your homemade ice cream from getting too hard after you place it in the freezer is to add a few tablespoons of vodka (or other alcohol that you think might compliment the peaches.) Alcohol doesn't freeze so it helps prevent ice cream from emerging as an ice block from the freezer. (Read more about this method and a few other tips on preventing rock hard ice cream from David Lebovitz here.)
Give this Peach Ice Cream a try! It's a fun treat to make with your kids and the peaches and cream flavor tastes sooo good on a hot summer day! If you do make it, please let me know what you think in the comments below. And make sure to tag me on Instagram. I LOVE to see your creations!
More Frozen Treats!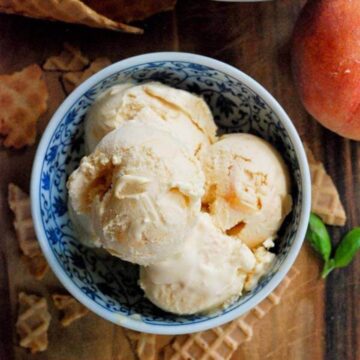 Peach Ice Cream
This recipe for peach ice cream is the best and uses fresh, ripe in-season peaches and a creamy custard base for the perfect summertime treat! Plus, it's a snap to make in your ice cream maker!
Ingredients
4

large peaches, peeled and chopped

1

cup

sugar, divided

½

teaspoon

lemon juice

½

tsp

almond extract

2

cups

heavy cream

1

cup

whole milk

5

egg yolks

¼

teaspoon

salt
Instructions
Peel and dice peaches and combine them with ½ cup of sugar, lemon juice, and almond extract. Mix well and let the peaches rest in this combo for about 60 minutes, at room temperature, until the mixture is syrupy and the peaches have softened.

In a small blender or food processor, puree the peach mixture until smooth.

To make the custard base, heat the cream, milk, ¼ cup of sugar, and salt in a saucepan over low-medium heat. Do not let the mixture boil – you don't want to burn the cream! 

In a large bowl, beat the egg yolks with ¼ cup of sugar until well combined.

Temper the eggs by very slowly adding ½ cup of the hot cream mixture to the egg mix. Stir continuously for a minute or so, then slowly add another ½ cup of cream.  Continue stirring, then repeat the process once more.

Once the eggs have been tempered, pour them into the saucepan with the remaining custard base and stir over low- medium heat for several minutes (again, don't bring it to a boil!). You'll know that the custard is ready when it starts to become thicker and lightly coats the back of a spoon. If you're using a thermometer, you're looking for a temperature of about 175°.

Using a fine mesh strainer, strain the custard into a clean bowl to remove any lumpy bits of egg that may have formed.

Combine the custard base with the pureed peach mixture and stir well to combine.

Cover and refrigerate the mixture for 2 hours, or until fully chilled. (This is important since the ice cream will have a hard time setting if it's not cold when it goes into your ice cream maker.)

Pour the mixture into your ice cream maker and follow the instructions for churning until it starts to thicken and freeze.

Transfer to a container and place in the freezer until frozen. If using a pan, cover well with plastic wrap, making sure to press the plastic wrap to the top of the ice cream. This will prevent ice crystals from forming on the top of your ice cream.

If serving after frozen, allow the ice cream to sit at room temperature for about 5 - 10 minutes after taking it out of the freezer to soften.