This Easy Peach Cobbler is incredibly simple and very forgiving. Easy enough to whip up on a weeknight and oh so delicious.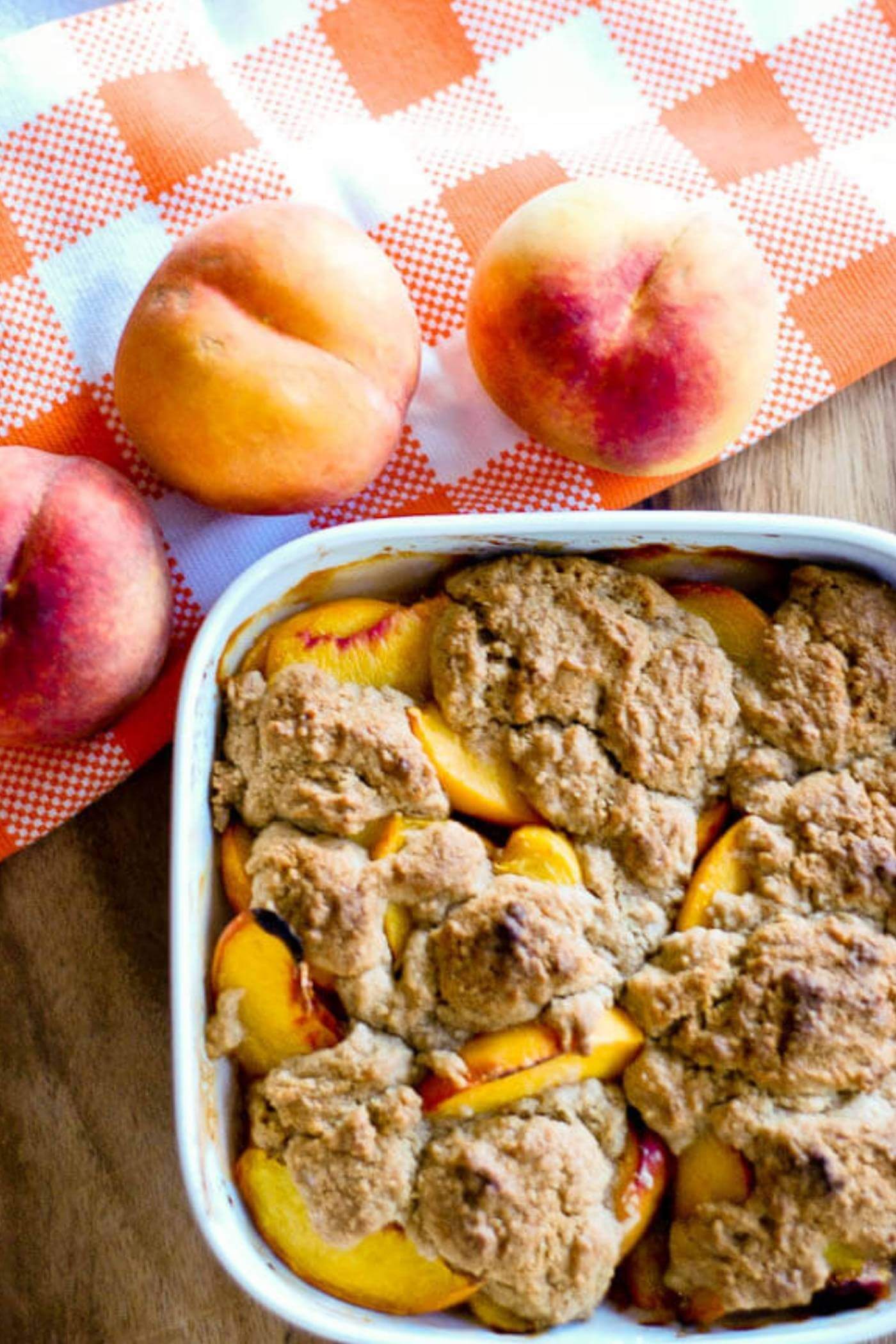 Mid September – we should be rolling in the fall leaves, sipping on hot, spiced drinks, and pulling out our coziest sweaters. Instead, here in Colorado, we're still hitting up the swimming pool, sucking down popsicles, and donning our tank tops (or "muscle shirts", as my boys like to call them). It's been over 90 degrees 8 out of the past 10 days here and quite frankly, though I love you summer, I'm a bit sick of it.
But, the one upside is that we are still enjoying some of the deliciousness of summer. (Even though I feel like I should be planning Halloween costumes and whipping up cold-weather stews.) My garden is still going strong, and it still feels acceptable to drink Rose out on our pack porch, so that's basically a win. "If you can't beat em…" and all that jazz.
We were able to score some big, juicy end-of-season peaches last week. And while they were still pretty good, they lacked a bit of their original shine that the peaches of early August had. If you ever find yourself in this predicament, there are still tons of things that you can do with peaches that have lost a bit of their luster. Chutneys, smoothies, glazes, and of course, baked goods are all great ways to use up fruits that may be a bit past their prime. And since the hubs loves a good cobbler, peach cobbler it was!
How To Make This Easy Peach Cobbler
This peach cobbler is really, really easy. So easy that I was able to whip it up on a school night and not even break a sweat (even in this sweltering heat!).
Start by preparing your peaches. This only involves baking them in the oven with some sugar, cornstarch, and seasonings.
Next, whip up an easy pastry topping. Don't freak out here. This is not as complicated as pie dough, or anything like that. It's really just whisking your dry ingredients together, cutting in the butter, and adding a little water if needed. It's easy enough to do by hand, but could be made even easier in a food processor. No chilling involved or rolling out dough.
Drop the topping over your peaches, and then bake the whole thing until you have a beautiful golden crust with a bubbling peach mixture below. All of which takes about half an hour.
Cobbler is one of those really forgiving dishes to make. You just whip up a mix of pastry, literally drop clumps of it onto your fruit, and then pop it in the oven and wait. You can't screw it up. This is seriously easy! And really, truly, amazingly delicious.
Do I Need To Peel My Peaches For This?
You could, but personally, I don't. The skins don't bother me a bit. And when you're feeling in a lazy, cobbler-making type of mood, it's just too much to mess with. (Save that for peach pie!).
If you are feeling inclined to peel your peaches, here's a handy guide of how to easily do it.
Wait, How Is This Cobbler Different From A Crisp?
Both delicious in their own right, there is a slight difference between cobblers and crisps. Cobblers are typically made from pastry-type dough while crisps use oats and sugar as their toppings.
Similar, but the crisp is generally, well, crispier given the oats, and cobbler has a much softer biscut-like consistency. Team cobbler or team crisp? I'll leave it up to you to decide.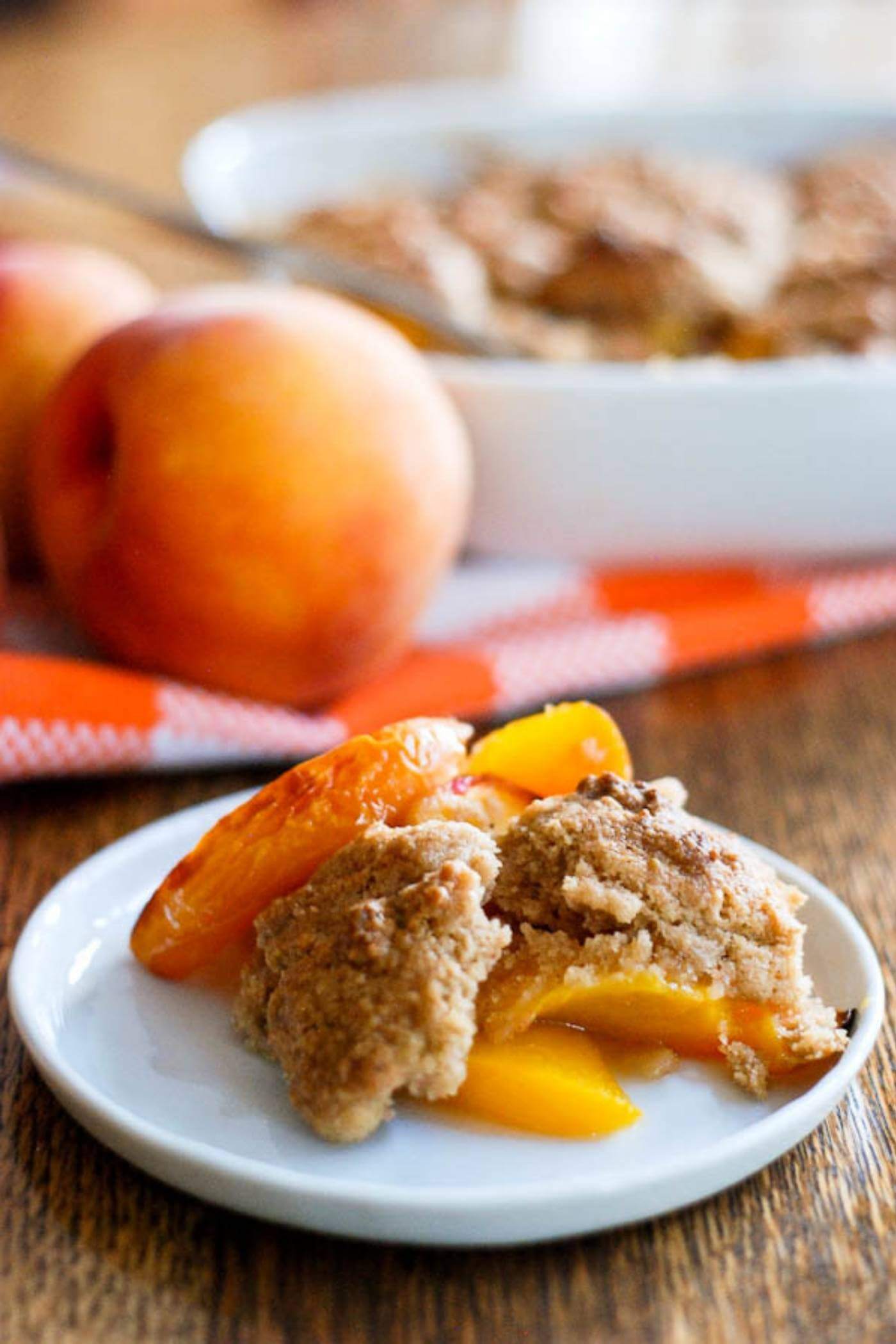 Can I Make Cobber With Other Fruits?
Yes! In fact, the other really great thing about this cobbler recipe is that you can use it as a base for most any other fruit cobbler and it comes out amazing. Blueberry, strawberry, blackberry, apple, cherry...all amazing for these warm weather months.
And, even if pumpkins are steadily replacing the peaches on your grocer's shelves, keep this cobbler recipe in your back pocket. Because I can think of about 10 different ways I'm going to use it this winter. Apple and raisin cobbler, pear and dried cherry cobbler, savory pumpkin and spice cobbler….hurry up and get here fall! I'm waiting for you!
If you try this Easy Peach Cobbler recipe, please let me know what you think in the comments! I'm dying to hear!! And don't forget to tag me with a pic on Instagram!
More Delicious Peach Recipes!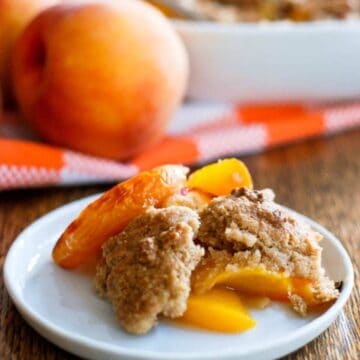 Easy Peach Cobbler
This easy peach cobbler is incredibly simple and very forgiving. Easy enough to whip up on a weeknight and oh so delicious.
Ingredients
6-8

large peaches, pitted and thickly sliced

¼

cup

white sugar

1

tablespoon

lemon juice, plus 1 teaspoon of zest

1

teaspoon

cornstarch

1

teaspoon

nutmeg, divided

1

cup

all-purpose flour

½

cup

dark brown sugar

1

teaspoon

baking powder

1

teaspoon

cinnamon

½

teaspoon

salt

¾

stick cold unsalted butter

¼

cup

water (if needed)
Instructions
Butter the bottom of a 2 qt baking dish.  Add peaches, white sugar, lemon juice, ½ teaspoon nutmeg, and cornstarch and combine well.  Bake for 5 minutes in the oven.

Meanwhile, prepare the topping. Stir together the flour, brown sugar, baking powder, cinnamon, nutmeg and salt until well combined. 

Cut butter into small pieces blend it into the flour mixture to form a coarse meal, almost like wet sand.  (you can do this with a pastry blender, but I find it just as easy to combine it with your fingers.)

Stir in just enough of the water to thin out the mixture a bit. It should still form nice clumps and should not be runny.

Once peaches are finished cooking, remove them from the oven and spoon the topping over them. Don't worry about getting this perfectly even – the mixture will spread out as it bakes so just try to be symmetrical when dropping your spoonfuls of topping over the peaches.

Return the dish to the oven and bake for about 25 minutes, or until the top is golden brown and your peaches are bubbling.