This easy Spicy Peach Chutney is easy to make and goes great with pork chops, grilled chicken, charcuterie boards, or on grilled cheese sandwiches!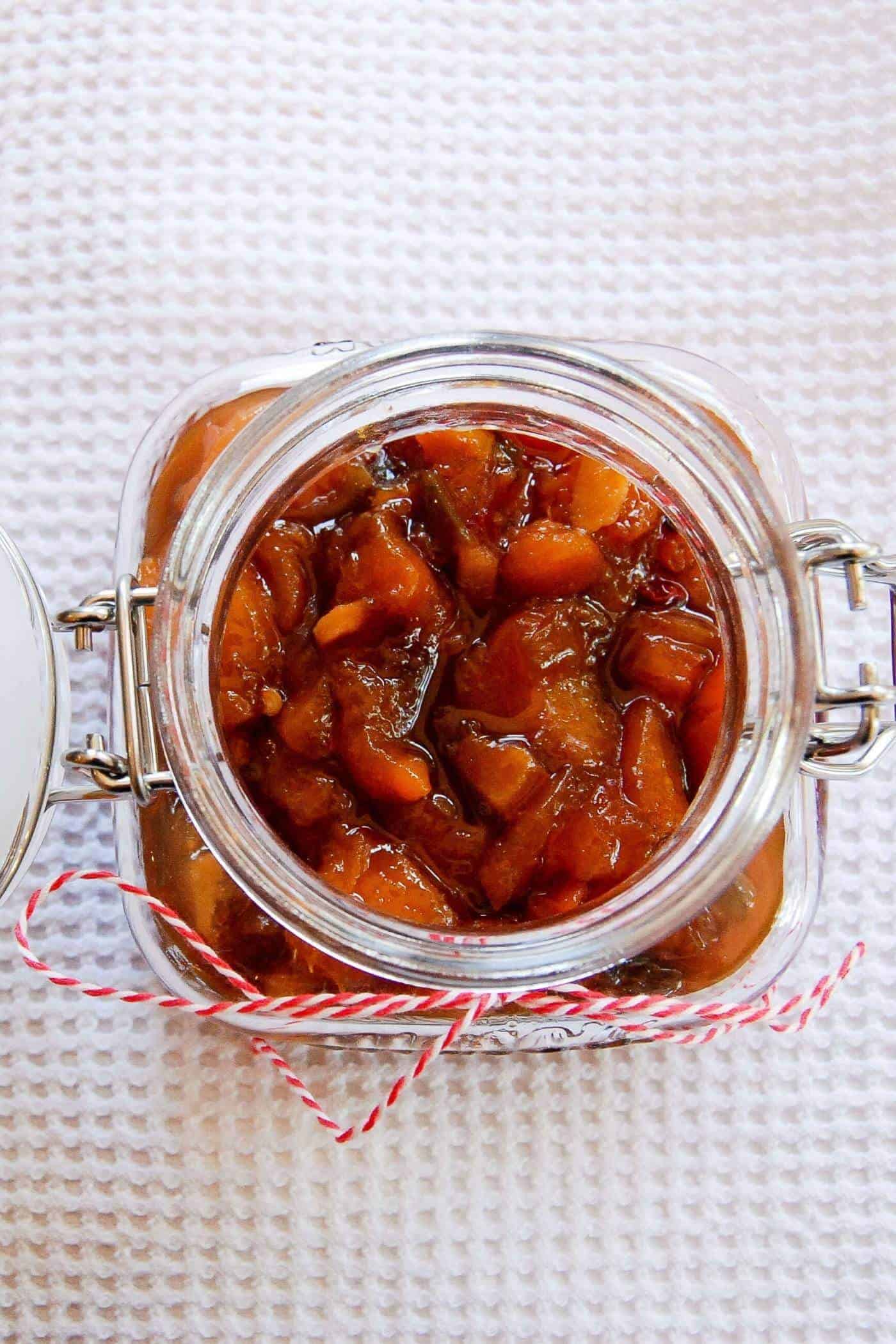 Summer is drawing to a close folks. And no one is sadder about it than me. We've had such a great one. Trailblazing, pool swimming, creek wading, burger grilling, rose' sipping. I can barely stand to see it fade.
But, school started this week (gasp!). And along with it, the end of the summer festivals, markets, and general lassie faire attitude that we roll with throughout these warmer months.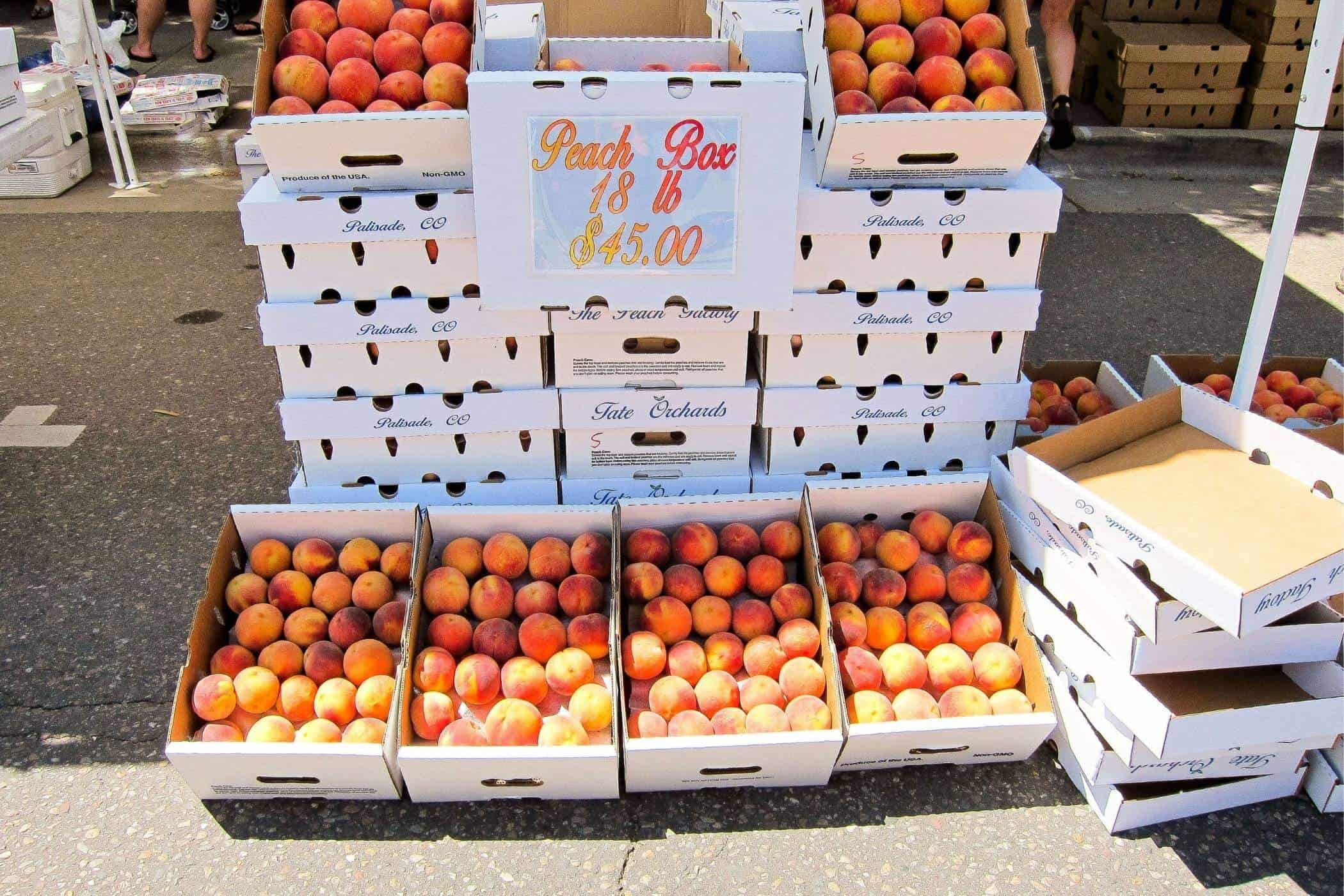 The one saving grace is that this week not only held the start of school, but also the Lafayette Peach Festival, held each year in Old Town Lafayette CO. And what a way to wrap things up! Not only can you get peaches by the cartons, but pies, cobblers, salsas, and just about anything else you can make with a peach can be found at this local festival.
And, although it was a hot one, we gathered up our empty baskets and headed over to Public Road in Lafayette on Saturday afternoon to fill them up and get our fair share of peaches.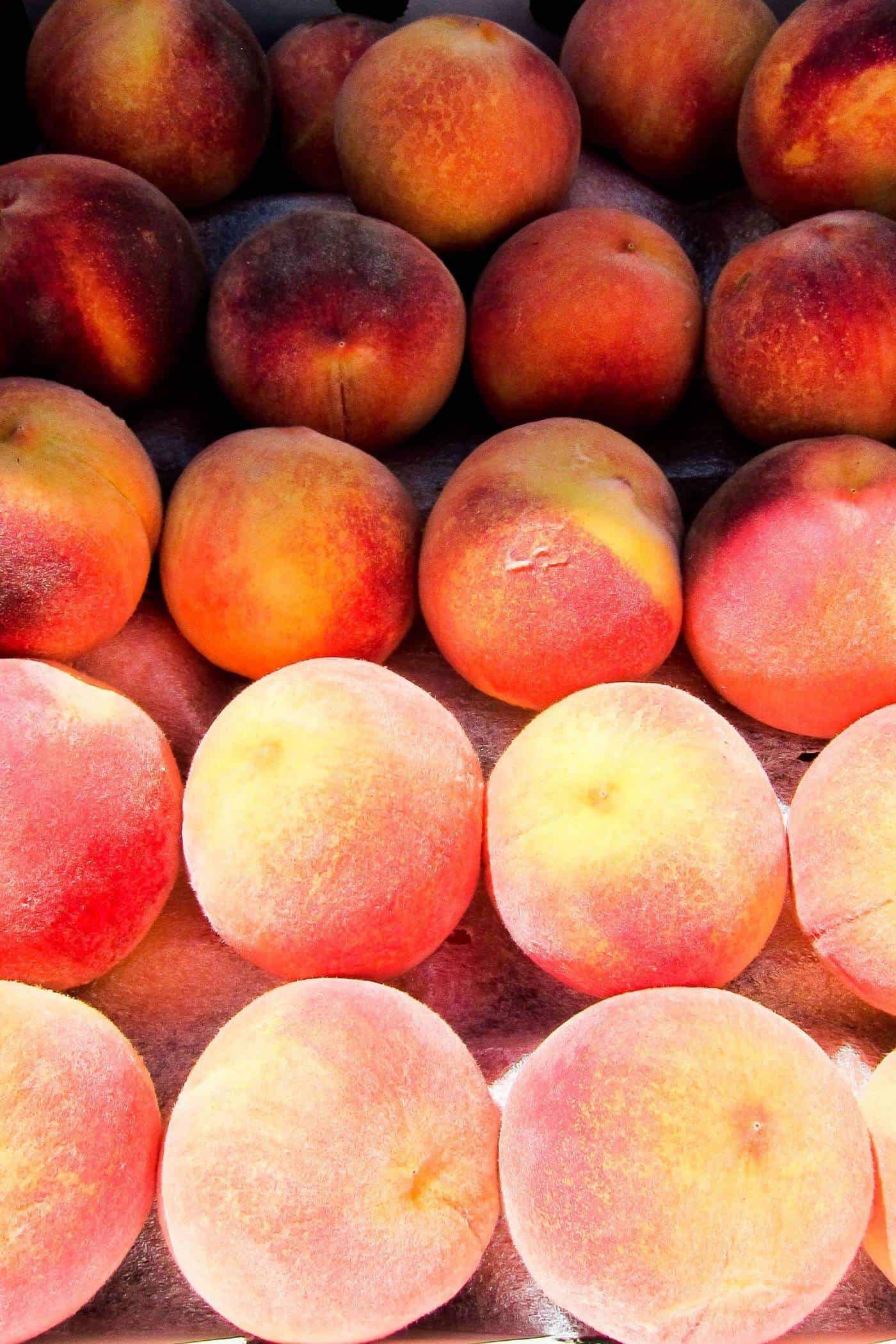 Once home, we had to figure out what to do with them. We decided on something simple that could be used in a multitude of ways: fresh peach chutney.
So Much To Love About This Spicy Peach Chutney!
Goes with so many things! This chutney is wonderful on pork, works well on a grilled cheese sandwich, pairs perfectly with a platter of charcuterie and a block of parmesan cheese, and would go great with any Indian or curry dish.
Customizable. You can spice it up by adding more hot peppers, but as it is written, it gives a nice subtle punch without overpowering the sauce. (Don't worry - this isn't too spicy!)
Simple to make. Apart from peeling the peaches (which is actually pretty simple - here's a quick guide) making this chutney is pretty simple. Just add your ingredients and watch it on the stove for about an hour. Done.
Easy way to use up peaches. Not that you ever need a reason to get rid of peaches, but chutney is very forgiving since it cooks down for about an hour. If your peaches are slightly past their prime, this is a great recipe to use them in.
Works great as a gift. This is a lovely thick chutney that you can give as gifts or serve as part of your own dinner party.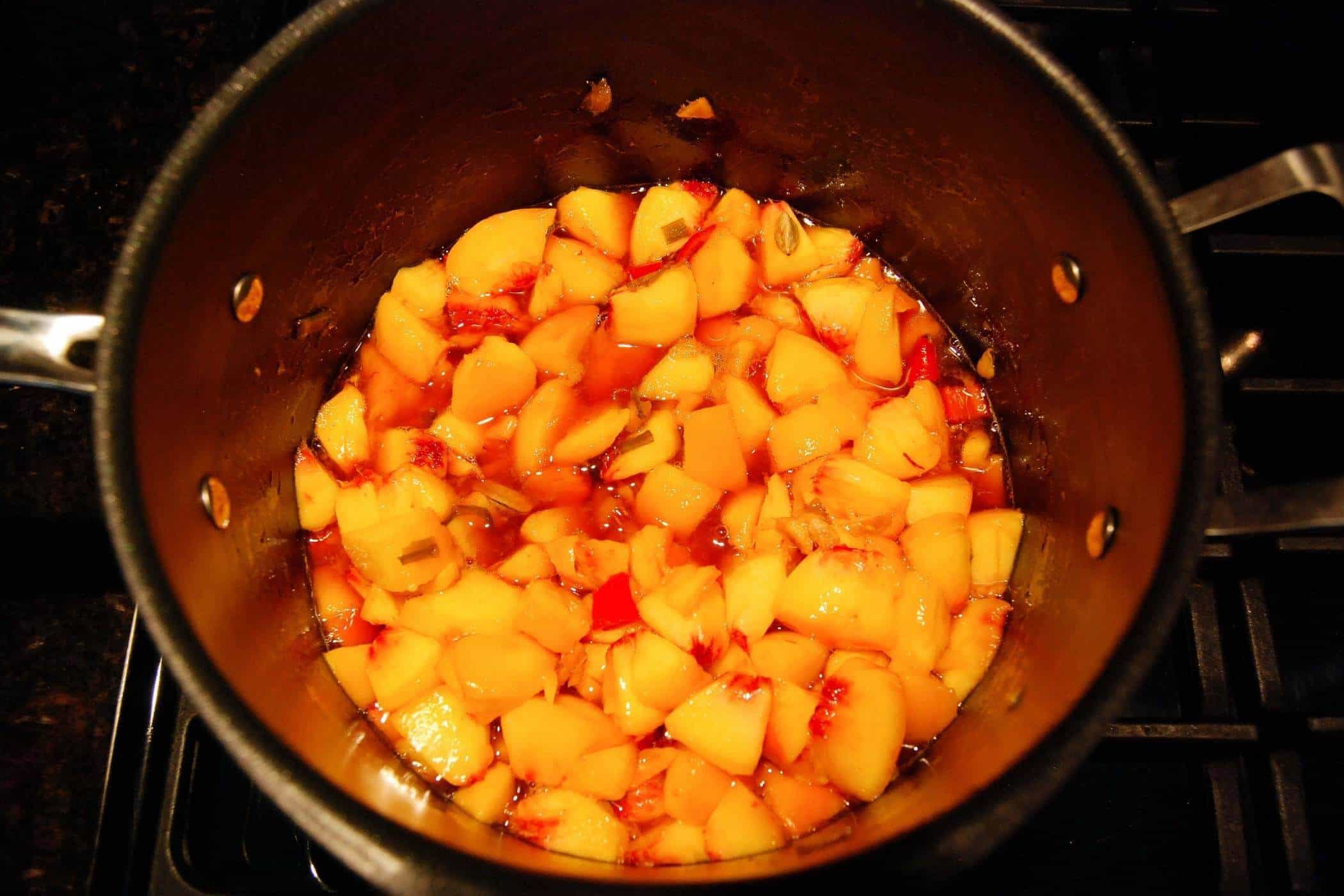 How To Make This Chutney
First, peel and chop your peaches. Set aside.
Next, combine your onion, garlic, and ginger along with your spices and vinegar in a medium saucepan. Simmer it all over medium-low heat for about 5 minutes, or until the onion is soft and translucent.
Add your peaches, chopped chilies, and salt. Reduce the heat to low, and simmer for another hour, stirring occasionally to ensure the chutney doesn't stick to the pan.
Once the peaches have cooked down and the chutney has thickened, remove it from heat and allow it to cool completely before transferring to jars.
How To Serve Peach Chutney
There are so many ways you can use this delicious spread!
Grilled chicken
Grilled pork
Fish
Alongside cheese and crackers on a charcuterie board
On sandwiches (it's divine on grilled cheese and hamburgers!)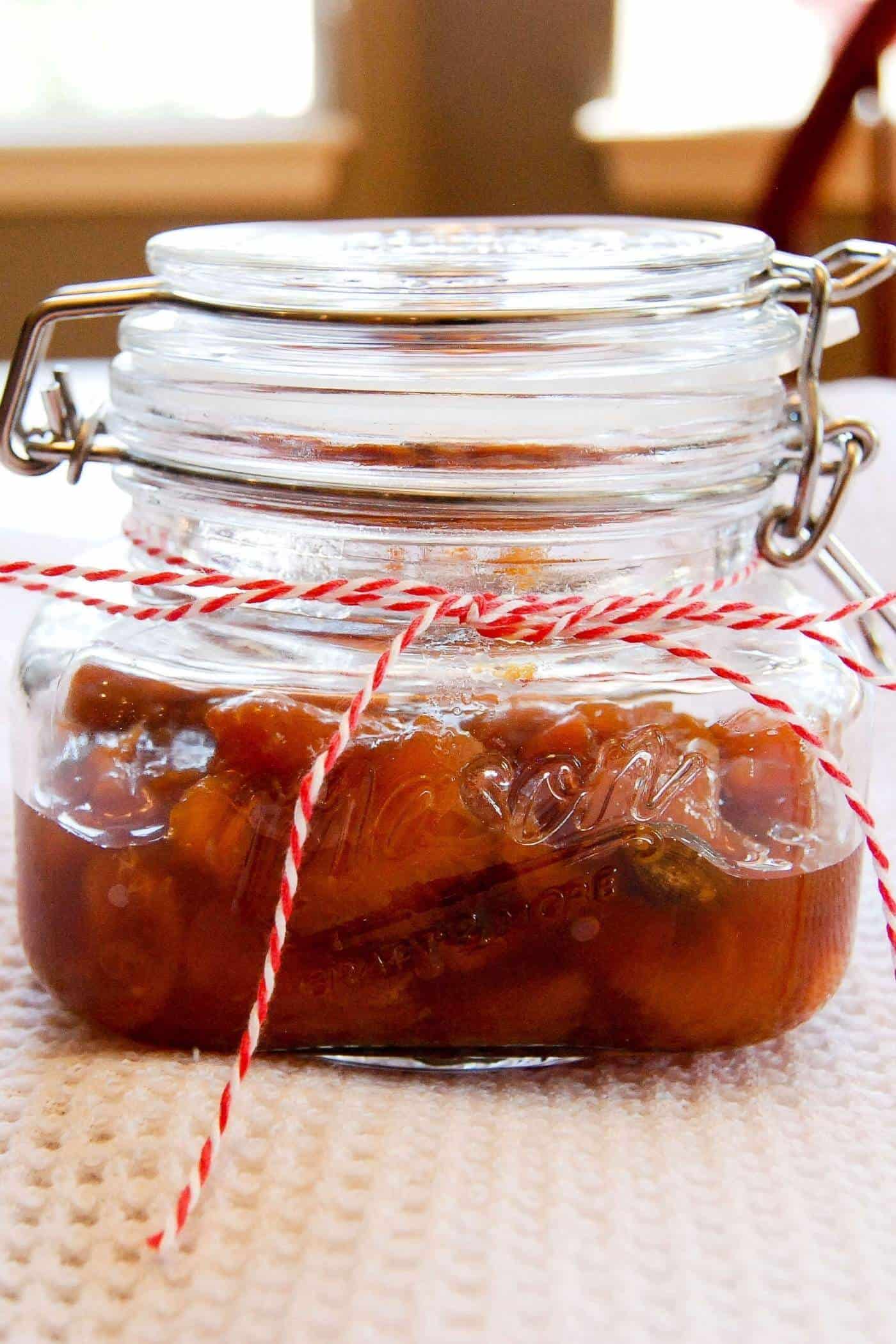 If you give this Spicy Peach Chutney a try, let me know what you think in the comments below. And don't forget to tag me with a pic on Instagram @frontrangefed!
More Delicious Spreads And Sauces To Try!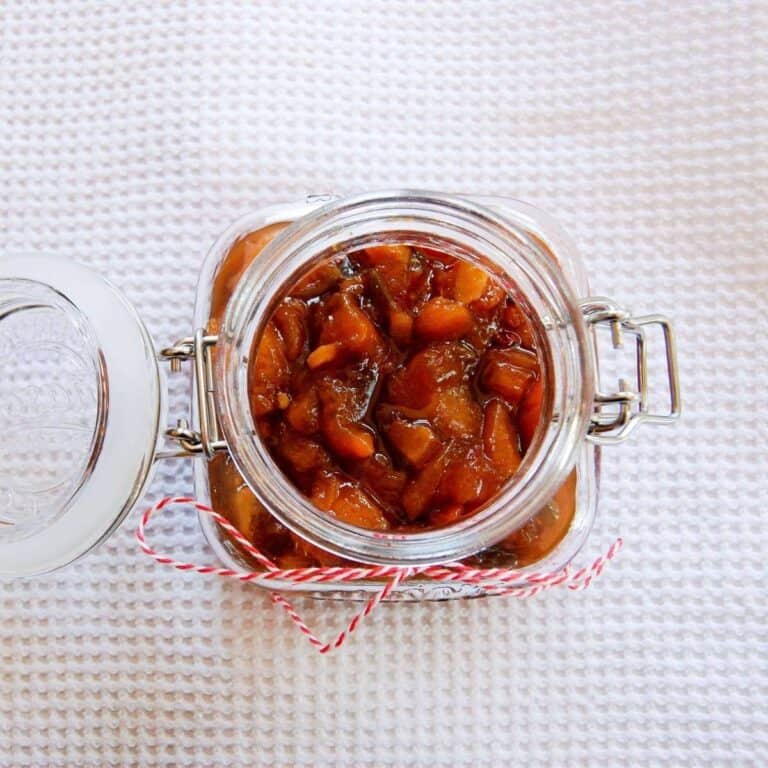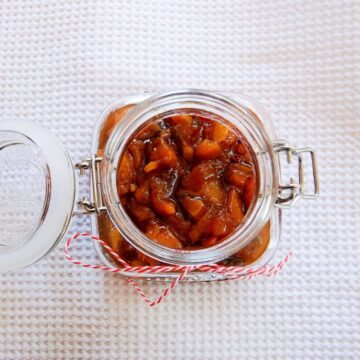 Spicy Peach Chutney
This spicy peach chutney is easy to make and goes great with pork chops, grilled chicken, charcuterie boards, or on grilled cheese sandwiches!
Ingredients
4

lbs

ripe peaches

1 ½

cups

light brown sugar

1

cup

apple cider vinegar

2

cloves garlic, diced

2

tablespoon

fresh ginger, peeled and minced

1

small red onion, finely chopped

12

cardamom pods, lightly cracked

3

fresh hot chile peppers (I used 2 serrano peppers and 1 habanero pepper)

salt to taste
Instructions
Peel, pit, and chop the peaches. 

Combine the brown sugar, vinegar, garlic, ginger, onion, and cardamom in a medium cast-iron pot. Simmer over low heat until the onion has softened. Add peaches, chilies, and salt and continue to simmer until the peaches are soft and translucent, about an hour.

Allow the chutney to cool, and transfer it to your storage jars. You may choose to can the chutney, or, put it into pretty glass jars to give as a gift.
Notes