This Lemon Vinaigrette Dressing with rosemary is so easy to make and tastes great. Healthy and cheaper than the ones you'll find at the store - you'll never buy another salad dressing again!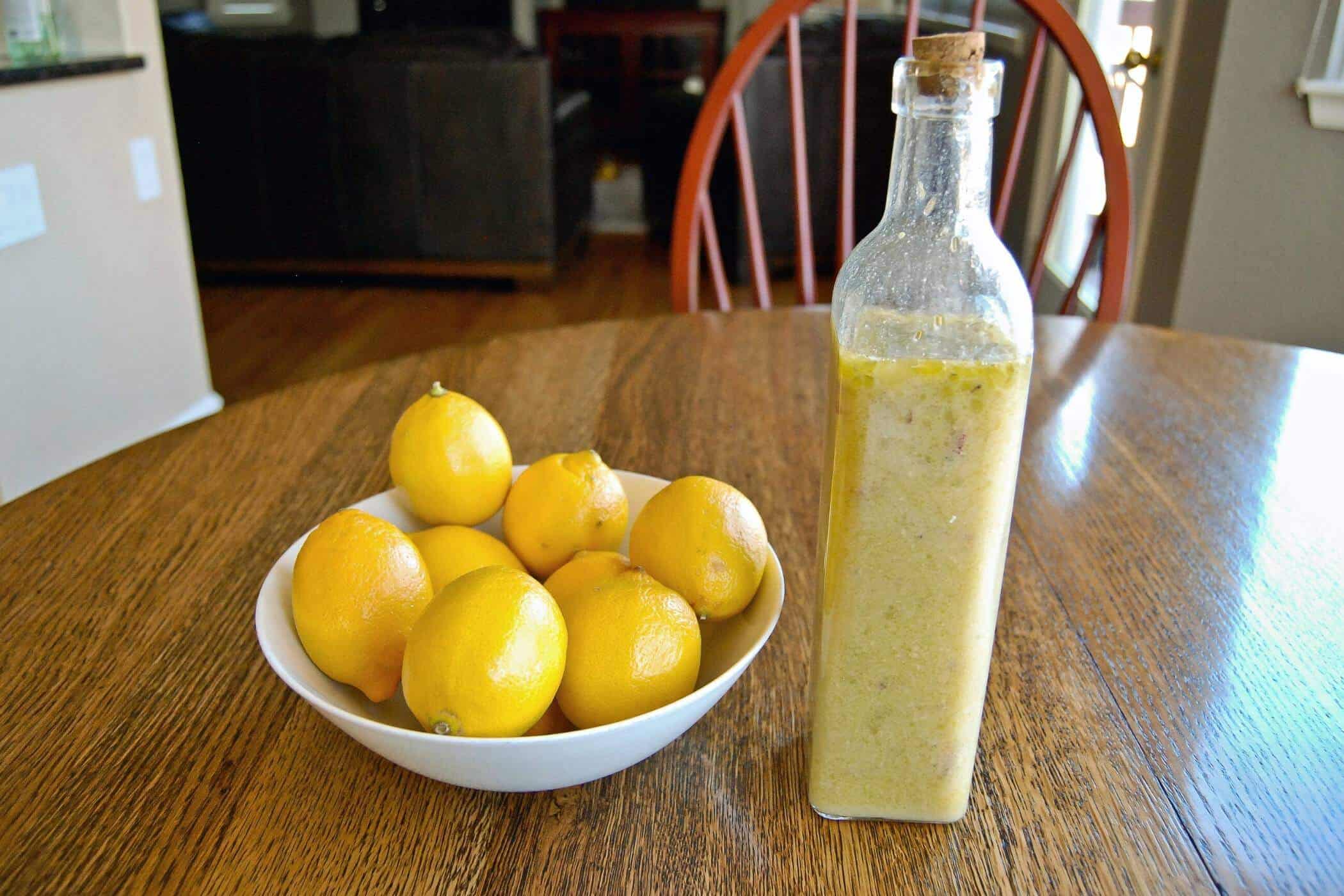 A quick and easy one for the weekend - we're taking things low-key today (because my son has just informed me that we have LEGO robots to build and parks to visit on this warm and sunny March day). This is an easy salad dressing made from scratch that you'll be able to use all week long. The ingredients are simple but delicious, it's easy to throw together quickly, and is a light dressing that pairs well with most salads.
I tend to think about salads in relation to the greens, the veggies, the beans, and the meat – all the various ingredients that make up the dish. The dressing has always been a bit of an afterthought for me. But I've recently come to think of it as the most important part. A dressing can really make a salad and should compliment it, not overwhelm (or underwhelm) it.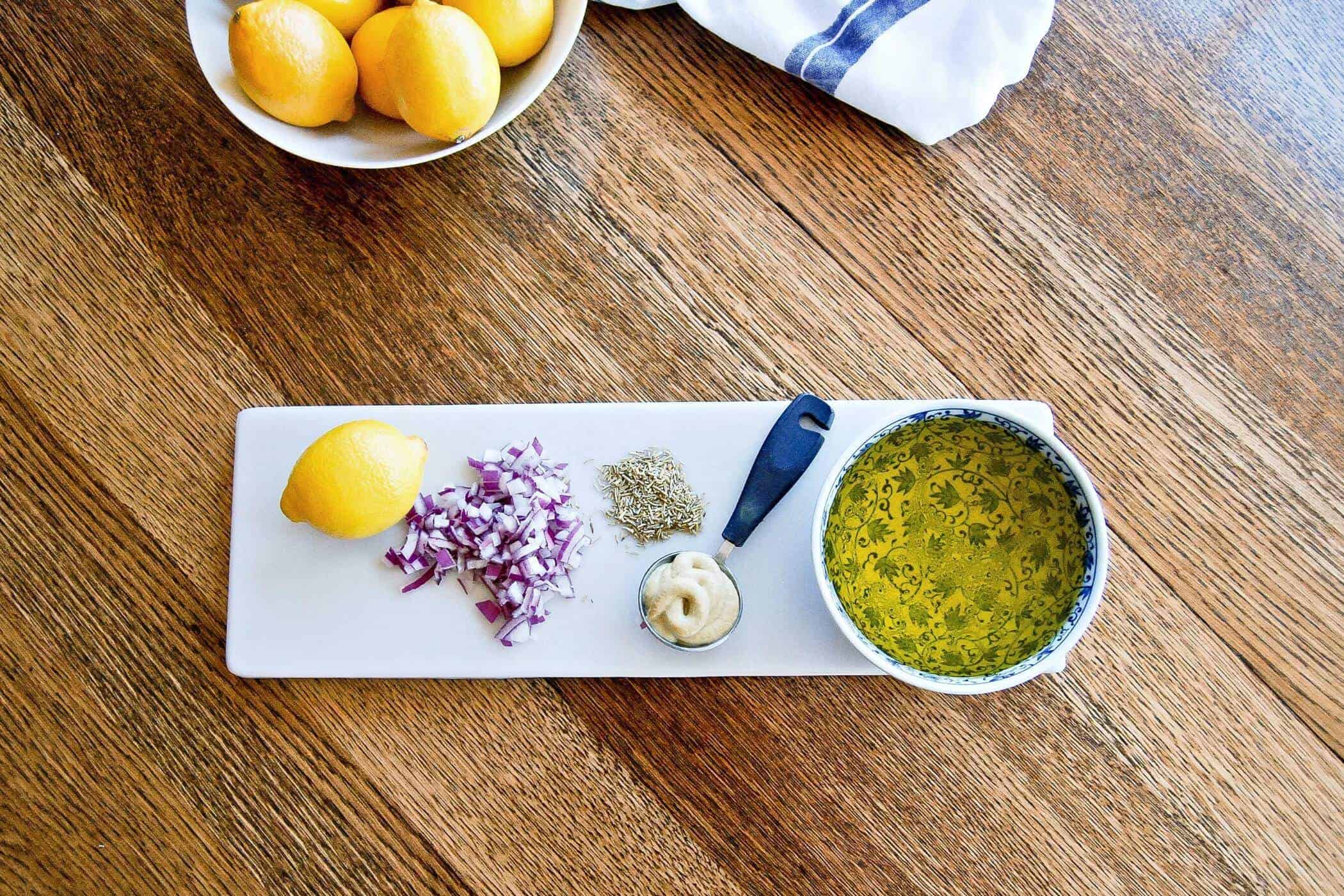 Why I Love This Lemon Vinaigrette
It's so easy to make. I used to always buy salad dressing from the store until I figured out how easy it is to make it at home. Toss a few ingredients together in a jar, shake them up and there you have it. An easy 5 minutes that creates the most delicious topping for all your hard work of gathering herbs, greens, veggies, and whatever else you're adding to your salad.
It's healthier too. Don't believe me? Pull out a jar of your favorite salad dressing and tell me that you recognize every ingredient in there. I'll bet you don't.
It's cheaper. If the ease of creating the dressing and a healthier meal isn't enough to convert you, consider the cost – sure, you can find cheap dressings out there, but as I mentioned before they're probably loaded with less desirable ingredients. The quality ones cost a pretty penny.
It's totally customizable. The dressing is a little detail that you can get super creative with and customize to your heart's contents. Adjust the contents below to compliment your salad ingredients, or to change the style of the salad completely. It's the finishing touch on a dish that can add lightness or complexity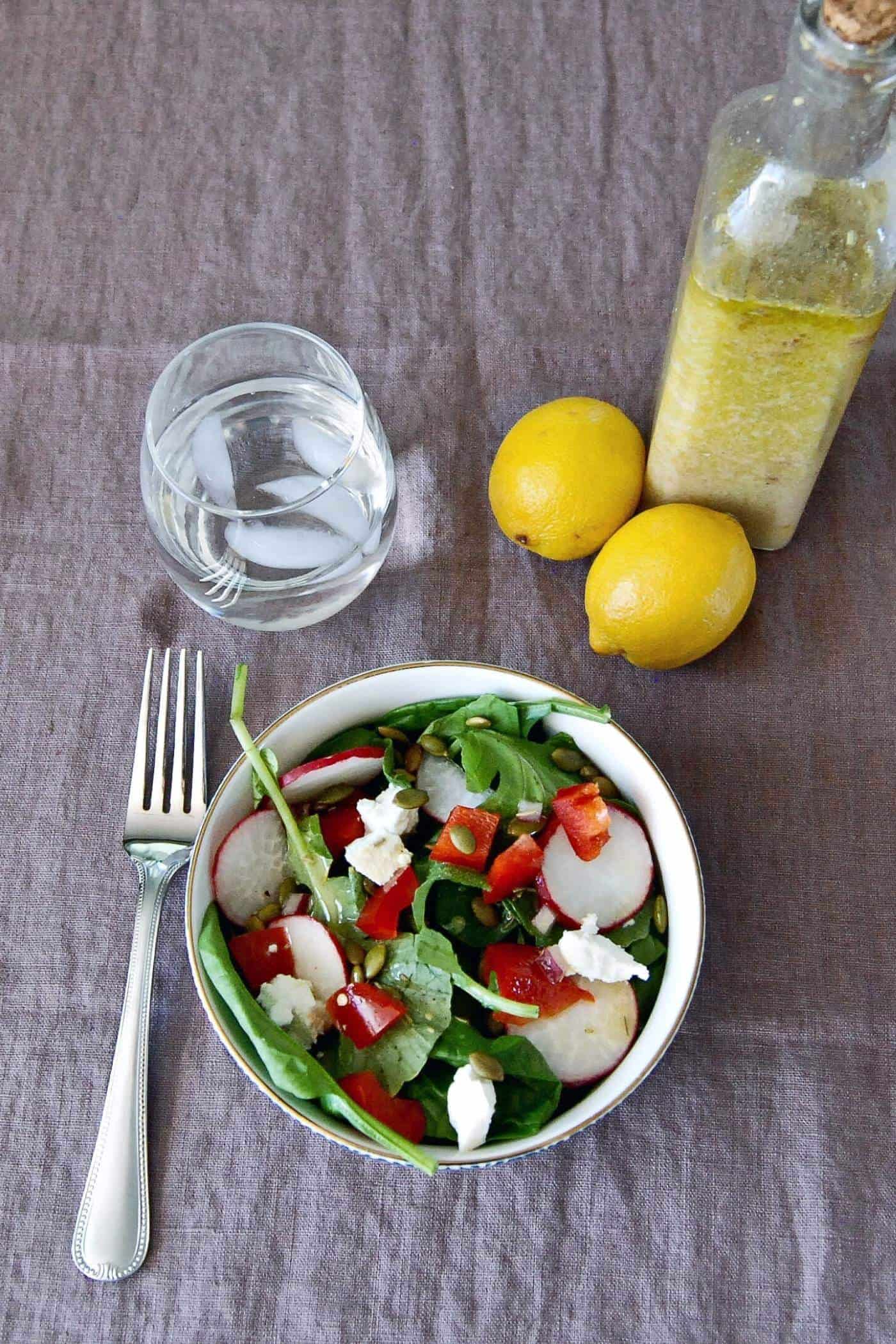 How To Make It
This really couldn't be easier and will take you just 2 steps and all of five minutes to make.
Combine the ingredients - oil, white wine vinegar, mustard, lemon juice, red onion, dried rosemary honey, and salt and pepper - in a small bowl.
Whisk the ingredients together to emulsify the combination.
That's it -you're done!
This dressing is a staple in our house because it goes well with most salads, and includes ingredients that we pretty much always have on hand. As written, it makes about a 2 cups of dressing, but you can double it up if you need to for a larger crowd. It's easy to whip up on the fly, and is so much tastier (and healthier, and cheaper….have I convinced you yet?) than the normal store-bought versions. It's a simple vinaigrette that works just as well as a marinade for chicken as it does for your greens.
Give this easy Lemon Vinaigrette Dressing a try, and if you do, let me know what you think in the comments below! Then be sure to tag me on Instagram at @frontrangefed with a pic!
Ok - I'm off! Time to get lost in a sea of LEGOs and toddler cuddles.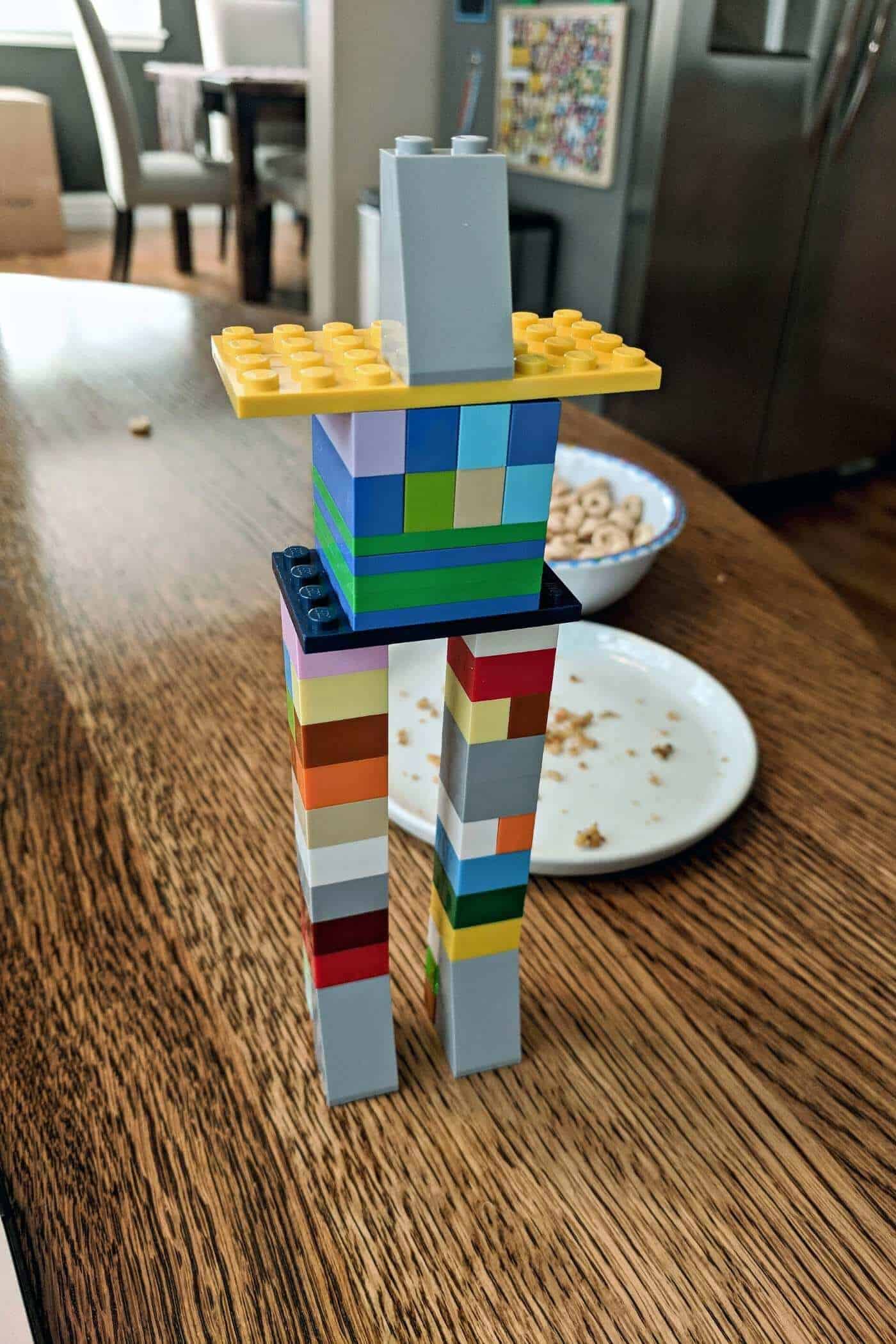 Looking For A Great Salad To Try This On? Give One Of These A Try!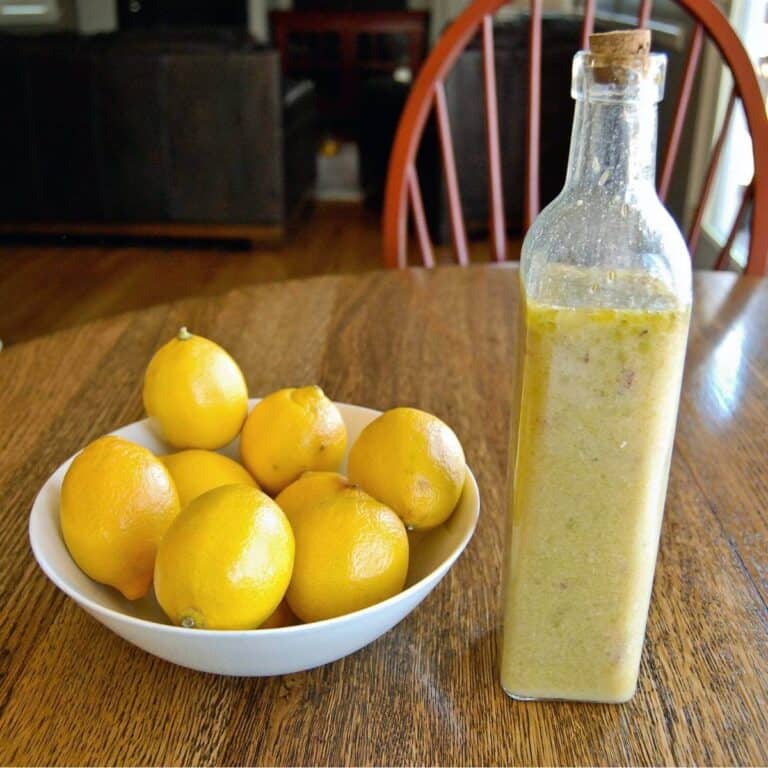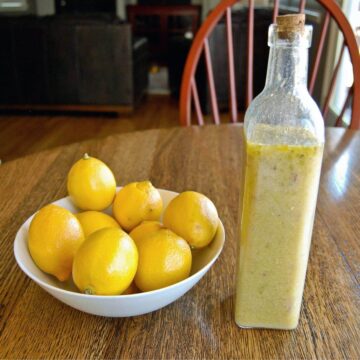 Lemon Vinaigrette Dressing
This lemon vinaigrette dressing with rosemary is so easy to make and tastes great. Healthy and cheaper than the ones you'll find at the store - you'll never buy another salad dressing again!
Ingredients
1

cup

white wine vinegar

½

cup

olive oil

1

tablespoon

mustard (stone ground is best, but Dijon will do.)

juice of one lemon

1

tablespoon

chopped red onion

1

teaspoon

dried rosemary

1

tablespoon

honey

salt and pepper to taste
Instructions
Combine all ingredients into a small container.

Shake container to mix and let sit for a couple of hours to let the flavors mingle (this dressing gets better with time).

Store in an airtight container.
Notes
(Note: Because this contains no dairy, I prefer to store this at room temperature. You 
can
 store it in the fridge (since mustard is known to keep its flavor longer when refrigerated) but the one problem with that is that the dressing tends to solidify a bit when cold, so takes about a half hour at room temperature to make it dressing-like again. I hate waiting so I don't do that. Up to you.)