This Berry Compote is a bright, easy, and delicious sauce to make that can accompany a variety of meals. Serve berry compote on top of yogurt, pancakes, waffles, French toast, ice cream – the list goes on!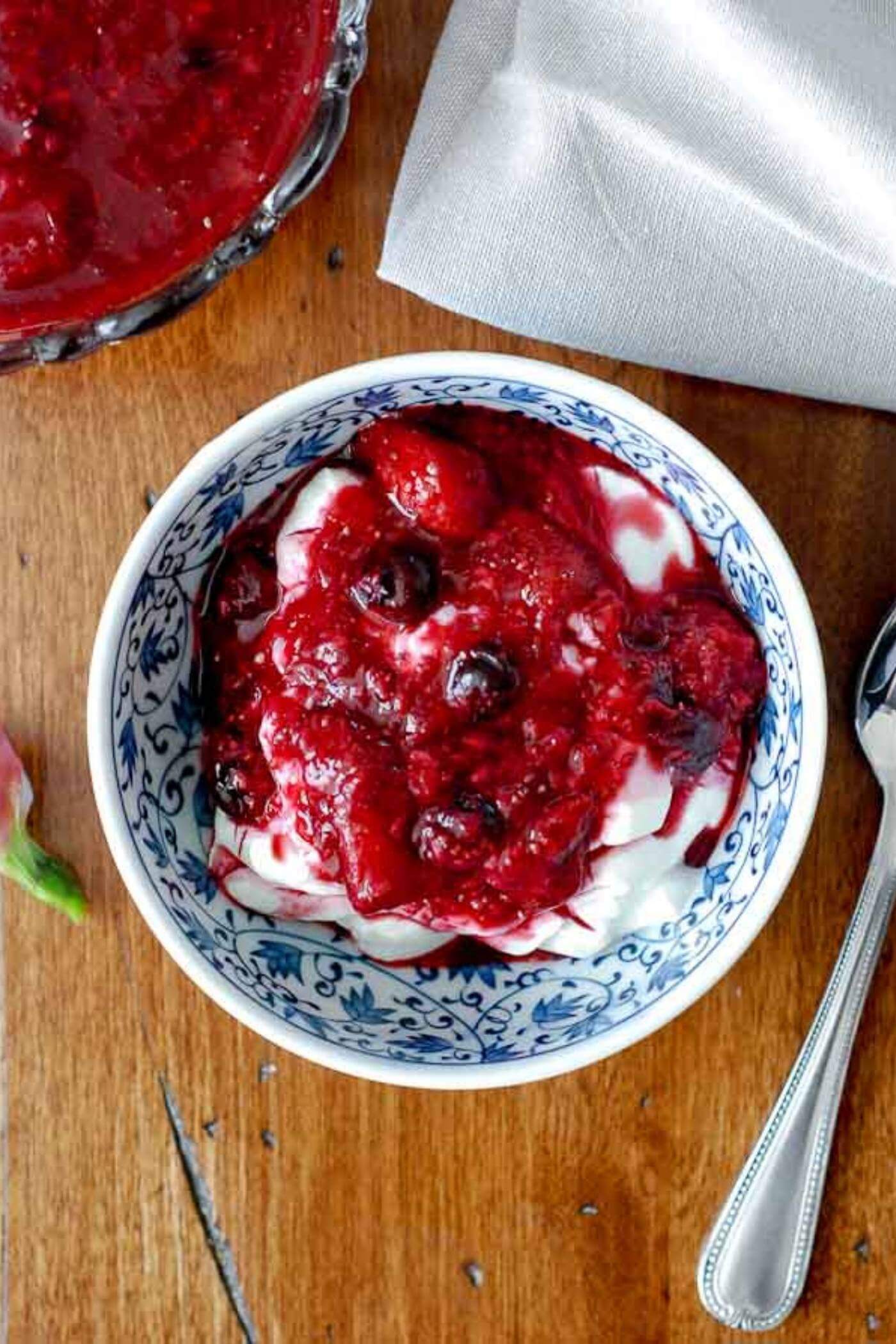 Want an easy topping that's versatile, can be made ahead of time and is super simple to make? Compote is your answer! You can make this in minutes and use it on all types of breakfast foods, ice creams, desserts, and more. Chunkier than a syrup, sweeter than a chutney, and thinner than a preserve or jelly, compote is in a category all its own and will soon become your new favorite condiment.
We've been loving eating this mixed berry compote atop homemade yogurt and the fluffiest of pancakes recently (the hubby is on a pancake kick and I'm not at all sad about it!).
Read on for answers to some commonly asked questions about compote and then learn how easy it is to make yourself!
What Is Compote?
Compote is a mixture of whole fruit or fruit pieces, cooked in water with sugar and boiled down into a thick syrup. It originated in Europe and used to be served just before the last course of the meal.
How Do You Make Berry Compote?
Compote is a super simple syrup to make and requires nothing more than fresh or frozen fruit, a bit of water, and some sugar. You can sub water for lemon juice, as I have in this recipe, or may even use another juice, such as orange juice, which might allow you to reduce or eliminate the added sugar altogether.
All you do is add your fruit, liquid, and sugar to a pan, and heat it on medium heat for about 10 minutes, mashing the fruit as it cooks until it forms a syrupy consistency. It's so easy and adds so much flavor to other meals!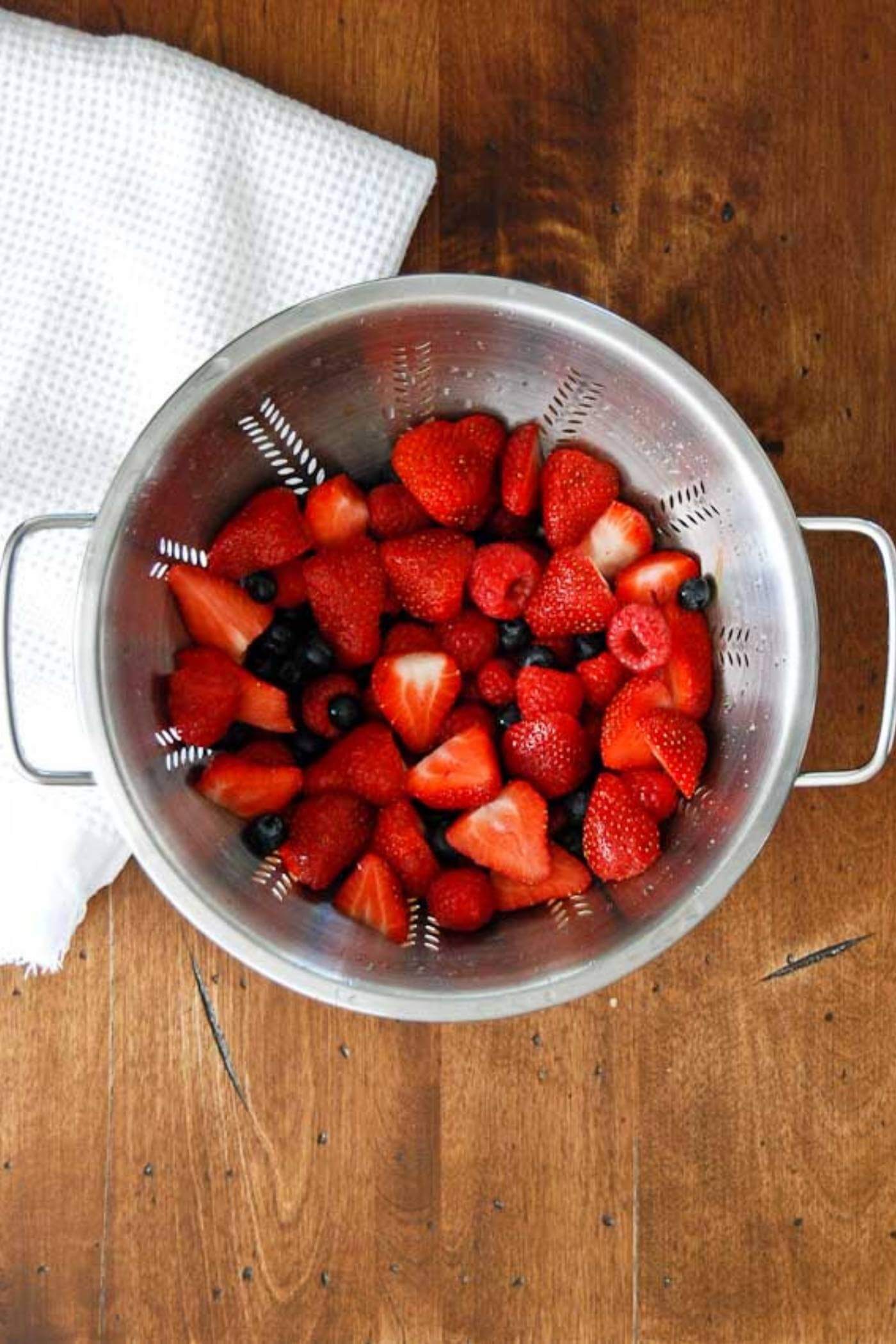 Does Compote Have To Have Sugar?
A typical compote does use sugar in some form. You can add basic sugar to water or lemon juice, add a juice that already has sugars in it, such as orange juice, or add a natural sweetener such as honey or maple syrup. All will work and it's fun to experiment with different sugars to see what flavor combinations you like best. You can also adjust the amount of sugar to your taste to make the compote more or less sweet.
How To Serve Compote?
There are so many ways to enjoy a fruit compote! We love it chilled in the morning on top of plain or vanilla yogurt, but you can also add it to ice cream, pancakes, waffles, French toast, oatmeal, crème Fraiche, toast, or even have it on its own with a dollop of whipped cream on top. Compote can be served hot or cold – if you want to warm it up after it's been in the fridge, just heat it in a saucepan over low heat right before serving.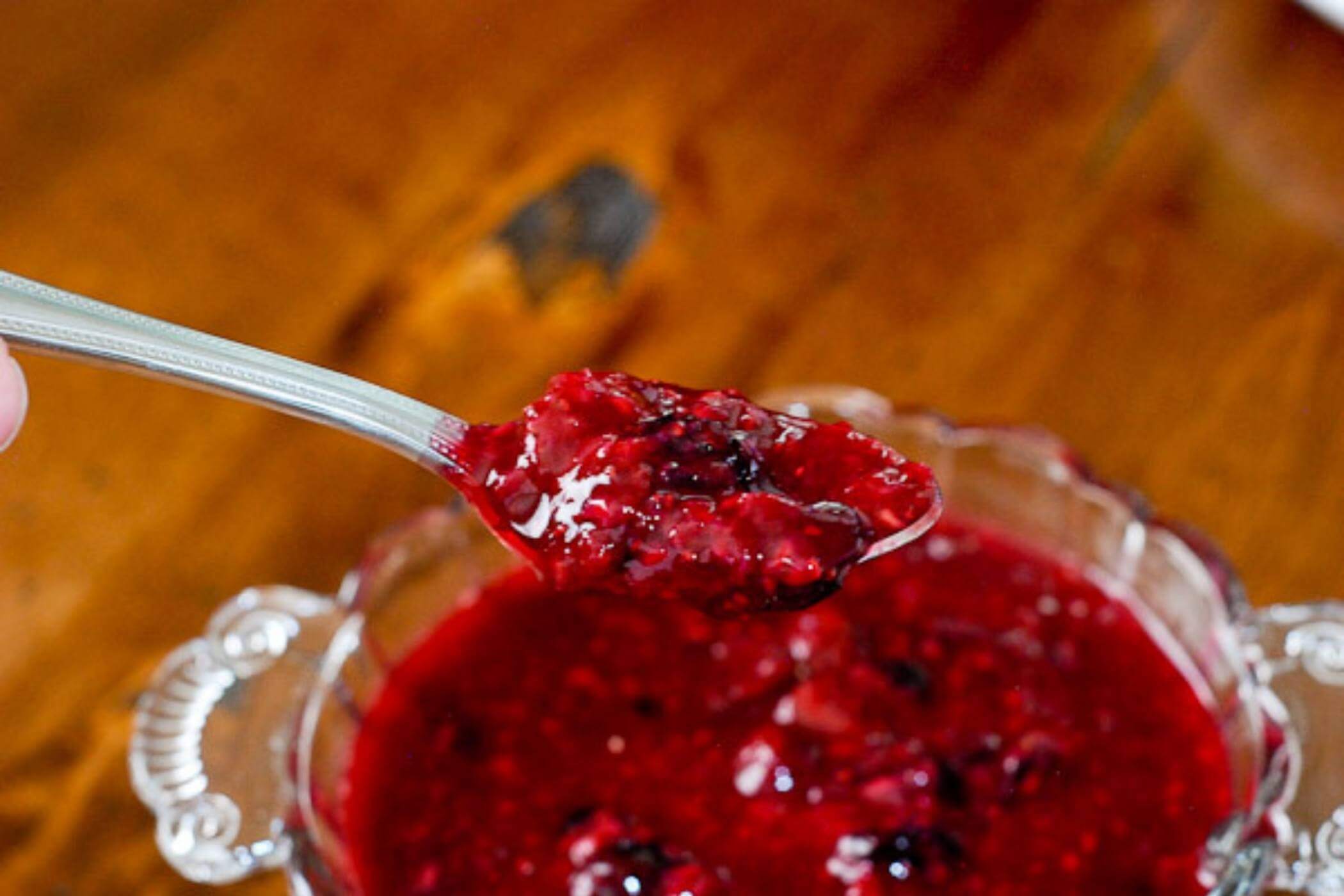 How Long Does This Berry Compote Last?
Compote will last for about a week in the refrigerator (although ours never lasts that long!). You can also freeze compote for up to 3 months to use later when you need it. Although compote is so easy to make and comes together so quickly, I usually just make it on the spot.
What Fruits Can I Use To Make Compote?
Any fruits you like! I love using combos, like the one below, but experiment with different fruits and spices! Beyond berries, pears, peaches, apples, rhubarb, cherries, plums, and even oranges can be used to make the compote.
Does Compote Have To Have Spices?
No, but it makes them so much more interesting! Ginger is a great complement to the berries and would be an amazing addition to a peach or pear compote too. But you can also add vanilla, cinnamon, orange peel, or various juices to a compote to really enhance the flavors. I also like a chunkier compote, so I add chia seeds to add a bit of thickness but it's not really necessary. If you're allergic to chia seeds (or don't like them) a little bit of cornstarch can also thicken compote up a bit.
Whip up a batch of this Berry Compote this week and consider your day elevated! If you try it, I'd love for you to share your photos and tag Front Range Fed on Instagram!
More Delicious Sweets!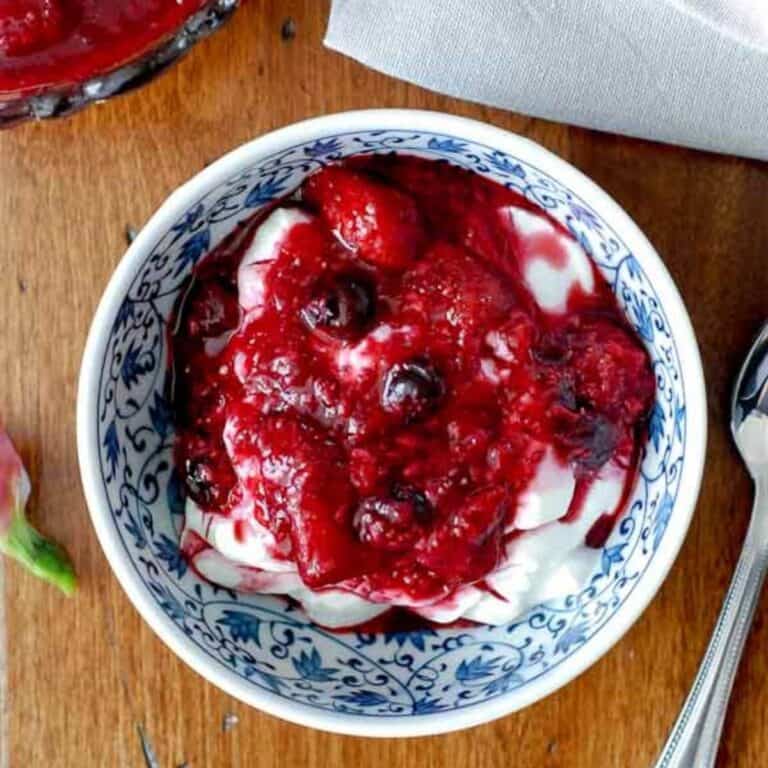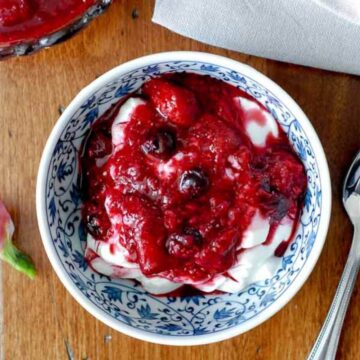 Easy Berry Compote
This raspberry, strawberry and blueberry compote is a bright, easy and delicious sauce to make that can accompany a variety of meals. Serve it on top of yogurt, pancakes, waffles, French toast, ice cream – the list goes on!
Ingredients
1

cup

raspberries

2

cup

strawberries

1

cup

blueberries

4

tablespoon

fresh lemon juice

⅓

teaspoon

ground ginger

¼

teaspoon

ground cinnamon

½

teaspoon

sugar

1-2

teaspoon

chia seeds (optional)
Instructions
Wash fruit and add to a medium saucepan with orange juice, ginger, cinnamon and sugar.

Heat fruit mixture over low-medium heat, mashing fruit a bit as it gets warmer.

Continue stirring/mashing fruit over low heat until the fruit has broken down and the mixture is well combined and juicy (about 10 minutes).

Remove compote from heat and allow to cool completely at room temperature.

If using chia seeds to thicken, add them in once the compote has cooled.

Store compote in the refrigerator for about a week.