Making your own crème fraîche is insanely simple, and way cheaper than buying it at the grocery store. Plus, homemade crème fraîche is so much better than store-bought!! This recipe uses whipped crème fraîche to make a delicious, light, and airy dessert, topped with fresh citrus, pistachios, and honey.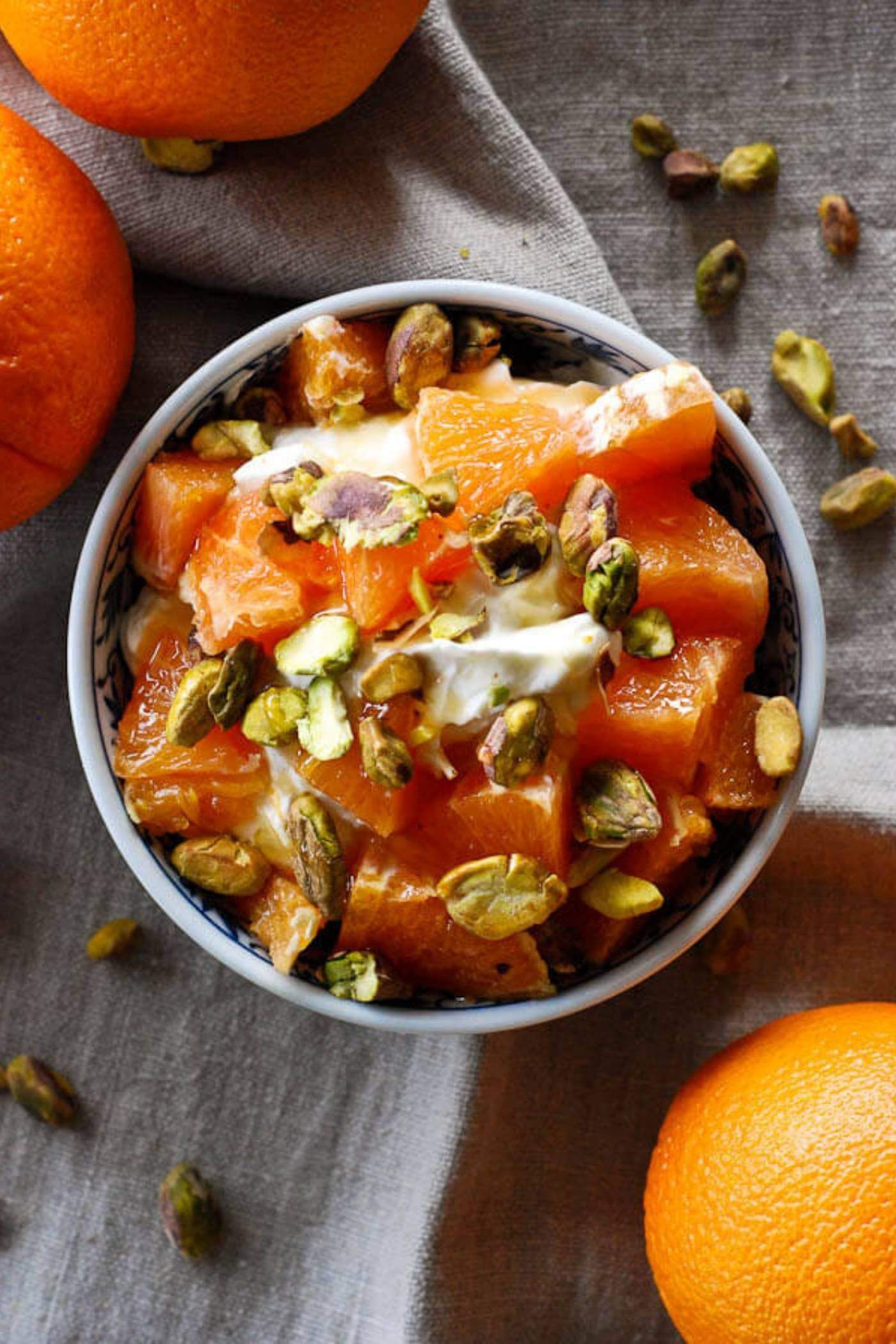 There are few things I love more than finding out something I love is actually super easy to make. For years I've bought rcème fraîche from the grocery store– that deliciously creamy, not too sweet, sort of sour cream, sort of yogurt product that I've used to dress up with fruit and toppings to adorn my desserts table. I always assumed that making it involved some intricate process. But, I've recently discovered how simple this delectable cream is to make. Like, stupid simple.
How To Make Crème Fraîche
I hesitate in even calling this crème fraîche recipe a recipe at all. The only things you need are two ingredients and a bit of time. Here's how to make it:
Place 3 cups of cream in a large jar.
Add 3 tablespoons of buttermilk.
Cover it with a towel or a cheesecloth and place it on your kitchen counter at room temperature for a 12 to 24 hours.
And……that's it.
By the end of the 24-hour period, your cream will have thickened slightly and turned into that delicious crème fraîche that grocery stores like to charge an arm and a leg for. And you'll have done it by barely lifting a finger.
Crème Fraîche FAQs
How Do You Know When It's Finished?
It should start to thicken up within about 12 hours but depending on how much or litte buttermilk you add it may take longer. More buttermilk will speed the process up but less buttermilk will require a little more time for the cream to thicken.
How Do You Adjust The Taste?
Again, the amount of buttermilk will affect the flavor. The crème fraîche will taste milder if you add less buttermilk, and a bit tangier if add more.
How Do You Adjust The Texture?
Adjusting your buttermilk to cream ratio also affects the texture (are you sensing a pattern here?). More buttermilk will leave you with a thinner mixture while less will give you a creamier substance.
The amount of time the cream has to ferment also makes a difference. Leave your cream on the counter for longer it will be thicker. Putting it in the refrigerator earlier will halt the thickening process.
Crème Fraîche Vs. Sour Cream - What's The Difference?
While the two are very similar, they do have some differences. Sour cream is made by adding lactic acid to cream or milk. Crème fraîche is just fermented cream, a process that occurs naturally in unpasteurized cream. Since the US pasteurizes its cream, we need to add a fermenting agent, aka, the buttermilk.
The differences are also apparent in the taste and texture. Sour cream tends to be a bit tangier and thinner and contains only about 20 percent fat. Crème fraîche has a richer taste and is thicker and creamier than sour cream, partially due to its higher, 30 percent fat content.
Won't The Cream Go Bad If I Don't Put It In The Refrigerator?
The cream will start fermenting when left out of the fridge. However, this is exactly what you want. And no need to worry - the good bacteria cultures that are found in the buttermilk prevents any harmful bacteria from taking over.
How Long Will Crème Fraîche Last?
It will store for about 7-14 days in the fridge. If it starts to separate, just give it a good stir. However, if mold starts to form on the surface, toss it.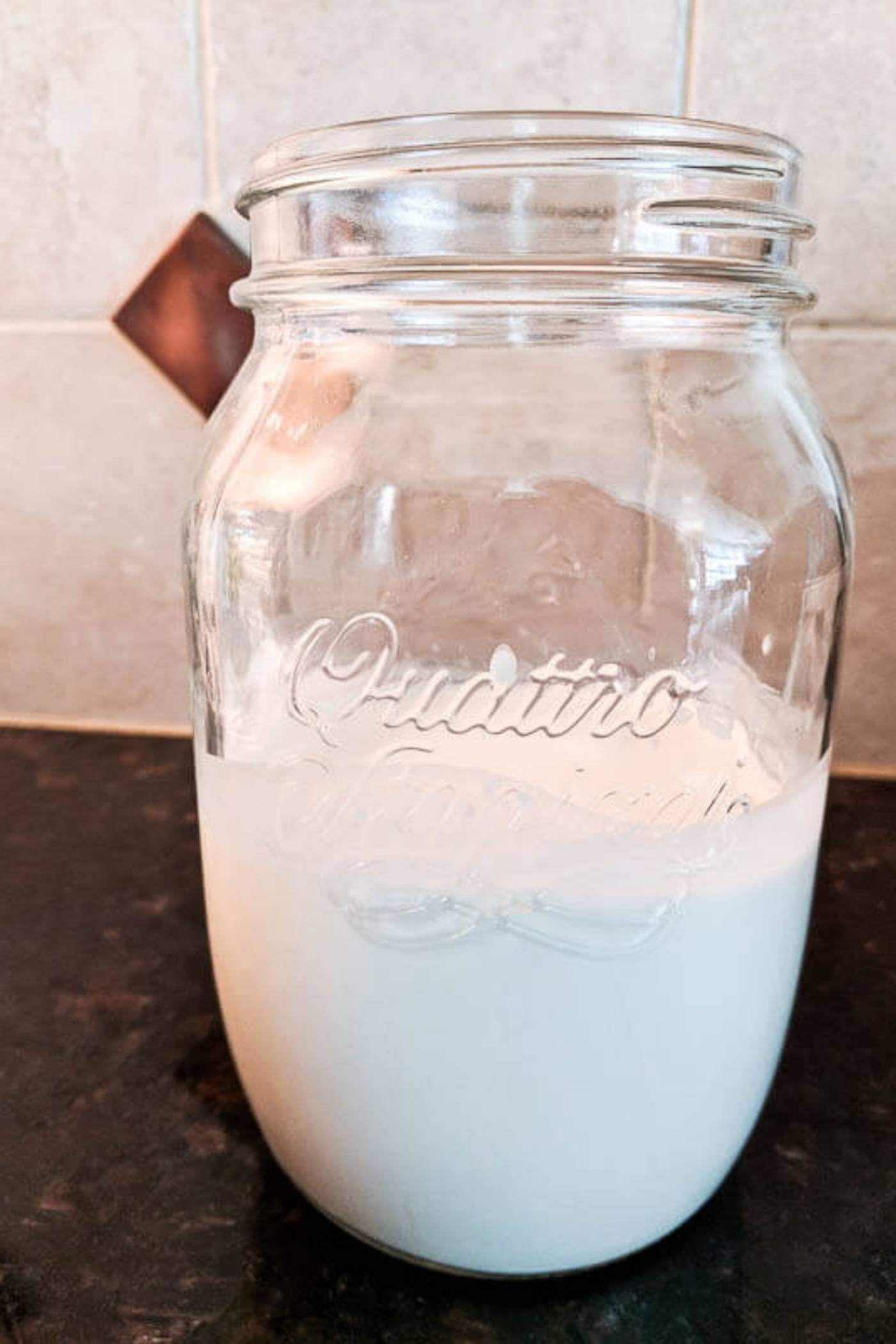 If you're new to crème fraîche, you're in for a treat. Because it's not too sweet, it lends itself beautifully to both sweet and savory dishes. You can use it for all sorts of things like adding it to soups or stews, as a substitute for sour cream on taco night, as the base for an herby dip, or, my favorite, adding a dollop of it to fruit for dessert. The possibilities are endless.
How To Make Whipped Crème Fraîche And Citrus Parfait
It feels a bit funny posting such a simple recipe and leaving it at that, so I'll leave you with one of my recent favorite ways to serve crème fraîche. It pairs wonderfully with most fruits, but I love it with citrus, and this time of year, when we're hovering on the border between sleds and swimsuits, it's a perfect dish to serve to all your friends who are anxiously awaiting spring.
Plus, citrus is still so abundant right now that you should have no problem finding a variety of delicious variations on this simple recipe. Sub out with grapefruit, add a twist of lemon or lime, and find your favorite oranges – all will pair wonderfully with this simple, elegant dessert.
Note: You can choose not to whip the crème fraîche – it will still taste delicious. But if you're looking for just a slightly lighter cream, and want to add a teensy bit of sweetness to it, this does the trick. I love the airiness that whipping the cream creates.
If you make this Whipped Crème Fraîche And Citrus Parfait be sure to leave a comment below. And tag me with a pic on Instagram - I love to see your creations!
More Dessert Recipes!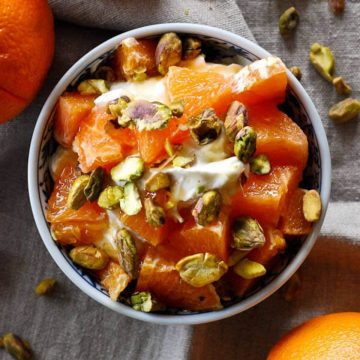 Whipped Creme Fraiche & Citrus Parfait
Making your own crème fraîche is insanely simple, and way cheaper than buying it at the grocery store. Plus, homemade crème fraîche is so much better than store bought!! This recipe uses whipped crème fraîche to make a delicious, light and airy dessert, topped with fresh citrus, pistachios and honey. 
Ingredients
1

cup

creme fraiche

3

teaspoon

sugar

2

oranges (or grapefruit), segmented and cut

¼

cup

toasted, chopped pistachios

¼

tsp

cinnamon

honey for drizzling
Instructions
Combine the crème fraîche and sugar in a large bowl and beat with a hand mixer on high for 4-5 minutes, until crème fraîche starts to become light and begins to form soft peaks.

In a small saucepan, toast your chopped pistachios over medium heat, stirring frequently.  Remove when fragrant, about 2 minutes. 

Place a small dollop of the whipped crème fraîche into 4 bowls.

Top each bowl with a sprinkle of cinnamon, segmented oranges, toasted pistachios, and a drizzle of honey.