The strawberry pretzel salad we all know and love gets a reboot as a dessert in this easy strawberry pretzel cheesecake recipe. This Strawberry Cheesecake With A Pretzel Crust combines salty crunchy pretzels with a rich and creamy cheesecake, all topped with a delicious strawberry sauce…it's the perfect summer treat!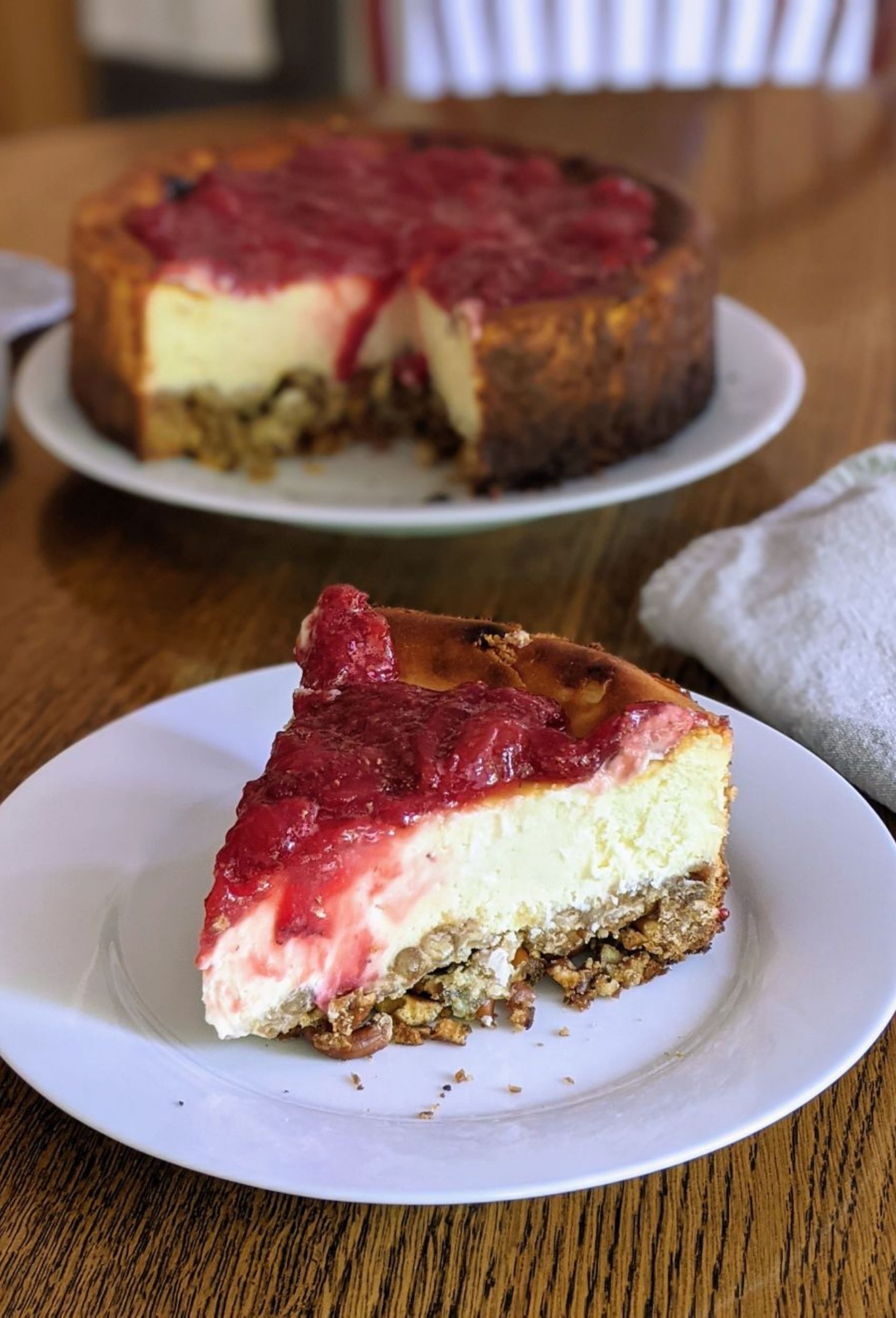 First, A Word About "Salads" In The Midwest
Growing up in the Midwest, my family has known its fair share of salads. You may be thinking..really? But isn't that meat and potatoes country? Yes, you would be right. And I guess I should clarify that when I say salad, I don't mean it in the literal sense. If you're from the Midwest, you know…..anything that doesn't resemble something from a cow or pig is pretty much referred to as a salad.
Macaroni smothered in a mayo dressing? Salad. Layers of multicolored jello? That's a salad. Peas mixed with bacon, cheese, and a creamy sort of dressing? Yep, salad.
In fact, if you google "midwest salad", the first couple of hits that come up are "Snickers Salad" (um...what??? Totally bookmarking that one for later.) and "Watergate Salad", which is some concoction of pudding mix and cool whip. Sounds reasonable to me.
So, that brings us to the inspiration for this Strawberry Cheesecake With A Pretzel Crust. My all-time favorite "salad" is one that my Mom always made. Some of you may know it as "Strawberry Pretzel Salad", or "Strawberry Pretzel Dessert" (I can see some virtual heads nodding with enthusiastic recognition now.)
The name might have you thinking - "hey, at least there's fruit in it." Well….yes, but the base is a pretzel/butter mixture, followed by a layer of some type of cream cheese filling and then a final layer of strawberry gelatin, with a few real strawberries thrown in for show. It's divine.
The other day I was craving this particular salad, but, given that I no longer live in the Midwest, I figured I'd go ahead and give it a little bit of an upgrade to an actual cheesecake, and call it what I suppose it truly is….dessert.
How To Make Strawberry Cheesecake With A Pretzel Crust
This decadent version of my Mom's "salad" uses a similar pretzel-style crust, a more traditional cheesecake center, nixes the jello (tbh, that was always my least favorite part), and adds some sweetened fresh strawberries to achieve the same, amazing taste as I recall from my youth. (But, dare I say, better?)
First, Make The Crust
I made this in a similar way I'd make a graham cracker crust of a typical cheesecake.
Put 4 cups of pretzels in a plastic bag, and use a rolling pin (or a mallet) to crush the pretzels to crumb-sized pieces. Melt some butter and sugar in a medium saucepan over low heat and stir until the sugar has completely dissolved.
Then, just combine the pretzels with your melted butter mixture, and add them to your pan (I used a springform pan, but you could also use a regular square cake pan and just line it with parchment paper so that it's easy to remove the cake once it's done baking.)
Bake the crust for about 12 minutes at 350 degrees, remove it from the oven, and allow it to cool.
While your crust is baking, make your cheesecake filling.
Amp up your oven to 500 degrees.
Add 2 ½ pounds of cream cheese to a large bowl (ugh, I know. It's a lot, but it's so worth it though and it's not like you have to eat the whole thing in one sitting). Beat the cream cheese with a hand mixer on high for about 30 seconds (you could also use a stand mixer). The goal here is to make the cream cheese a bit smoother - you want it nice and creamy.
Slowly add in your sugar, flour, and vanilla, and continue mixing for another 2 minutes.
One at a time, add in your eggs and continue mixing scraping down your sides if needed.
Finally, add in some heavy cream and continue mixing at a low speed until everything is incorporated and the mixture is creamy and smooth.
Pour the cheese mixture into the cooled crust and pop everything into the oven to cook. You're going to start this off HOT at 500 degrees for about 15 minutes, so that the cheesecake starts to set, then reduce your temperature to 200 degrees and continue to cook for another hour or so.
Allow the cheesecake to cool in the oven for about 30 minutes, with the oven turned off and the door cracked. Then cool completely on the counter before placing it in the refrigerator.
Make The Strawbery Toping
Before you serve your cheesecake, make your strawberry topping. Wash, trim and chop your strawberries. In a small saucepan, combine the strawberries, sugar, and vanilla and cook over medium heat, stirring occasionally. The sauce should start to thicken after about 15 minutes. Once this happens, remove it from the heat and allow it to cool completely before adding it to the cheesecake.
When you're ready to serve your cheesecake, remove it from the refrigerator, add the strawberry topping, slice, and serve.
How To Prevent Cracks In Your Cheesecake
One of the most common pitfalls of making cheesecake is the dreaded cracked surface. Here are a few tips to prevent cracks from forming on your hard-earned masterpiece.
Always use a water bath. A water bath enlists the help of steam to slowly and evenly bake your cheesecake, keeping everything moist and reducing the risk of cracks. Many recipes will call for placing your cheesecake pan directly inside of a larger pan full of water, but what I typically do is place a large roasting pan full of hot water on the rack below my cheesecake. The steam rises from there and works just as well, but without the fear of water seeping into your springform pan.
Don't open the oven door! It's tempting to check on how your cheesecake is doing during the baking process, but avoid opening the door for as long as you can. Quick changes in temperature can cause your cheesecake to crack.
Don't overbake it. Conduct the "wobble test" to see if your cheesecake is done. Tap the side of your cheesecake pan slightly with a wooden spoon. If the entire surface ripples, it's not done cooking. But if the surface "wobbles slightly" and moves as one, then it's done!
Cool it gradually. Cheesecakes are finicky creatures and don't respond well to drastic changes in temperature. Allow your cheesecake to cool slowly once it's finished baking. Turn your oven off completely, open the door slightly, and just let the cheesecake chill out in your oven for about 30 minutes - 1 hour. Once your cheesecake has completely cooled, cover it with plastic wrap and transfer it to the refrigerator. The cheesecake should chill in the fridge for at least 4 hours, but preferably overnight.
This Strawberry Cheesecake With A Pretzel Crust is completely addictive and the perfect summer salad….er, dessert… for your next gathering.
If you do try this delicious strawberry pretzel dessert, let me know what you think in the comments below! And don't forget to tag me on Instagram with a pic!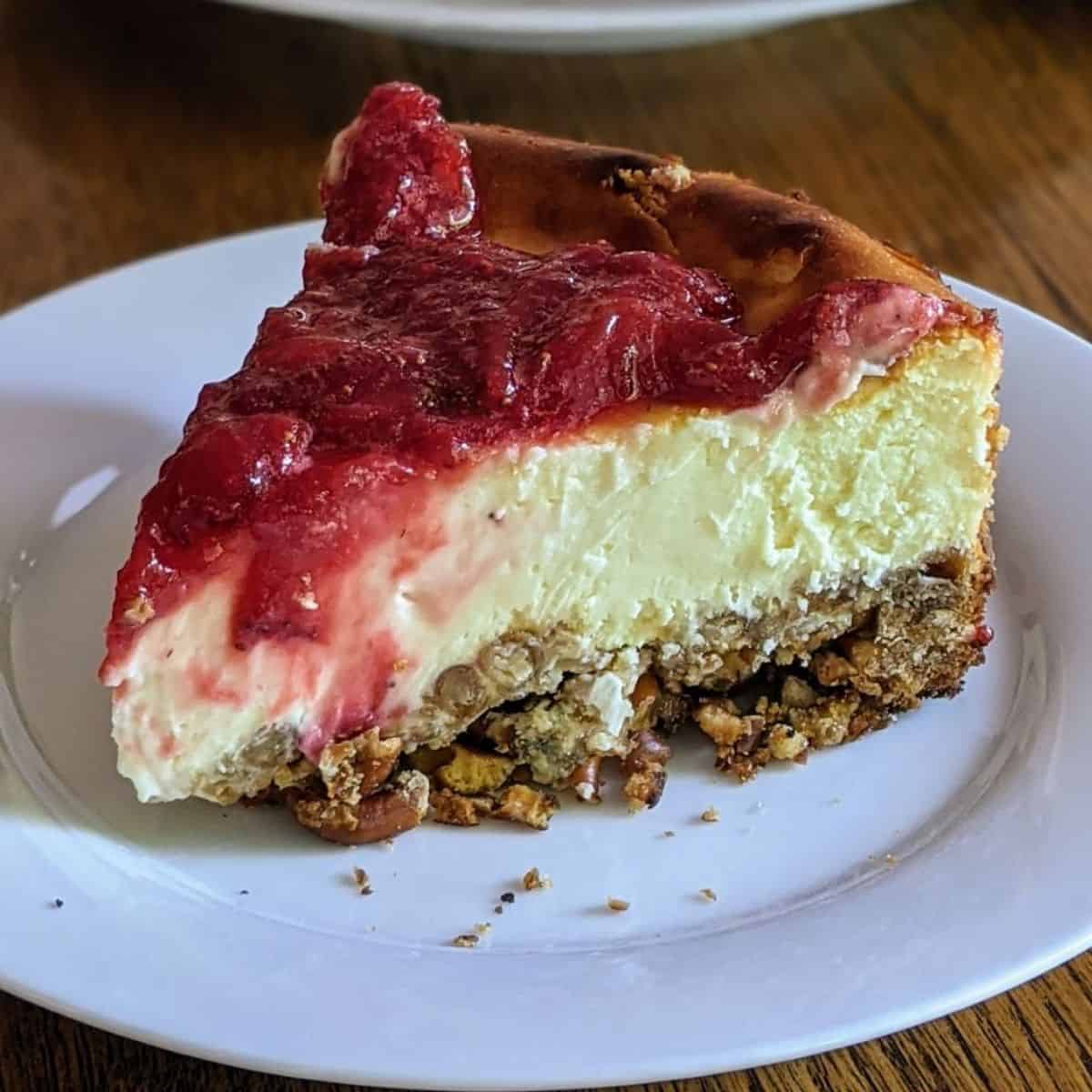 Try one of these other great dessert recipes!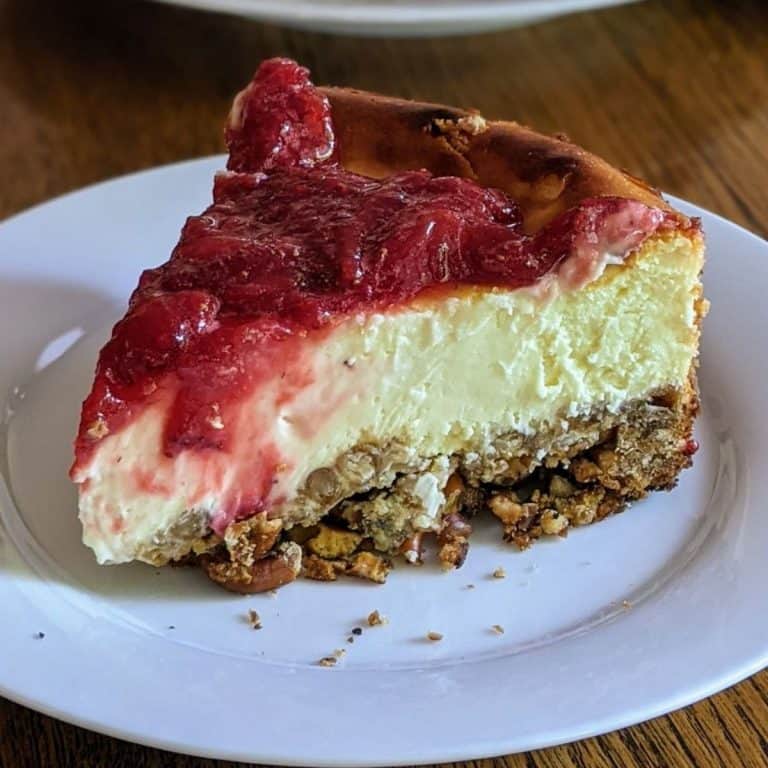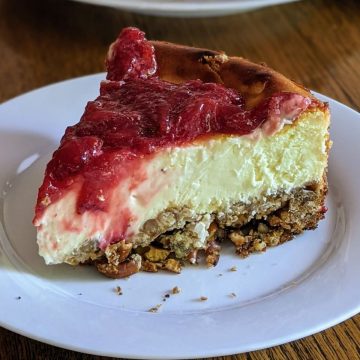 Strawberry Cheesecake With A Pretzel Crust
The strawberry pretzel salad we all know and love gets a reboot as a dessert in this easy strawberry cheesecake recipe. Salty crunchy pretzels combined with a rich and creamy cheesecake, all topped with a delicious strawberry sauce…it's the perfect summer treat!
Ingredients
For the crust
4

cups

pretzels

10

tblsp

unsalted butter

¼

cup

sugar
For the cheesecake (all ingredients should be at room temperature)
2 ½

lbs

cream cheese

1 ¾

cups

granulated sugar

3

tblsp

all-purpose flour

½

teaspoon

vanilla

5

eggs

2

egg yolks

½

cup

heavy cream
For the strawberry topping
1

pint

fresh strawberries, stemmed and roughly chopped

⅓

cup

granulated sugar

1

teaspoon

vanilla
Instructions
Start by making your crust. Preheat your oven to 350 degrees and lightly grease the bottom and sides of a 9-inch springform pan. 

Pour 4 cups of pretzels into a large ziplock bag and use a rolling pin to smash into crumbs. 

In a medium-sized saucepan, melt the 10 tablespoons of butter over low heat. Add ¼ cup of sugar and continue cooking for 30 seconds, or until sugar dissolves.  Remove the butter and sugar mixture from heat and add the crushed pretzels. Combine well and add the pretzel mixture to your springform pan, pressing the mix flatly against the bottom of the pan. 

Bake crust for 12 minutes, remove from the oven and allow to cool. 

Reset your oven to 500 degrees.

While your crust is cooling and your oven increases in temperature, prepare your cheesecake filling.  Place the cream cheese in a large bowl and beat on high for about 30 seconds until soft and creamy. 

Gradually add the sugar, flour, and vanilla and beat for another 1-2 minutes. Finally, add your eggs slowly (I do one or two at a time) and beat until just incorporated, scraping the sides down as you go.

Add the heavy cream and beat on low speed for a few seconds until just combined. 

Once your crust has cooled slightly pour the cheesecake mixture into your pan. (If your springform pan seems full, you may want to place a cookie sheet under it for baking to catch any spills.)

Bake at 500 degrees for 15 minutes, then reduce the oven to 200 degrees and bake for an additional hour. Once finished, turn the oven of, open the oven door slightly and allow the cake to cool in the oven for an additional 30 minutes before removing it from the oven and allowing it to cool completely. 

At this point, you may wish to "unmold" your cheesecake. Slowly run a knife around the edge of your springform pan to loosen the cake, then unlock the pan to remove the side. Chill in the refrigerator for 6-24 hours.

Prepare your strawberry topping. Combine your strawberries, sugar, and vanilla in a small saucepan over medium heat.  Cook for 15 minutes, stirring occasionally. Once the sauce begins to thicken, remove from heat and allow to cool completely. 

When you're ready to serve the cheesecake, drizzle the strawberry mixture over the top of the cake, slice, and serve.   
Notes
This cheesecake will keep for 3-5 days in the refrigerator, although it's best eaten as soon as it's ready as the pretzel crust does lose some of its crunch after a few days.