These S'mores Rice Krispie Treats are so good! Gooey marshmallows, chunks of chocolate, and crumbled graham crackers take these treats to the next level. A perfect quick treat for when you want something fast and don't want to bake!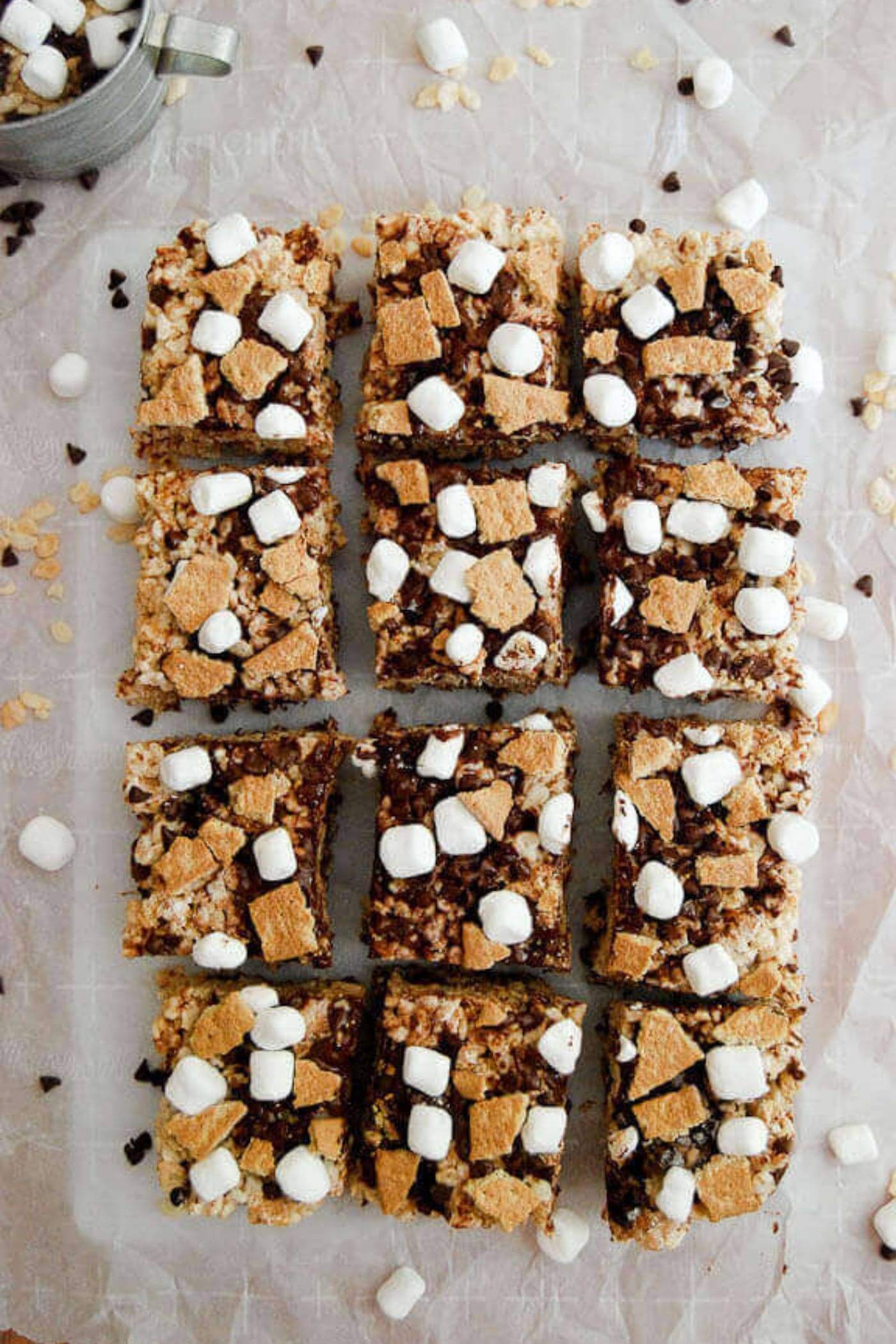 It's August here in beautiful, albeit HOT, Colorado and summer is quickly winding down. We've spent much of it on the go (which is why you haven't heard from me for a while!) and have had a jam-packed schedule – weekend music festivals, camping trips, hanging out with friends and family, and making the most of this beautiful state.
This summer has been a bit bitter-sweet for me. My two boys started school just this past week and for the first time, both of them will be there all day since my youngest is starting Kindergarten. There was a time, when I was in the thick of toddlerhood and babies, changing diapers all day, laying out a seemingly endless supply of snacks, and listening to Curious George on repeat, that I would have thought I'd welcome this time with open arms. I longed for the day that I'd finally have the time to get things done.
Well, now I have the time, and what feels like a lot of it. Today is the first day I've come home to an empty house and the silence is almost deafening. And while it is nice to be able "get things done", I miss the chatter of my little guy to keep me company, hearing the pounding of his feet as he comes jumping down the stairs and seeing the lego creations he used to make on the reg.
I'm sure I'll find my way. I have lots to keep me busy and my friends who have been here tell me I'll learn to love this time, but right now, it just doesn't feel so great.
So, today is a hard day. Which I guess is why I'm writing about S'mores Rice Krispie Treats, since how better to cure a hard day than with chocolate and marshmallows, right?
We made these while visiting my parents in Illinois and they're everything you'd imagine them to be – gooey marshmallows, melted chocolate, and the extra crisp of crumbled graham crackers take these Rice Krispie treats over the top.
Here's Why I Love These S'mores Rice Krispie Treats
These are seriously the best!
This is a new spin on an old classic that we all know and love. I love how the full marshmallows, chocolate, and graham crackers add extra crunch and gooeyness to this rice krispie treat.
Super easy to make and can be made in a snap, with, or without your little one hovering near.
Speaking of little ones, this is the perfect recipe to make with your kids. They'll loe feeling so involved.
Best of all, you don't even have to turn your oven on, nor do you need a campfire (although these S'mores Rice Krispie Treats would be great to take camping!)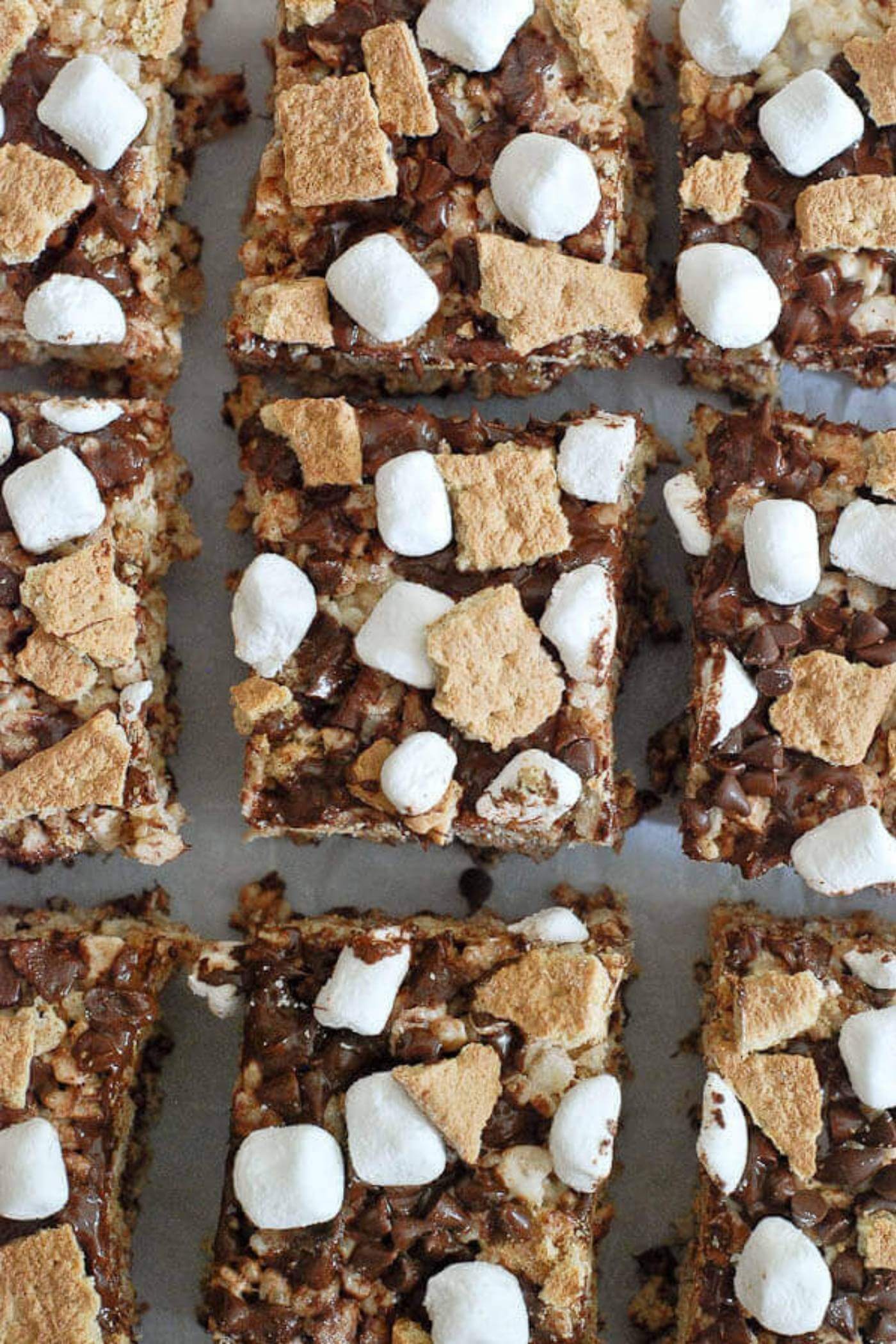 How To Make Them
You likely already know how to make these, right? I mean, everyone knows how to make Rice Krispie Treats. But if not, here's a refresher: put marshmallows and butter in a microwave-proof bowl. Slowly microwave on low until marshmallows are fully melted. Add Rice Krispies and spread into the pan.
To make these into S'mores Rice Krispies, you just need a couple of extra steps:
Add in the chocolate chips, and crumbled graham crackers with the rice krispie cereal as you're combining everything.
I also added a few regular marshmallows to the cereal mixture to add just a touch more texture.
And that's it! In about 15 minutes you can have a campfire treat to go!
Note: The ratio for these krispie treats is a bit different than the normal one you see on the side of the cereal box. Because we're adding in graham crackers in addition to the rice krispies, I upped the amount of butter and marshmallows that are typically called for. You want these to be nice and gooey, not dry and crumbly!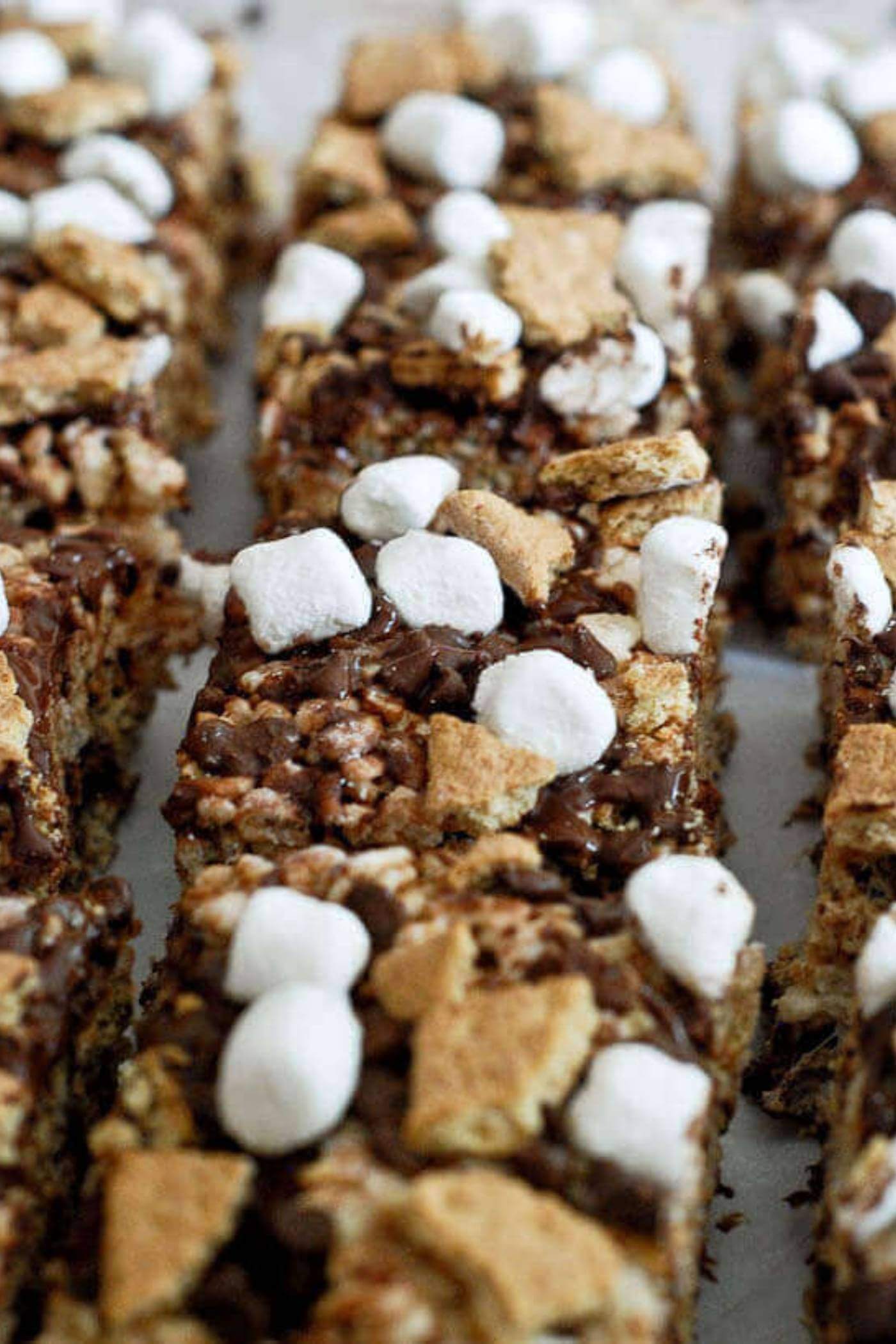 So go on and make these buttery, gooey chocolatey S'mores Rice Krispie Treats today. To celebrate the end of summer, the start of school, the beginning of a new chapter, whatever. I think we all deserve a little bit of sweetness right now.
If you do make these S'mores Rice Krispie Treats, let me know what you think in the comments. And be sure to tag me on Instagram with a photo - I love to see your creations!
More Desserts!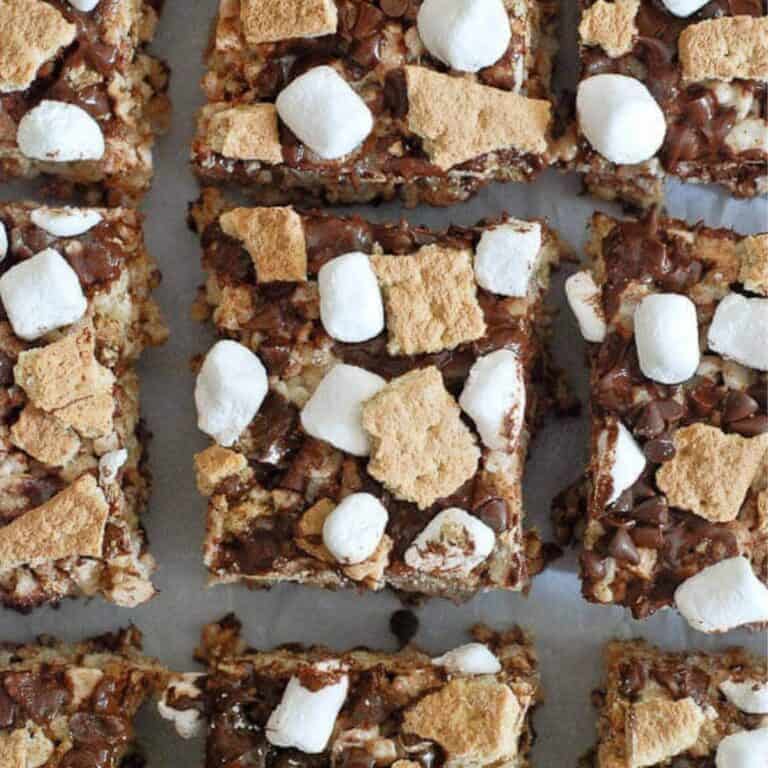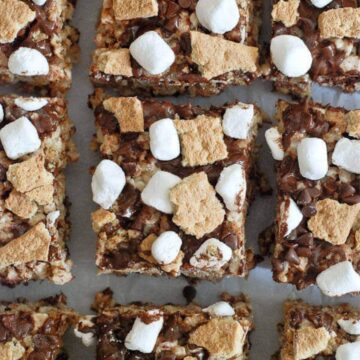 S'mores Rice Krispie Treats
These S'mores Rice Krispie Treats are so good!  Gooey marshmallows, chunks of chocolate, and crumbled graham crackers take these treats to the next level. A perfect quick treat for when you want something fast and don't want to bake!
Ingredients
2

cups

crumbled graham crackers

5

tablespoon

butter

8

cups

mini marshmallows

6

cups

rice krispie cereal

1

cup

mini semi-sweet chocolate chips
Instructions
Prepare a 13x9 inch pan by greasing the sides and bottom with butter. Set aside.

Melt the butter and marshmallows in a large microwave-proof bowl.  I like to use mini-marshmallows here since I think they melt a bit faster, but larger ones would do. Don't leave the bowl in the microwave for too long or the marshmallows will burn.  If you prefer, you could also melt these over the stovetop.

While your marshmallows are melting, place your graham crackers in a large ziplock bag and crumble within the bag. I just use my hands, but you can pound them with a large spoon or meat tenderizer – whatever you like.

Mix the rice krispies, crumbled graham crackers, mini chocolate chips, and extra marshmallows together in a large bowl.

As soon as your marshmallow/butter mixture is melted, add it to the dry mixture and stir to combine. You'll need to work fast here since once the marshmallows start cooling off it will be harder to mix everything together.

Once everything is combined, pour the mixture into the pan and, using a rubber spatula or the back of a spoon, press it into the pan until even.