The surprising combination of flavors in this Olive Oil, Rosemary, And Dark Chocolate Chip Cake make it a subtle staple for your next brunch or coffee date.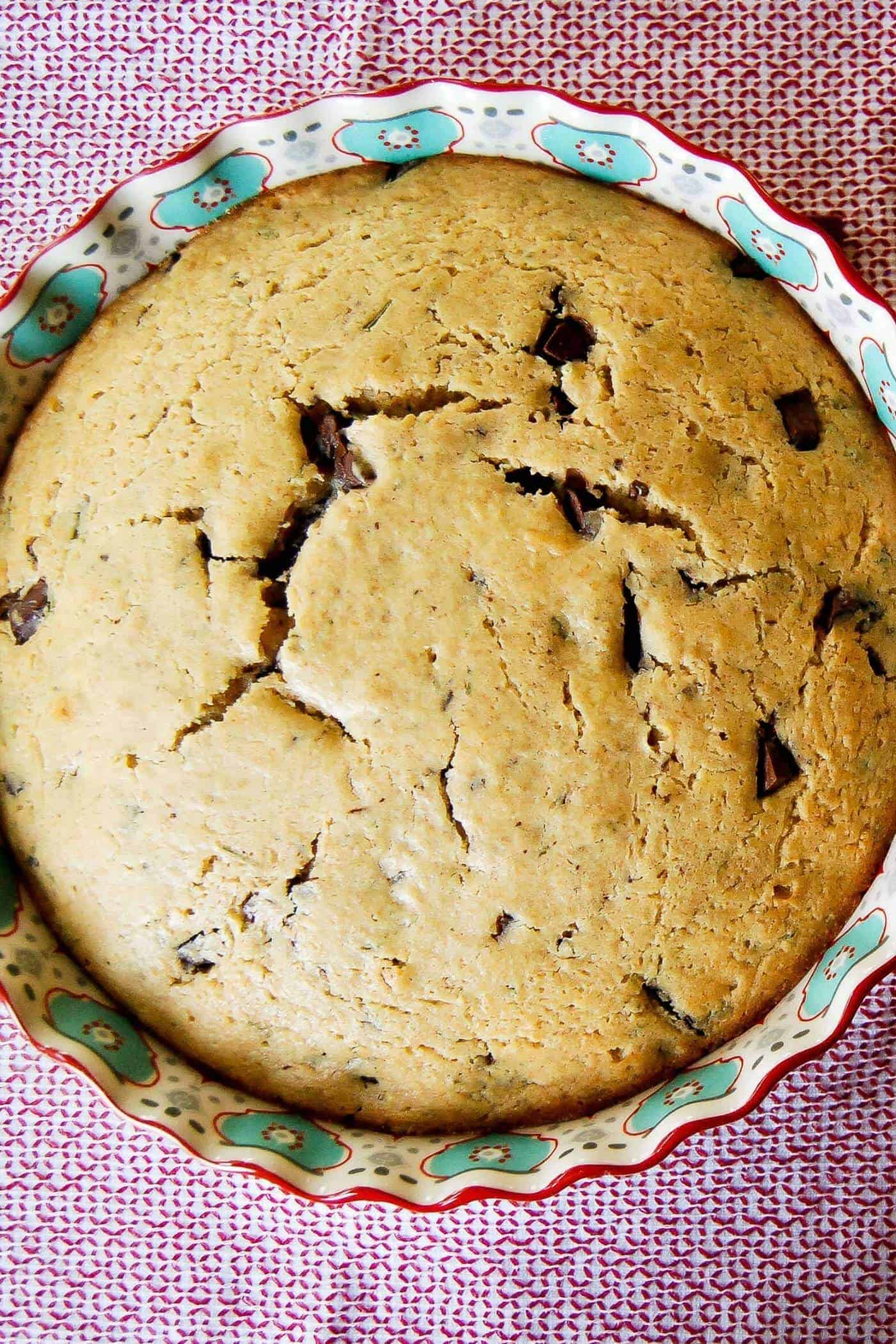 I know what you're probably thinking....olive oil cake? Really? Well, if you've never tried one, you're in for a real treat.
I first heard of Luisa Weiss years ago when I stumbled upon her blog, The Wednesday Chef, while researching some recipes for a dinner party I was hosting for friends. I was immediately drawn to her writing style and became a loyal reader ever since, following along with her as she moved from New York to Berlin, wrote not one, but two books, and has grown a lovely family.
I've made many of the recipes she's written about, with even more gracing my long list of culinary experiments to try. It should come as no surprise then that as I was thinking of a simple but tasty dessert to take to a cookout this weekend, this gem of a recipe popped into my head.
Why I Love This Easy Olive Oil Cake
I'd been wanting to try this Olive Oil Cake forever. Not one for sickly sweet desserts, it sounded perfectly suited to my taste buds – fruity olive oil, bright rosemary, and bitter dark chocolate = perfection. But whenever I thought about making it for a crowd, I always felt that it wouldn't be "quite" enough to make a splash. It's a rather plain cake – no icing, a tad crispier than what most would consider a true cake to be, not too sweet. It's a tea cake through and through. But, given that I had a plethora of Rosemary I'd just harvested from my rosemary plant, I decided now was the time to give this baby a try. And boy, am I glad I did.
It tastes delicious. This cake is perfect – the olive oil gives the cake a fruity distinction and the rosemary and dark chocolate only add to the unique flavor of this cake.
Spelt flour gives this cake a unique texture. The texture is cake-like, but it's a little crispier than a normal cake.
It's super moist. This cake subs in olive oil instead of butter, which makes it incredibly moist, even with the addition of the spelt flour.
Even if you're not serving it for a true dessert (which you totally should), it pairs perfectly with a cup of coffee or tea at breakfast (trust me – this happened at our house with the leftovers!)
It's lovely as is, but can also be dressed up with fancy toppings, like fresh berries, creme fraiche, whipped cream, or berry compote.
Uses normal ingredients. It's a great last-minute recipe to have up your sleeve when you need something quick, since you likely already have on hand everything you need to make it. (Except maybe the spelt flour, but I imagine that if you're willing to lose some of the crispness of the cake, you could probably just sub in regular flour here).
Oh! And did I mention how simple this is to pull together? In fact, it was so simple that my 3 and 6-year-old boys made it for me in an afternoon (with a little guidance of course). Easy, delicious, and kid-friendly baking? It's a win all around.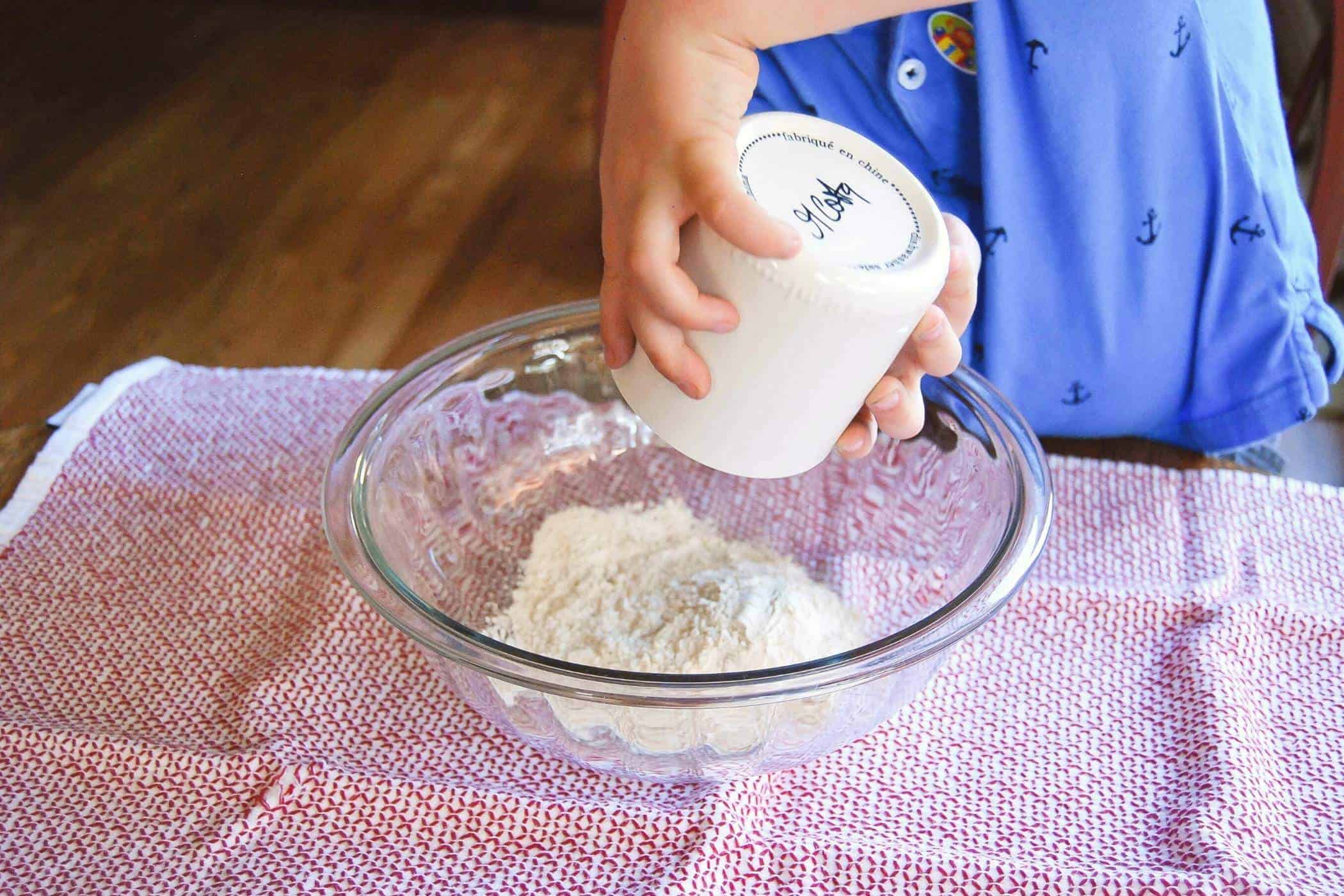 Ingredients
As I said, the ingredients listed here are pretty simple and quality is the name of the game. Here's what you'll need:
Good quality, delicious olive oil. Seriously - use your best olive oil here as it's the star of the show.
Spelt flour+all-purpose flour. The spelt flour is a little bit coarser than all-purpose and gives this cake that crispy, chewy texture that makes it so great.
Sugar
Eggs
Whole milk
Fresh rosemary - don't use dried here!
Dark chocolate. The dark chocolate really compliments the fruitiness of the olive oil in this cake.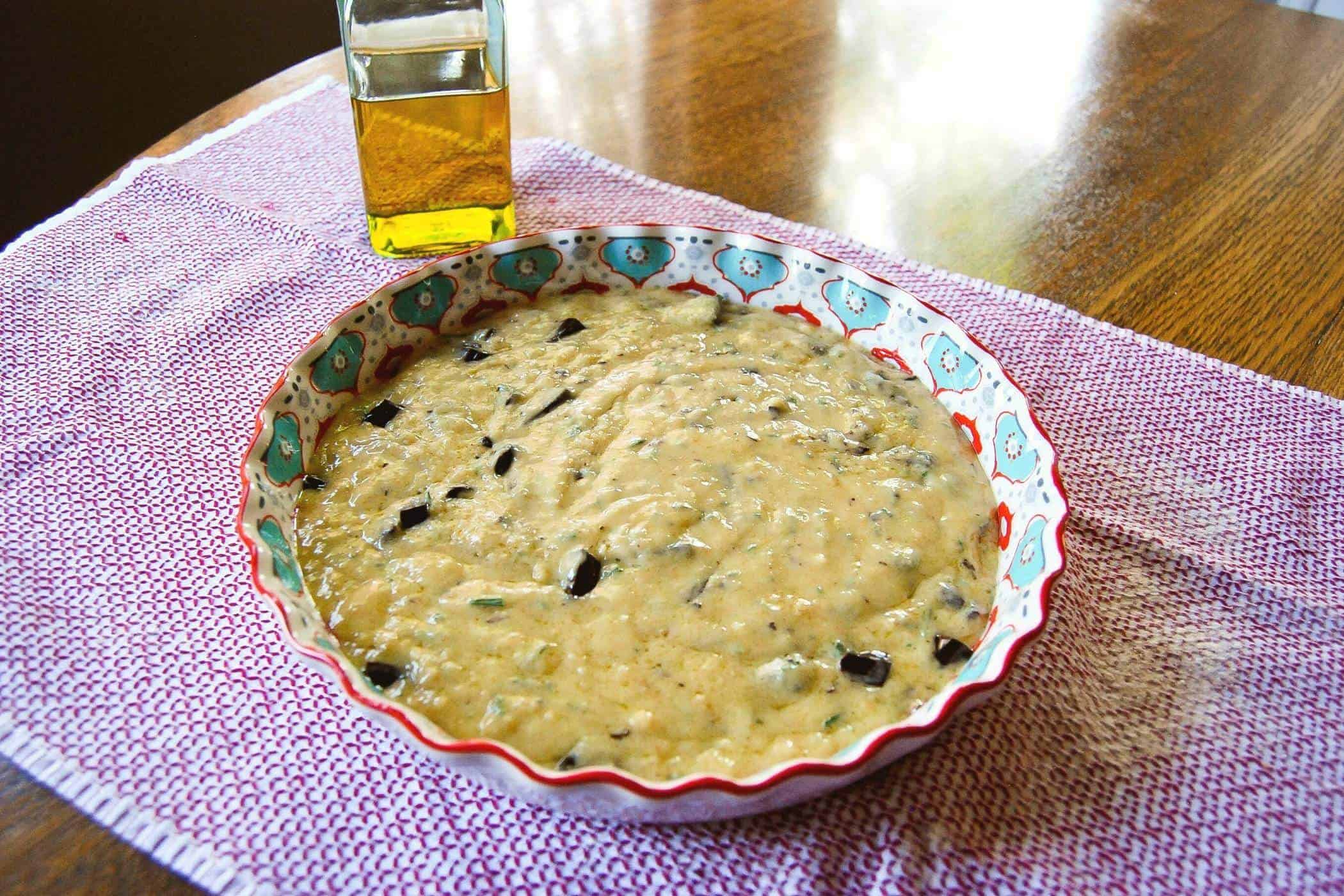 How To Make It
Making this olive oil cake is a cinch!
Whisk your dry ingredients together in one bowl, and your wet ingredients into another.
Slowly fold the wet ingredients into the dry ingredients and stir until just combined, being careful not to overmix.
Add your dark chocolate, then pour the whole mess into a baking dish rubbed with olive oil.
Bake the cake for roughly 40-45 minutes or until a toothpick comes out clean. The top of the cake should be nice and rounded and should be a light golden brown color.
Add your toppings (or serve as is - it's magnificent).
If you make this Olive Oil Cake With Rosemary And Dark Chocolate, let me know what you think in the comments below, and tag me with a pic on Instagram!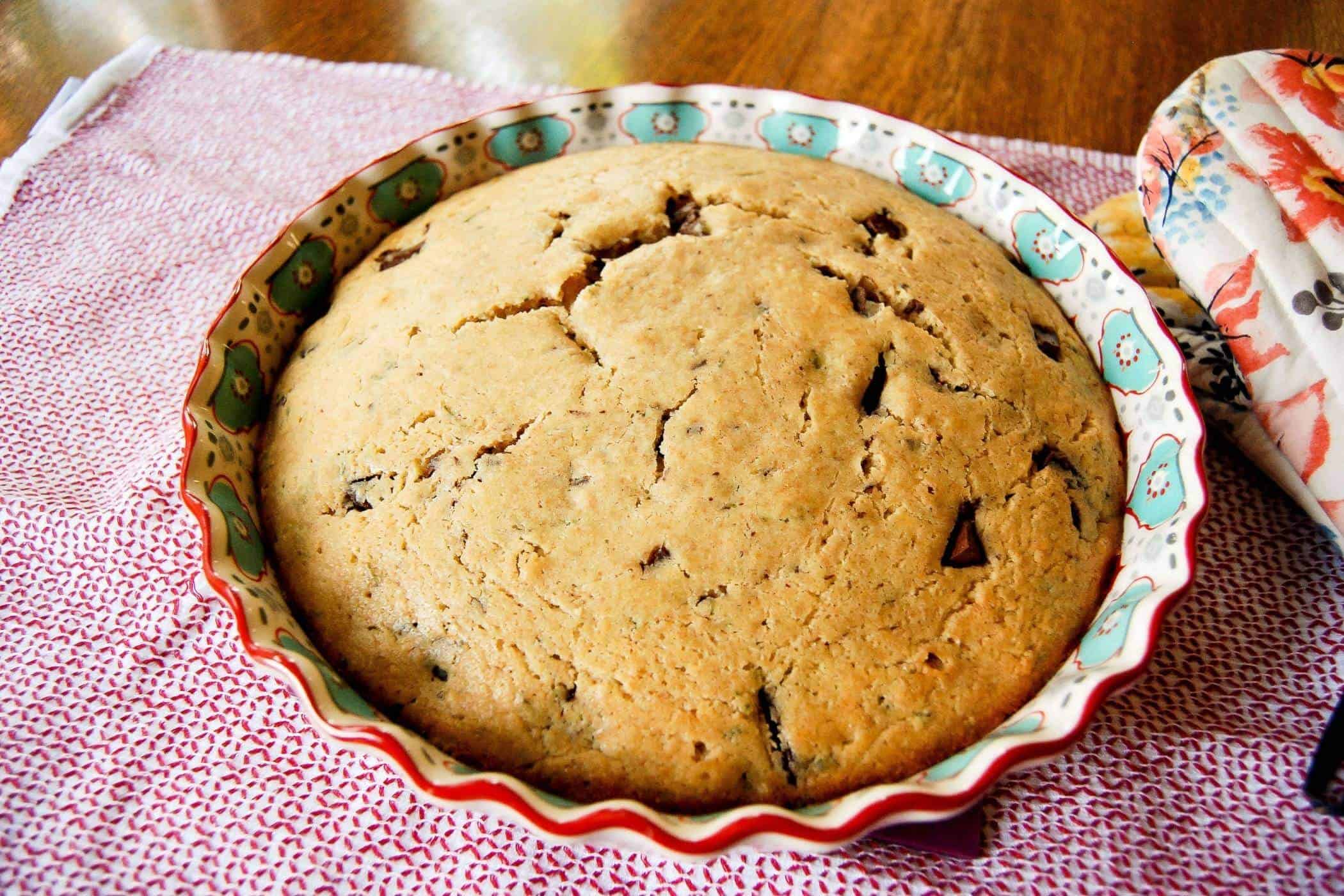 More Easy Dessert Recipes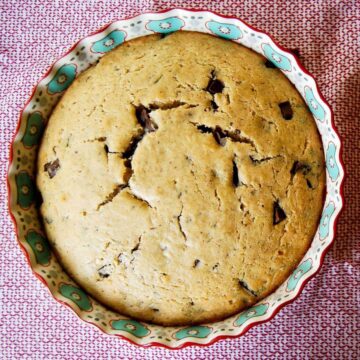 Olive Oil Cake With Rosemary And Dark Chocolate
The surprising combination of flavors in this olive oil, rosemary, and dark chocolate chip cake make it a subtle staple for your next brunch or coffee date.
Ingredients
olive oil for the pan

¾

cup

spelt flour

1 ½

cups

all-purpose flour

¾

cups

sugar

1 ½

teaspoon

baking powder

¾

teaspoon

kosher salt

3

eggs

1

cup

good quality olive oil

¾

cup

whole milk

1 ½

tablespoon

fresh rosemary, chopped

5

oz

dark chocolate (70% cacao), coarsely chopped
Instructions
Preheat your oven to 350 degrees and rub a round baking dish or pie pan with olive oil.

Combine the flours, sugar, baking powder, and salt into a bowl and sift, removing any grainy bits.

In another large bowl, whisk the eggs. Add the olive oil, milk, and rosemary and whisk to combine.

Fold the wet mixture into the dry ingredients and stir to combine. Don't over-mix!

Add in the chocolate pieces.

Pour the batter into your prepared pan.

Bake the cake for about 40-45 minutes or until a toothpick comes out clean and the top is rounded and a nice golden brown color.