This Strawberry Lemon Cake is perfect for your next picnic or brunch. The spongy texture and summer flavors shine in this easy-to-make dessert.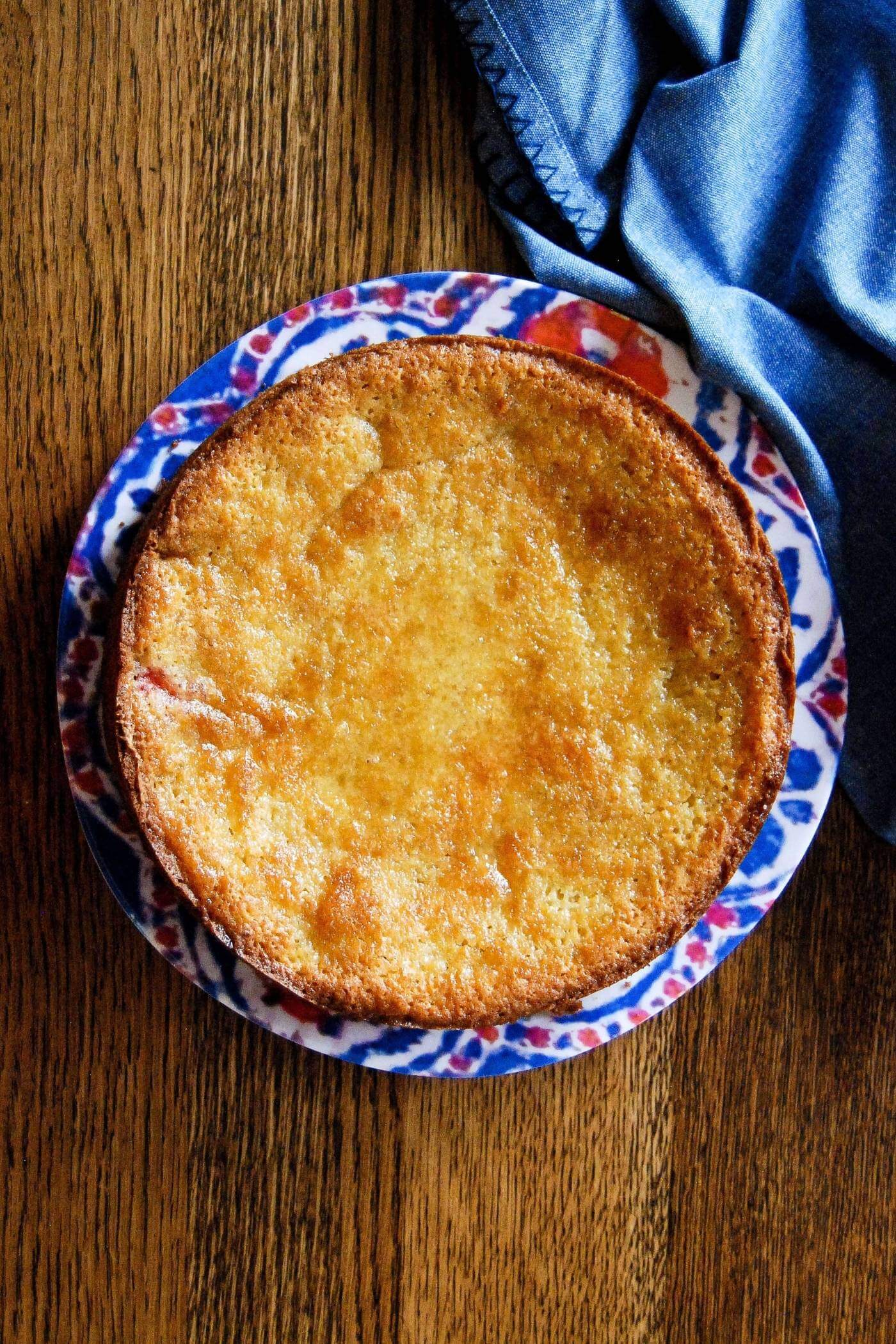 You know when you're a new mom and you think you have all the time in the world with your little bundle of joy? The time ahead of you seems so vast and unknown and you think there's no way that it will go as fast as everyone says.
But, indeed, it does. The late-night feedings slowly fade, the pudgy little rolls start to grow into actual little boy arms and legs, those first words turn into sentences, then questions (and questions and questions…) and before you know it, your baby is gone and you have a bonafide preschooler on your hands.
Today was a hard day. My youngest (my baby!) had his first day of real preschool. He's gone to daycare in the past, so this shouldn't really feel like such a big thing, but it just does.
It's different this year. He's attending the same school that he will attend throughout his elementary years. The same one that my now second grader goes to. And I feel like we are in this final year of transition from him being my little boy to him being a kid who is gone all day at kindergarten. And from there, I know the time really starts flying.
Last night, in anticipation of today, I went through all of his baby pictures (because I obviously love wallowing in my own sadness) and can't believe how much he has grown since we first moved him out here to Colorado – just a 5 week newborn at the time. Sigh. Time rolls on and leaves you heartbroken in the process.
But this is also a happy time too. He's such an independent and spunky little guy. Ready to learn, ready to meet new friends and have new experiences, and excited to be at the same school as his big brother. He's a "big kid" now.
And while it's hard to fight back the tears as I see him slowly slipping from baby to boy, I'm also so excited for him in this phase of life and love seeing how happy he is to be experiencing it.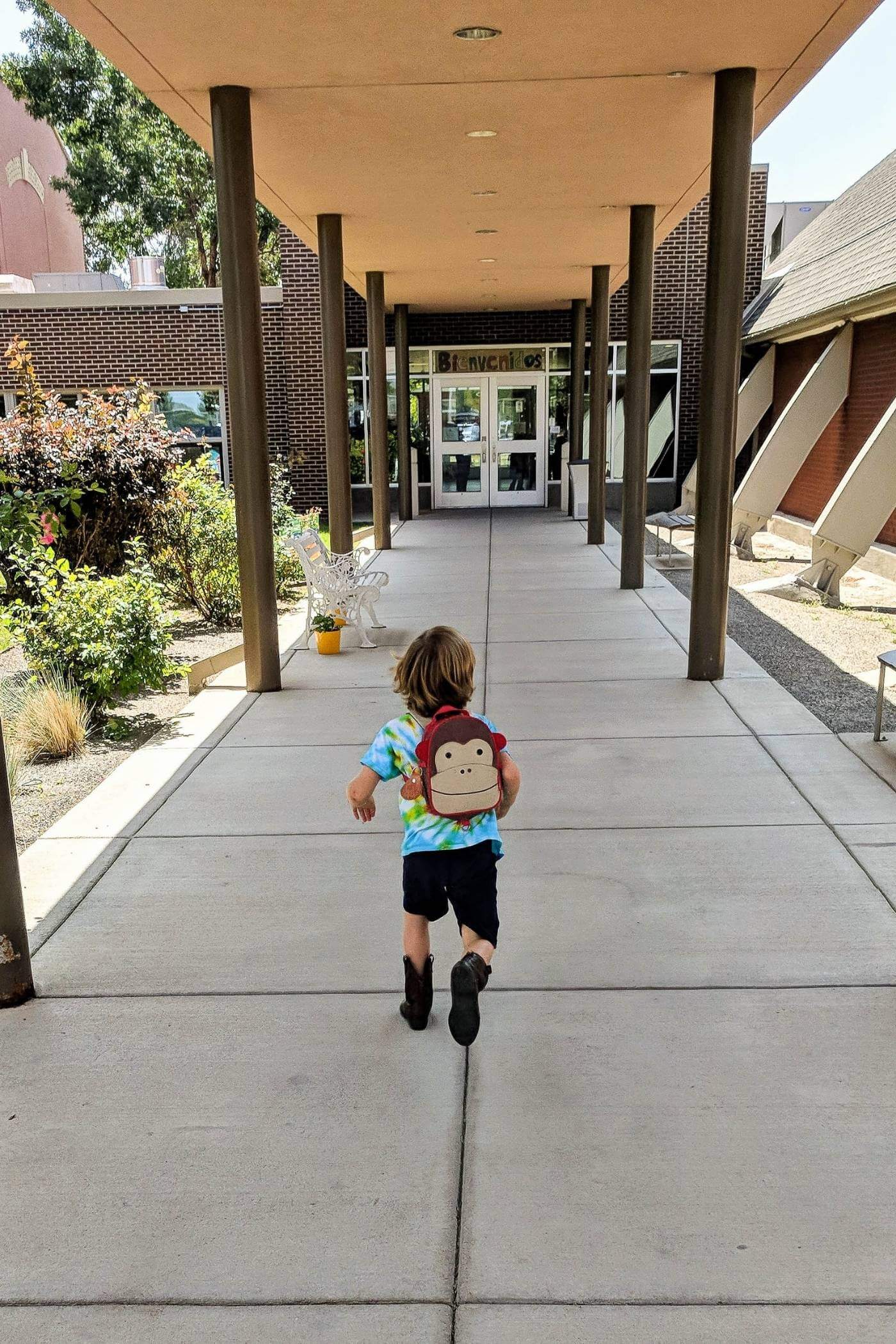 His enthusiasm for school is literally pulling me along. I paused to snap this pic and barely got it as he was literally running into his new school today (he was that excited!). When he got to the door he turned to me and said "Come on, Mom! What are you waiting for!"
I realize, of course, that he's right. Instead of feeling all gloomy and moping around in the past, I'm determined to move forward with him into the future and toward all of the wonderful things we have to look forward to. Living in the moment and all that jazz.
How To Make This Strawberry Lemon Cake
And so my friends, because I'm feeling a little bittersweet today, here's a bittersweet cake recipe for you. I adapted this recipe from this one at Living Sweet Moments.
It's a lemon and strawberry cake that has a wonderful sponge-cake consistency and a slightly crisp outer layer. It's super moist due to this amazingly delicious citrusy syrup that is poured over it while still warm and then absorbed into the cake.
This cake is really easy to make and involves only a few steps.
Start by mixing your dry ingredients in a large bowl. In a separate bowl, cream your butter and 1 cup of the sugar together, then slowly add eggs, lemon zest, lemon juice, sour cream, and the milk to the mix and combine well.
Add your flour mixture to the wet ingredients and stir until completely combined, then pour into a buttered springform pan.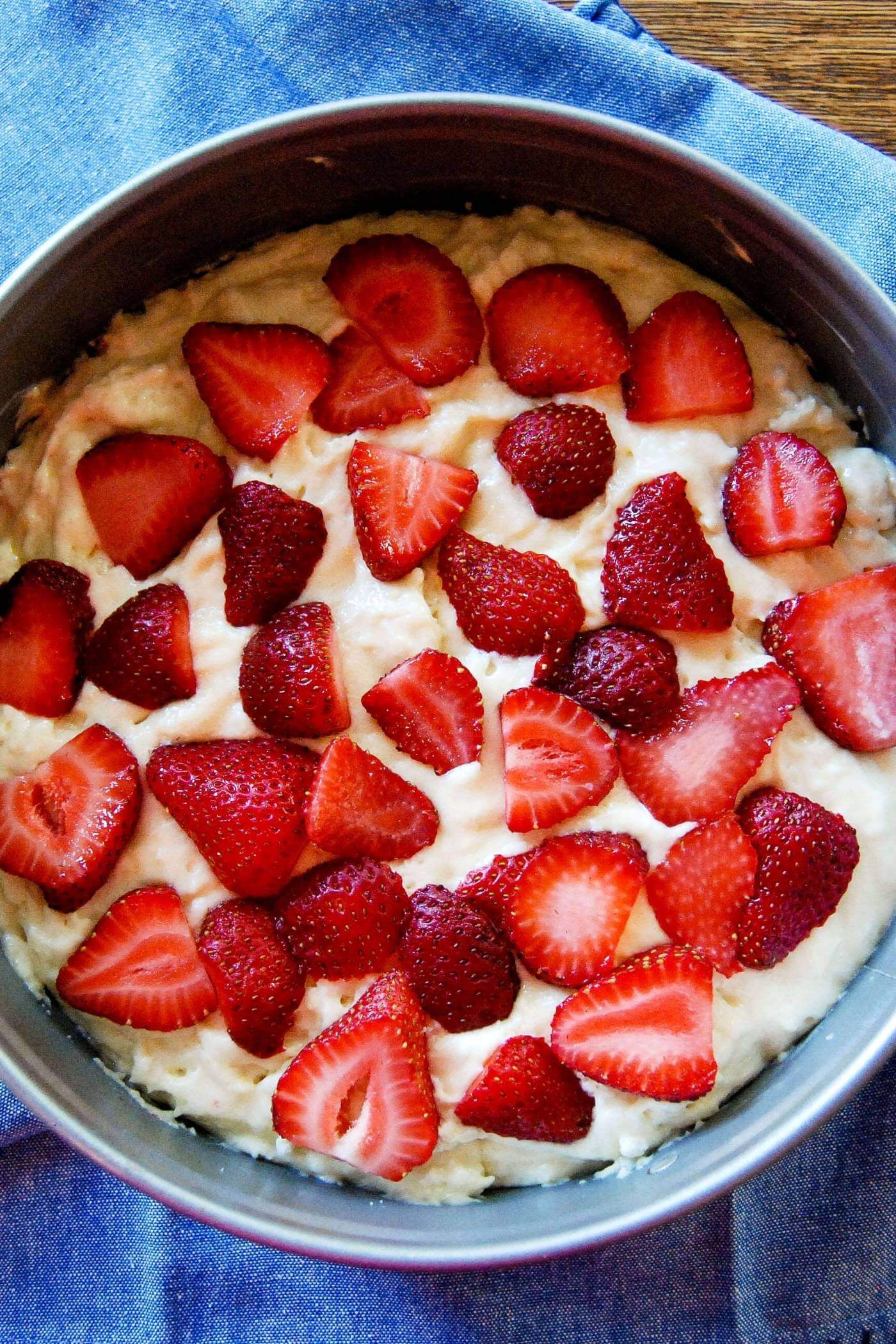 Place your cut strawberries on top of the cake. These will kind of sink into the cake while it's baking - it makes such a nice surprise when you cut into it and see them all nicely aligned at the bottom.
Make The Lemon Syrup
Once the cake has cooked, allow it to cool while you make your lemon syrup. Combine the remaining lemon juice and sugar in a small saucepan and stir over medium heat until the sugar has fully dissolved.
Finally, pour the lemon syrup over the top of the cooled cake.
I love this strawberry lemon cake, but don't limit yourself to the strawberries! Blackberries or raspberries would also be amazing here so experiment a bit with the fruit.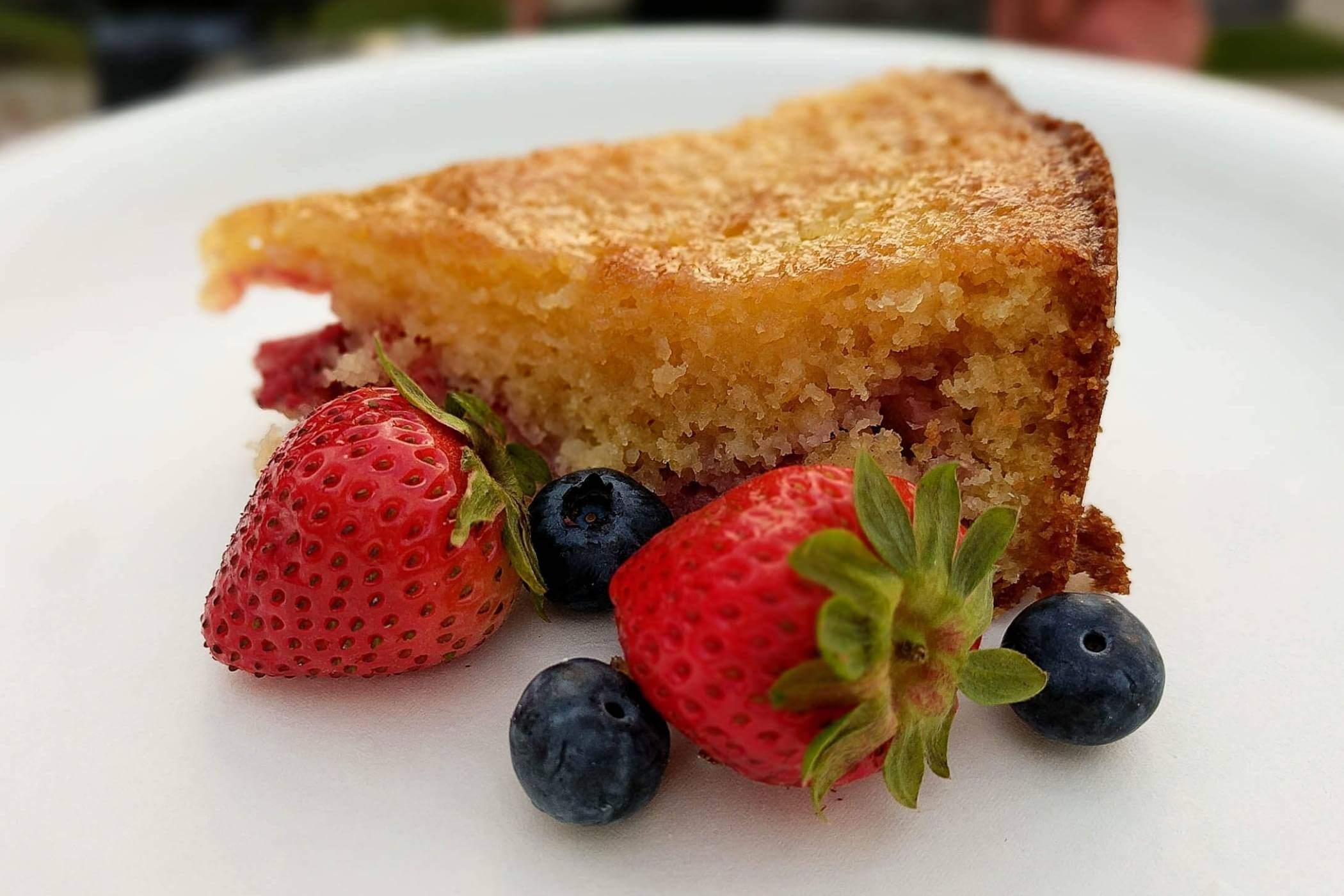 This is a great cake to bring along for a summer picnic and tastes delicious paired with fresh fruit.
If you try this Strawberry Lemon Cake, let me know what you think in the comments. Then tag me on Instagram with a pic. I love to see your creations!
More Easy And Delicious Desserts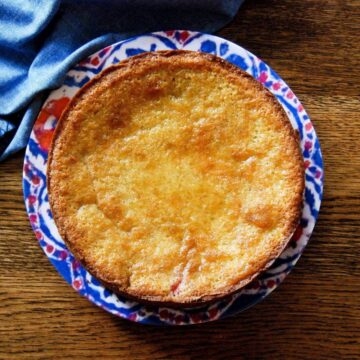 Strawberry Lemon Cake
This strawberry lemon cake is perfect for your next picnic or brunch. The spongy texture and summer flavors shine in this easy-to-make dessert.
Ingredients
1 ¾

cup

all-purpose flour

1

teaspoon

baking soda

¼

teaspoon

salt

½

cup

unsalted butter

1 ¼

cup

sugar, divided (1 cup for the cake, ¼ cup for the syrup)

2

eggs

1

tablespoon

lemon zest

½

cup

freshly squeezed lemon juice, divided

¼

cup

sour cream

¼

cup

milk

½

cup

sliced fresh strawberries (or other berry of your choice)
Instructions
Preheat your oven to 350 degrees.

Butter and flour a 9-inch cake pan (I used a springform pan to make it easier to remove the cake after baking).

In a large bowl, mix together the flour, baking soda, and salt, and set aside.

In a separate bowl, cream the butter and 1 cup of the sugar with a hand mixer until light and fluffy

Add the eggs one at a time into the butter and sugar mixture, beating well after each one.

Add the lemon zest, the lemon juice, the sour cream, and the milk, and mix well.

Slowly add the flour mixture to your wet ingredients and mix well.

Pour your batter into the cake pan and use a spatula to smooth out the top.

Place the sliced strawberries in a layer over the top of your cake batter.

Bake for 35-45 minutes until done. (Test by inserting a toothpick or knife into the center – if it comes out clean you're good to go!)

Let the cake cool for 30 minutes before removing it from the cake pan

While the cake is cooling, make the lemon syrup. Combine the remaining ¼ cup of lemon juice and ¼ cup of sugar in a small saucepan over low heat. Stir the mixture until the sugar is completely dissolved.

Once the cake has cooled for 30 minutes, remove it from the cake pan and pour the lemon syrup slowly over the top. Allow cake to cook completely.

Top the cake with more berries and serve.