This Vegetable Lasagna Recipe is silly simple to make and uses a homemade sauce that's bursting with flavor, easy no-boil noodles, and of course tons of healthy vegetables! Make it for dinner tonight or freeze it for an easy weeknight meal!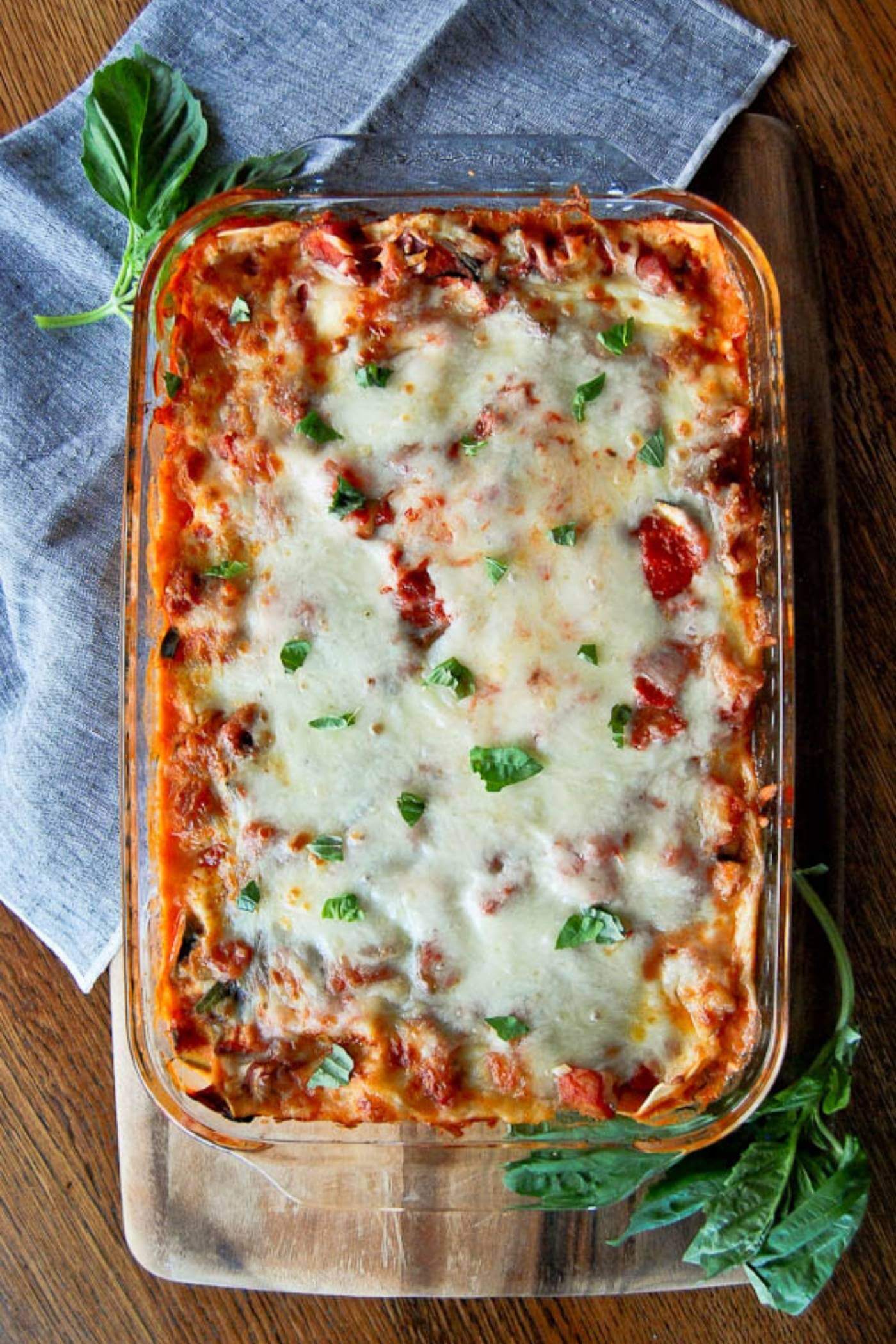 January is such a conflicting time in the food world for me. I feel, in equal measure, the need to eat healthier, but also crave the comfort (aka – unhealthy!) food that still accompanies these long cold winter months. What's a girl to do? Veggie Lasagna to the rescue!
How To Make It
This vegetable lasagna recipe is the best of both worlds. It combines the ultra decadence of lasagna but lightens it up by making it meatless and by using cottage cheese instead of ricotta as its cheese base.
Start by roasting your vegetables. I used eggplant and zucchini in this recipe, but mushrooms are also great.
While your veggies are roasting, prepare your sauce by sauteing some garlic and onion for a few minutes, then adding crushed tomatoes and a slew of Italian spices to the pot. Simmer this on low heat for about 20 minutes, then toss in your roasted veggies. Cook the sauce for an additional 5 minutes to meld all the flavors together then remove from heat.
Make your cheese mix. (AKA - my favorite part!) This cheese mix uses cottage cheese and half n half to cut down on the calories and combines them with parmesan and mozzarella an egg and more spices.
All together now! Assemble your lasagna by layering the sauce, then noodles, and finally the cheese in your casserole dish. Repeat this process once more, sprinkle with basil, then toss the whole thing in the oven.
Suffer an excruciatingly long hour as your lasagna bakes and your house begins to fill with the sweet smell of Italian deliciousness.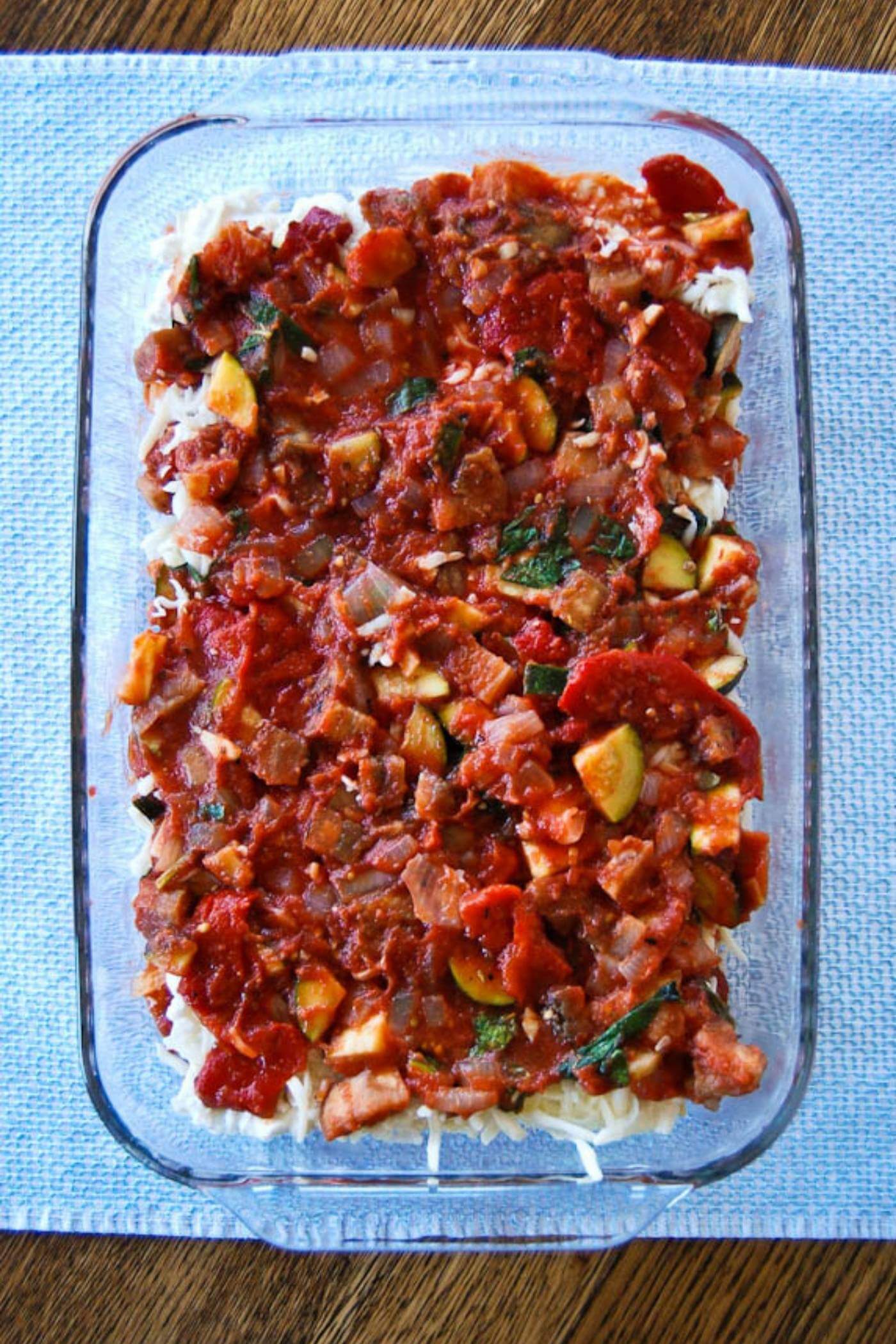 Tricks To Avoid Watery Vegetable Lasagna:
One thing that has always plagued me in the past with vegetable lasagna is how to make it so it's not so watery. Too much water can ruin a pasta dish and vegetables are notorious for creating this problem in lasagna. Here are some handy dandy tips to avoid the dreaded watery lasagna.
Use no-boil noodles. I love no-boil noodles for veggie lasagna. They're easier and cut out an extra step. And, they go in dry and help to soak up any of the extra liquid that may come from the veggies you're using. Easy and a better end result are always an A+++ in my book.
Use roasted eggplant. Using eggplant in your recipe is great because the vegetable acts much like a sponge, which, like the no-boil noodles, can soak up some of that extra moisture that may be lurking around. And roasting them adds tons of flavor (while also getting some of that excess moisture out.)
Cook down most of your vegetables before adding them to the lasagna. When you add your vegetables between your noodle layers, you're essentially creating a little steam pocket causing them to release even more water. These then get trapped between your noodles, making the whole lasagna watery. Cooking them down (sautéing mushrooms and spinach, roasting eggplant as I mention above, etc.) can remove much of this water before you layer your lasagna, making the end result less watery.
Note: try to use as little oil as possible when roasting or sautéing your vegetables. This is the key is to make them less watery, but you don't want to make an oily mess in the process. Adding a tiny bit of salt to them can also pull out some of the additional moisture.
Yes - You Can Freeze This Veggie Lasagna!
A great thing about this recipe (other than it's healthier than some other lasagnas and tastes delicious) is that it also freezes well. You can make the whole thing and then pop it in the freezer for when you need it later.
We're a family of four so we usually eat half the pan on the first night that I make it. Then we freeze the other half for another time, which makes for a GREAT timesaver on those weeknights where we're all running around like crazy busy people.
A quick tip for freezing lasagna: wait until it's set in the refrigerator for a night. This allows it time to firm up a bit and makes it so much easier to handle when sectioning it off or placing it in freezer-ready containers. Then, once you're ready to eat it, just thaw it out, place it in a pan, and reheat it in the oven. (Reheat the lasagna at 385%, covered for about 30-40 minutes or until it's heated through).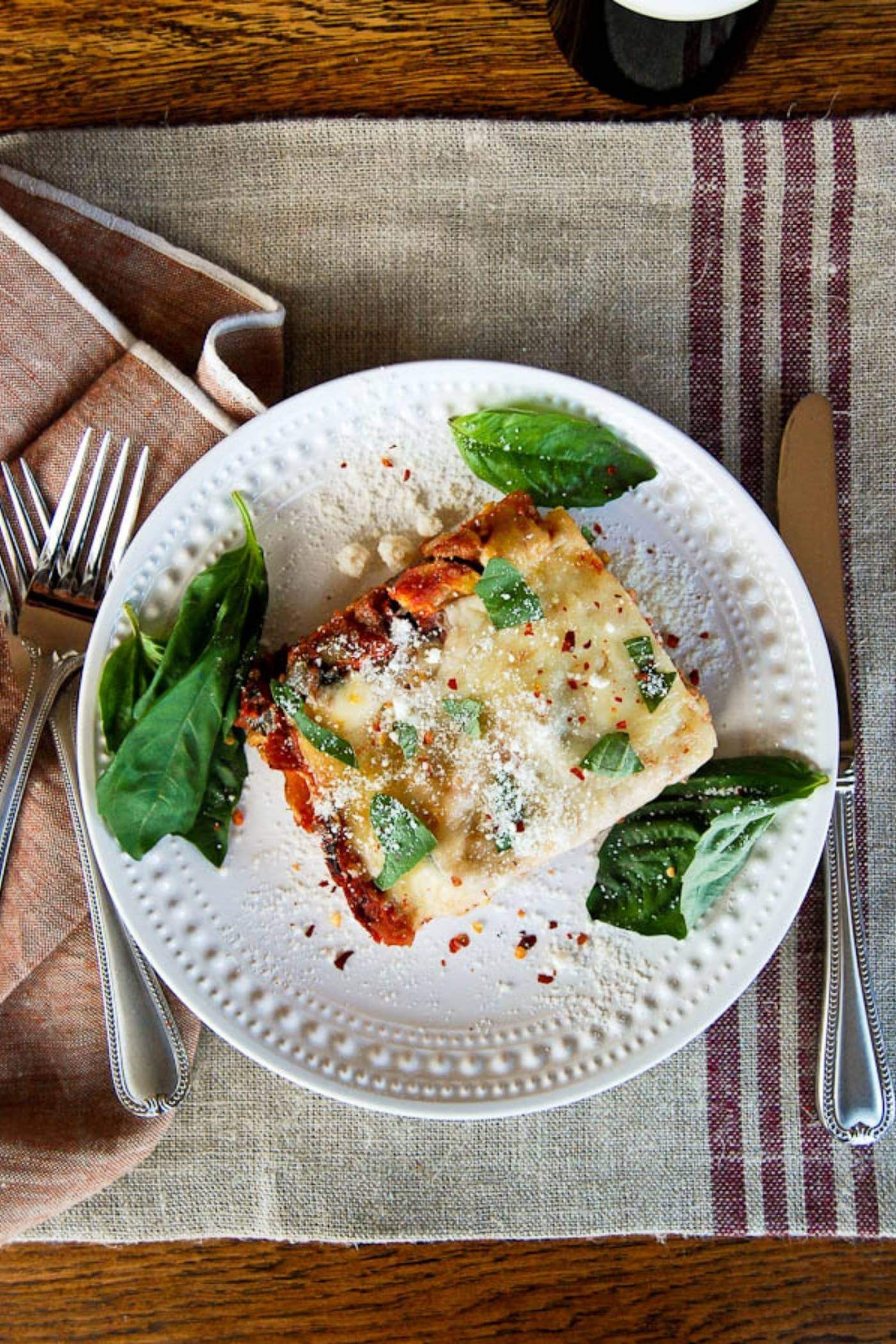 So there you have it. Healthy and comforting, this lasagna is a winner in our house. I hope it is in yours too.
If you make this, I'd love to hear what you think! Tag me on Instagram and post your thoughts in the comments below!
More Delicious Pasta Dishes!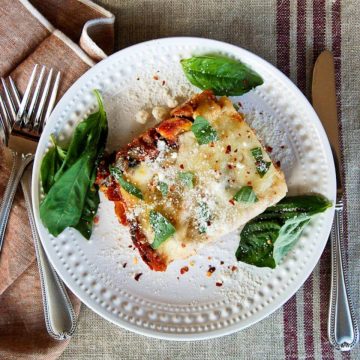 Easy Vegetable Lasagna With Roasted Eggplant And Zucchini
This vegetable lasagna recipe is simple to make and uses a homemade sauce that's bursting with flavor, easy no boil noodles, and of course tons of healthy vegetables! Make it for dinner tonight or freeze it for an easy weeknight meal!
Ingredients
For Roasting The Veggies
1

medium eggplant, chopped

1 ½

zucchini, diced

1-2

tablespoon

extra virgin olive oil (use sparingly)

½

teaspoon

salt
For The Sauce
4

cloves

garlic, chopped

1

sweet onion, chopped

6

oz

roasted red peppers, chopped

28

oz

can of crushed tomatoes

½

teaspoon

dried thyme

½

teaspoon

dried rosemary

½

teaspoon

dried parsley

½

teaspoon

basil

1

teaspoon

crushed red pepper flakes

salt to taste
For The Cheese
3

cups

cottage cheese

2

eggs

¾

cup

parmesan cheese

1

tsp

salt

½

teaspoon

pepper

1

teaspoon

thyme

1

tablespoon

half n half
Additional Ingredients
2

cups

shredded mozzarella cheese

1

package of whole wheat no-boil noodles

1

small handful of fresh basil, chopped
Instructions
Preheat your oven to 400 degrees.

Arrange the eggplant and zucchini on a foil-lined pan. Brush very lightly with oil, and sprinkle salt over veggies. Toss to ensure vegetables are lightly coated on all sides.

Roast eggplant and zucchini for 12 minutes in the oven. Once finished cooking, remove and set aside. Lower oven temperature to 375 degrees.

While your vegetables are roasting, prepare your sauce.  Saute' the garlic and onion in oil for about 1-2 minutes on medium heat. Add the roasted red peppers, crushed tomatoes, and all the spices and continue cooking on medium/low heat for 20 minutes.

Add the eggplant and zucchini to the sauce and cook for an additional 5 minutes. Salt to taste. Remove from heat and set aside.

Combine cottage cheese, eggs, parmesan cheese, salt, pepper, thyme and half n half together in a large bowl and mix well.

Time to layer your vegetable lasagna! Spread ⅔ cup of your sauce in the base of a 9" by 13" pan. Cover the sauce with your noodles, breaking them and arranging them as needed to fit your pan. Spread ½ of the cheese mixture on top of the noodles, and ⅓ of your mozzarella. Repeat this layering process a second time

Finish by topping everything with mozzarella cheese and sprinkle with fresh basil if desired.

Tent lasagna with foil (careful not to let the foil touch the cheese!) and bake at 375 degrees for 40 minutes.

Remove foil and bake for an additional 15 minutes.