Pesto Sauce is so easy to make. This is an easy and delicious version that goes great with chicken and pasta, grilled cheese, and just about anything!
Hello friends! I went to Cure Organic, a small family farm on the outskirts of Boulder to score this week's bounty. This early in the season, most of what's available are greens, and Cure had an abundance of pea shoots at their farm table.
I'd never done anything with pea shoots so I was intrigued when I saw them and decided to give them a go, with a bright and earthy pesto forming in my mind. After wrapping them up, along with a bunch of fresh mint, I was on my way.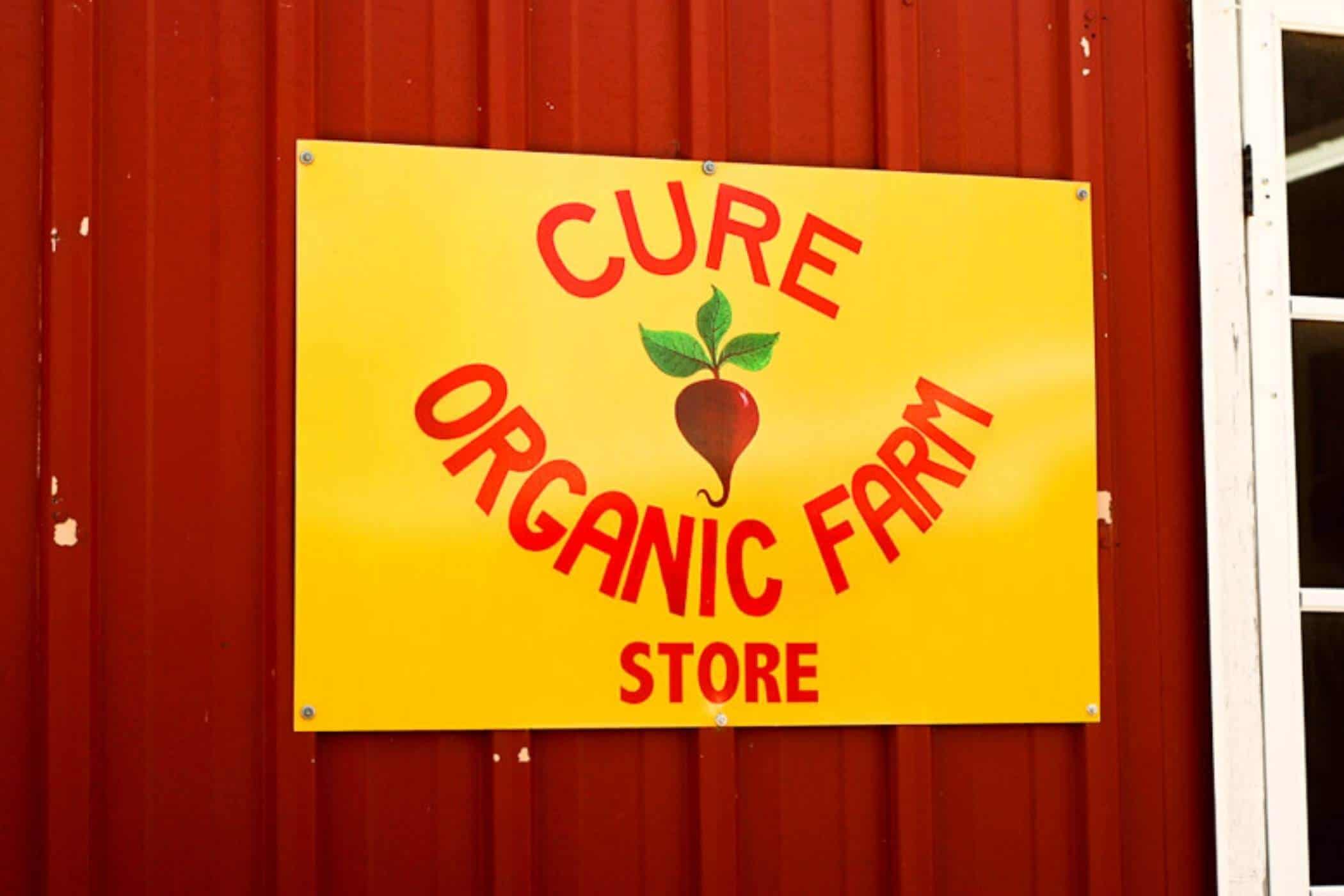 What Are Pea Shoots?
It turns out that pea shoots are incredibly versatile. They have long tendrils and, much like watercress, you can eat the whole thing, so they're lovely to toss into a salad or throw atop a plate of pasta. Pea shoots have also been used for centuries in Asian dishes, something that I will no doubt try my hand at in my next venture with them.
One of the best things I've learned about pea shoots is how they change with the season. This time of year they tend to be a bit earthy, whereas once summer hits they take on a sweeter taste.
After considering this, my thoughts went immediately to something that would benefit from a strong, earthy taste and a rich texture – pesto.
What Is Pesto And What's It Made Out of?
Pesto sauce is an Italian staple and is usually made out of basil, garlic, olive oil, pine nuts, and grated hard cheese, like parmesan or Pecorino. All of these ingredients are crushed down, typically with a mortar and pestle, or blended in a food processor to form a rich, earthy sauce that is a great topping for pasta, among other dishes.
Pesto is also really healthy, with tons of good for you fats from the olive oil and nuts, and great antioxidants from the garlic, basil, and pinenuts.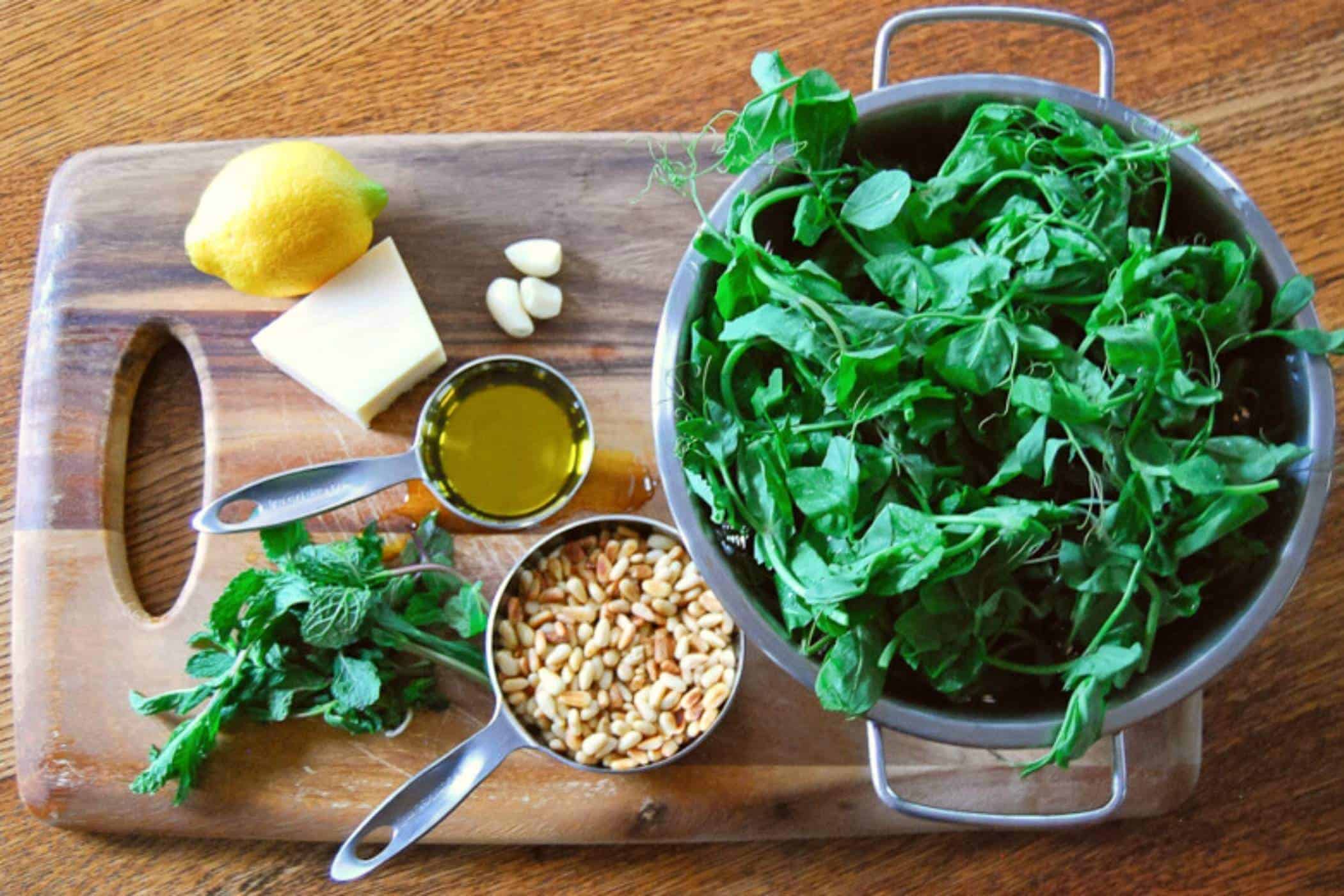 Ingredients
For this pesto, I started with the basics – extra virgin olive oil, toasted pine nuts, garlic, parmesan, and of course, the (not so basic ingredient) pea shoots.
If you're not able to find pea shoots where you are or they are out of season, not to worry. Using just the basil, or even subbing in spinach here is totally acceptable and delicious.
Aside from a cutting board, the only tools you really need for this recipe is a food processor and a pan.
How To Make Pesto Sauce
I began by toasting the pine nuts for about 2 minutes in a pan over medium heat. You'll know the nuts are done when they start to smell fragrant. You don't have to toast the nuts, but it adds a nice roasted element to the finished product that goes great with the pesto.
Next, I processed three garlic cloves, the nuts, and a couple of chunks of parmesan (about 3 ounces) very roughly in the food processor.
Finally, I added ⅓ cup of olive oil and 2 cups of pea shoots and processed them until the pesto started to turn a vibrant green and mix into a thick paste-like consistency. I added a little bit of salt and then gave it a taste. Not bad – it was definitely earthy, but the overall flavor was a little bland and not quite as spring-like as I had hoped for.
I decided to throw in some of the mint that I had also purchased from Cure Organic, and the juice of half a lemon. These two ingredients really took the sauce from good to great – the mint added just a bit more complexity to the dish and the lemon lightened it up tremendously.
Tips For Success
Toast your nuts. This isn't necessary, but I think toasting the nuts just slightly adds a bit more flavor to the pesto.
Use a decent olive oil. The olive oil helps to make this dish and the flavor of it is really prominent so make sure to use a good, flavorful olive oil that you love.
Use good cheese. You could technically use the grated Parmesan cheese that comes in a green container from the store. But personally, I find that buying a good solid block of high-quality parmesan, romano, or pecorino cheese, then shredding it for the pesto sauce is much more flavorful.
The order of how you combine the ingredients matters. This is especially true if you're using a food processor to make the pesto vs. a mortar and pestle. Processing olive oil at a high speed in a food processor can cause it to take on a bitter taste. For this reason, it's best to pulse your nuts and garlic first, then add your basil and any other greens you might be using first. Then stir in your olive oil and cheese by hand.
If you want to do traditional, the mortar and pestle is the way to go. After all, "pesto" is related to the Italian word "pestare", which basically means "to crush". A food processor speeds things up and gets the job done in about 5-minutes, which is a huge plus in my book. But, many people find that making pesto with a mortar and pestle provides a better texture and flavor, albeit with a little extra elbow grease. Both methods produce a good-tasting pesto, so experiment for yourself do what you have time for.
Variations To Try
The best thing about this delicious sauce is that pretty much any green can be turned into pesto if you add garlic, oil, nuts, and cheese. I also love that what you add can make the pesto sauce so very different.
Feeling traditional? Basil and pine nuts it is. Craving a little spice? Toss in some red chilies. Only have walnuts or almonds on hand? No problem – sub them in, or whatever else you happen to have lying around.
You really can't mess this up. (A strong selling point when deciding what to make for your very first blog post on a cooking site!).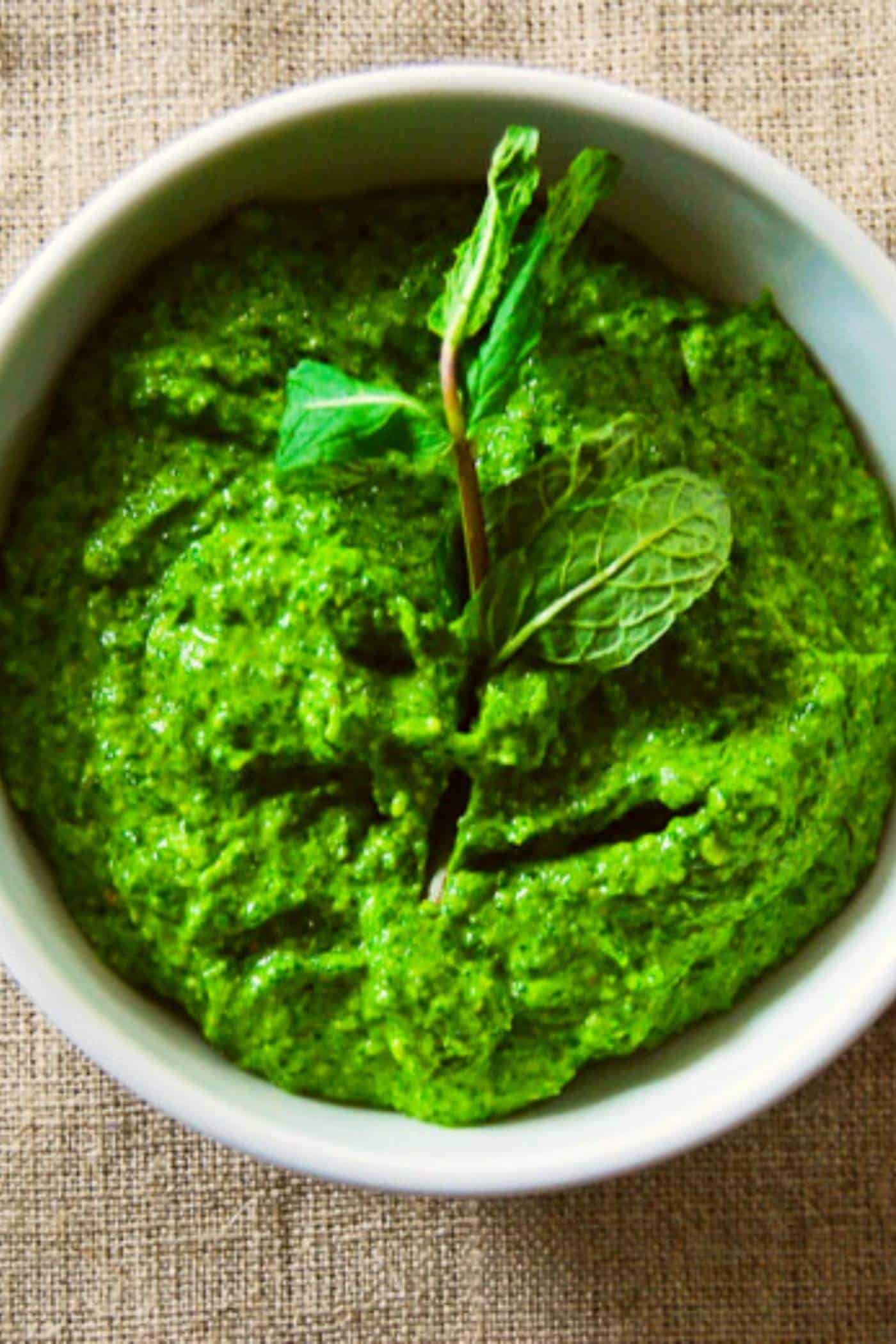 What To Serve With Pesto
We ate this atop some whole wheat pasta (a no-brainer), but let me tell you I've been adding it to all sorts of dishes this week and the results have been nothing short of terrific.
I jazzed up a grilled cheese sandwich and added it to eggs to give them an extra kick. I've even been eating it straight out of the bowl as a dip for crackers and veggies. I seriously cannot get enough of it. Try it with:
Grilled chicken
Chicken sandwiches
Grilled cheese
Pasta dishes
On pizzas
In soups
Alongside a crusty bread
As a veggie dip
On roasted vegetables
Can You Freeze It?
Yes! I like to make a big batch of this, then freeze it for later. The easiest way I've found to freeze pesto is to add it to ice cube trays. Freeze it in the tray, then pop out your pesto cubes and put them in a freezer bag and back into the freezer. This method works great since it makes it easy to just take out what you need when you need it.
I hope you try out your own variation of Pesto Sauce. If you do, I'd love to hear about it in the comments below. And don't forget to tag me on Instagram with a pic!
More Great Sauces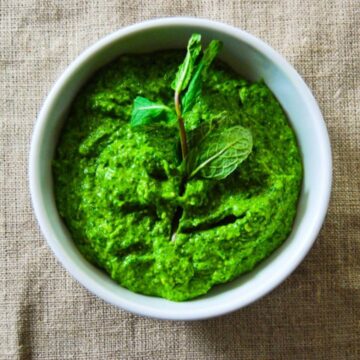 Easy Pesto Sauce
An easy and delicious pesto that goes great with chicken and pasta, grilled cheese, and just about anything!
Ingredients
2

cups

pea shoots

½

cup

pine nuts, lightly toasted

3

garlic cloves

3

oz

parmesan cheese

juice from ½ lemon

½

cup

fresh mint leaves

⅓

cup

extra virgin olive oil

1

teaspoon

salt, plus more to taste
Instructions
Toast the pine nuts for about 2 minutes in a skillet over medium heat.

Add the garlic, nuts, and Parmesan to a food processor and pulse until the mixture is roughly chopped.

Add in the pea shoots, mint, oil, lemon juice, and salt, and pulse until the mixture turns to a bright green paste. The sauce will be fairly thick, which is great for spreads and dips, but if you want it a little more "saucy" to put atop pasta, you may wish to add another ¼ cup of oil.)

Enjoy over pasta, as a spread, or as a dip for veggies or crackers.