This old-fashioned Soft Sugar Cookie Recipe has been in my family for generations. The secret to these cookies is sour cream, which creates a soft doughy texture and an irresistible cookie that is loved by everyone. You won't be able to eat just one!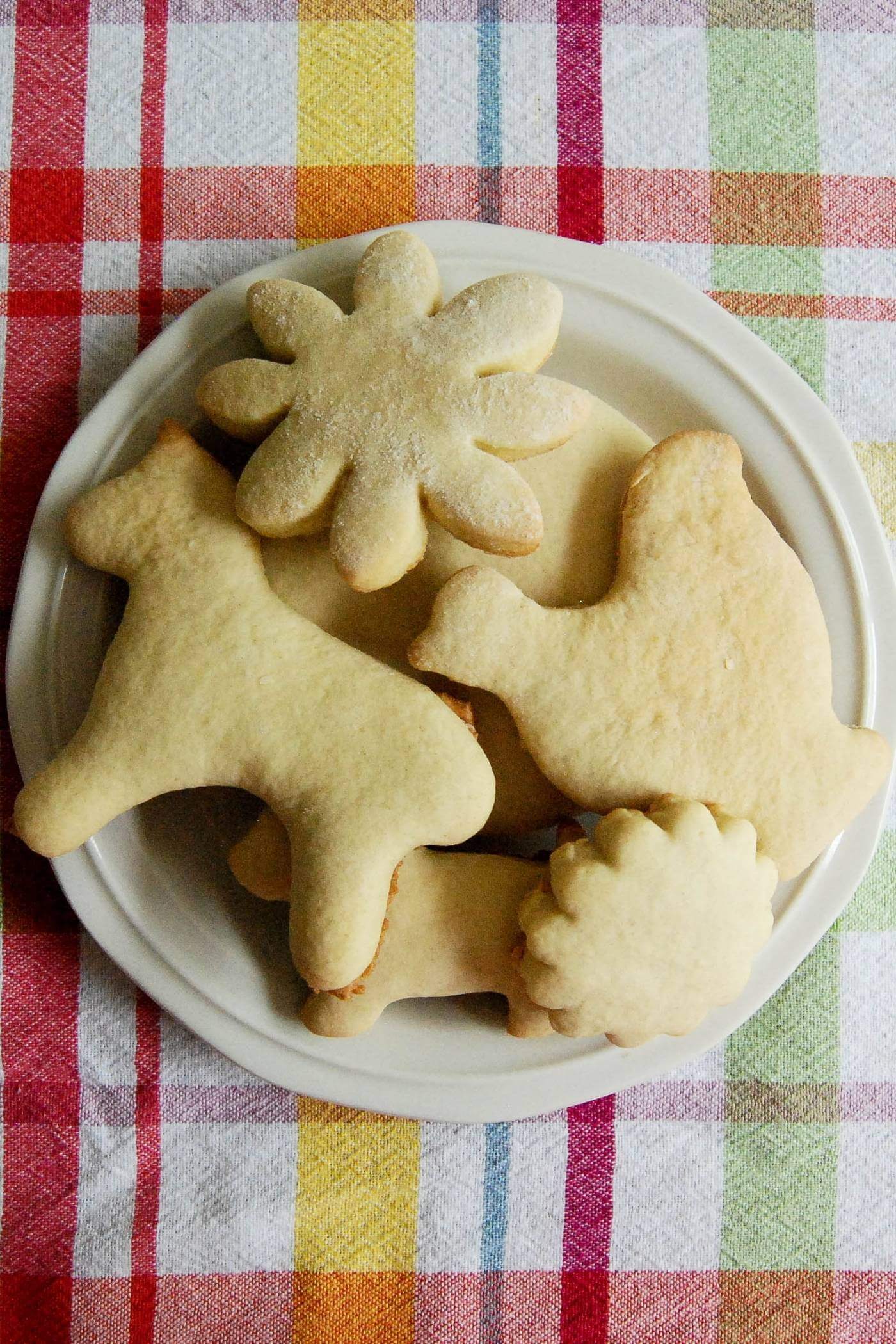 My family has this soft sugar cookie recipe that has been around for ages. It's a basic sugar cookie that my Great Grandma used to make on repeat when my dad and all of his cousins were growing up. My Grandfather (my Dad's dad) was one of 13 children so my Dad grew up in this large close-knit family with gobs of cousins running around and he can't remember a time when these cookies were not present at his Grandmas house.
And it's been a constant in my life as well. Growing up I can remember making these soft sugar cookies with my Mom and siblings each Christmas, and on other family occasions too. Now that I'm an adult, I make them each Christmas with my own sons and they have become a loved tradition in our home.
My Great Grandmother had made these sugar cookies so many times that she didn't really have a written down copy of the recipe. My Mom recalls one time asking her how to make them and her reply was something like "Well, you take a large bowl, fill it halfway with flour, make a well in the middle, add some lard and eggs and sugar, mix it up"…
In other words, it was a bit of a practiced science with her, one she never bothered writing down because it was embedded so firmly in her mind from years and years of making the cookies with her own kitchen tools. She didn't need a recipe.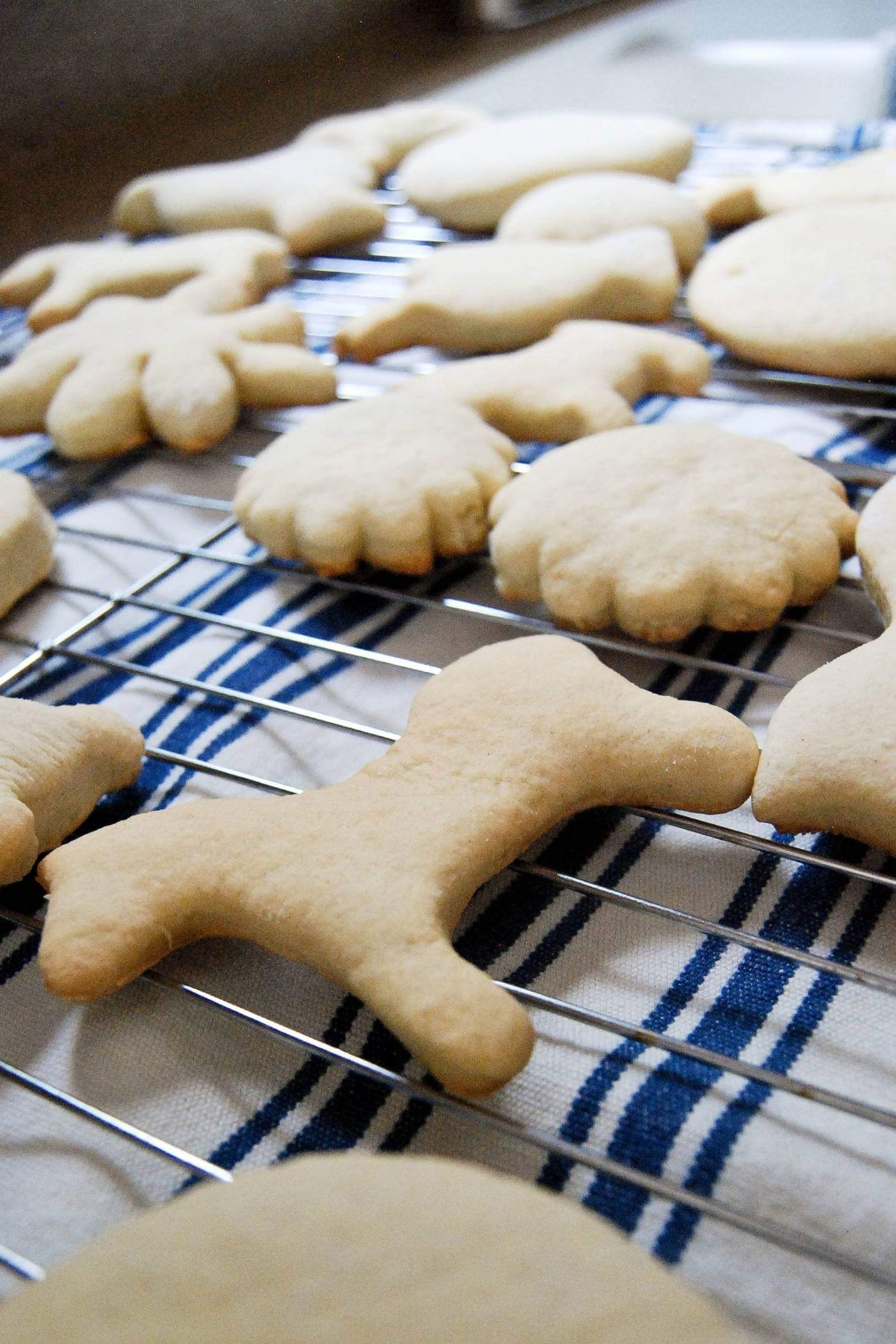 So the years went by and after my Great Grandmother passed away, the recipe became sort of lost. I had heard that many family members had tried duplicating them, or tried other sugar cookie recipes, but it was no use; they were never quite the same.
However, one day, my parents (who were both teachers at the same elementary school in our small town) went to a teacher's luncheon and someone had brought sugar cookies. Upon the first bite, my Dad told my mom "This is it! These are almost exactly like my Grandma's! Get the recipe!". So, my mom snagged it from their fellow teacher and we've been making this version ever since.
For the past couple of weeks, my boys and I have been in Illinois visiting my family. Our trip happened to align with a family reunion on my Dad's side.
Besides just a chance to get together and catch up, it was a memorial to honor all of the Cochran relatives who have gone before us. My Great Aunt, one of my grandfather's many siblings, passed away this year – the last sibling to do so.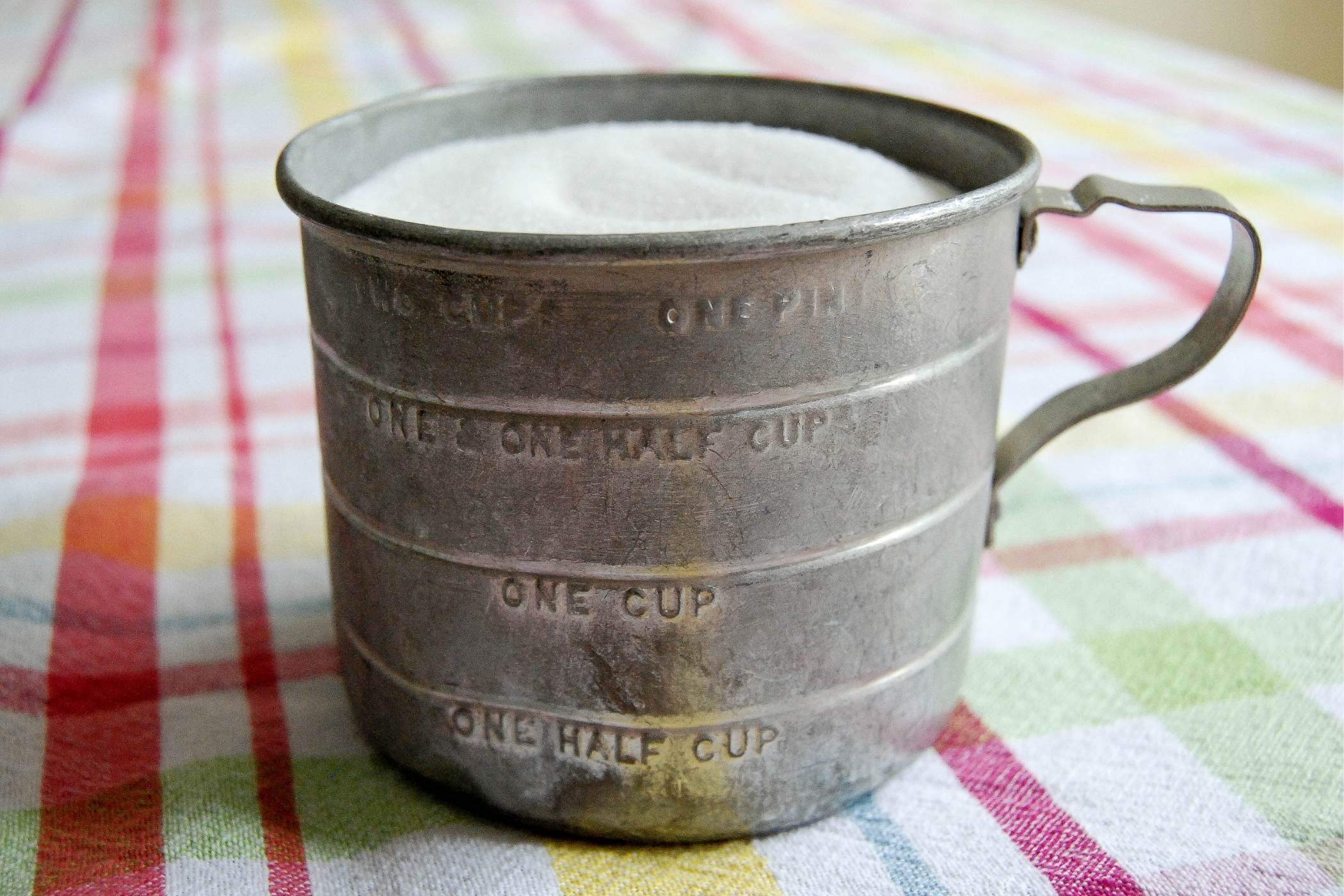 My Mom had been tasked with making 4 different salads, and, of course, my Great Grandma's cookies. Since she was so busy with the salads, she asked if I minded making the cookies. So the day before the reunion, I mixed up the dough, rolled it out, and, with the help of my boys, lovingly cut out the small-shaped cookies.
At the reunion, there were tons of old pictures of my Dad's side of the family – aunts, uncles, siblings, parents, and grandparents all back in their younger days. 50s and 60s music blared on the stereo as everyone ate and talked about old times and what we were all doing now. After the meal, the cookies were brought out alongside the rest of the desserts. When someone asked, "Who brought Grandma's Cookies?" I was so proud to raise my hand and promised to send out the elusive recipe.
By now, you're probably thinking these cookies are really something special. The truth is, it's a very simple, doughy cookie, that isn't too sweet (for a sugar cookie anyway). Next to other desserts, it looks rather plain and unassuming. And, if you didn't know better, you'd be tempted to pass it up in favor of one of the flashier sweets on the table. You can ice these cookies, but most of the time we don't, in favor of the simple chewy, floury texture. Some disagree, but I almost think the icing ruins them.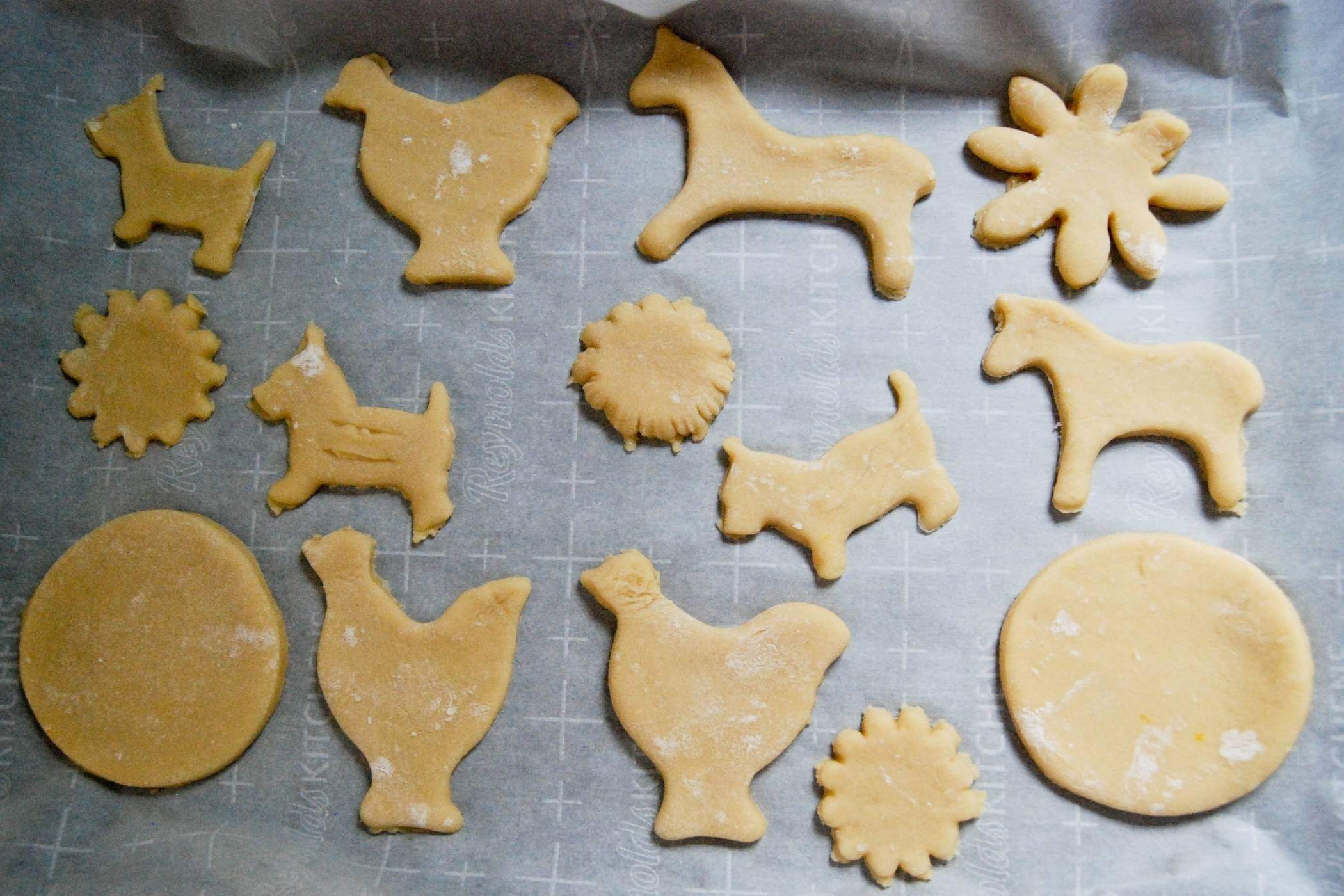 On our way home from the reunion, my Dad said that his grandma must have made these cookies over a thousand times and that they were the best cookies because they were good right out of the oven when they were soft, and even when they had been sitting for a couple of days and got a bit harder because then they were perfect for dunking.
Of course, I think he's right. But I also think that we love them so much because they remind us all of happy times and the loved ones that surrounded us.
The Simple Ingredients That Make This Cookie So Great
There are a million sugar cookie recipes out there and trust me, I wouldn't turn any of them down. But what sets this one apart is its soft, doughy texture. And that all comes down to what's in them.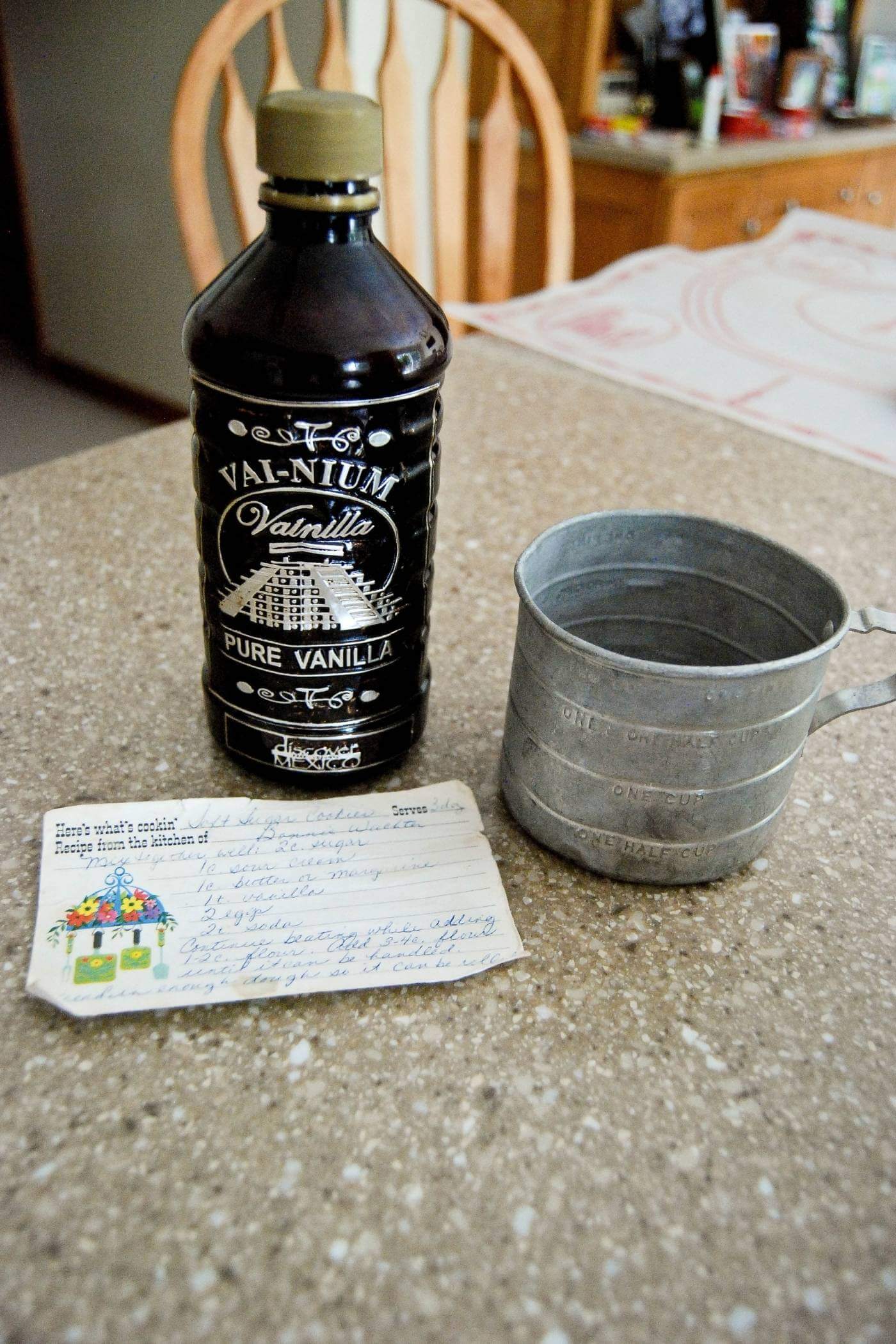 Sugar. Really, you can't make a sugar cookie without it.
Butter, eggs, and vanilla. Pretty standard fare for a sugar cookie.
Baking soda.
Sour Cream. This is the secret ingredient in this cookie! Yes, it sounds a little weird but the sour cream makes these so soft!
Flour. You need quite a bit of flour for these sugar cookies, which lends to their doughy texture.
How To Make These Soft Sugar Cookies
Making this soft sugar cookie recipe isn't difficult. But it does take a little time since you have to cut them out. This recipe also makes a lot of cookies. I can usually get 48 cookies from it, although that will depend a lot on the size of the cookie cutters you use. We love making this a part of our holiday tradition and my family always looks forward to cookie-making day.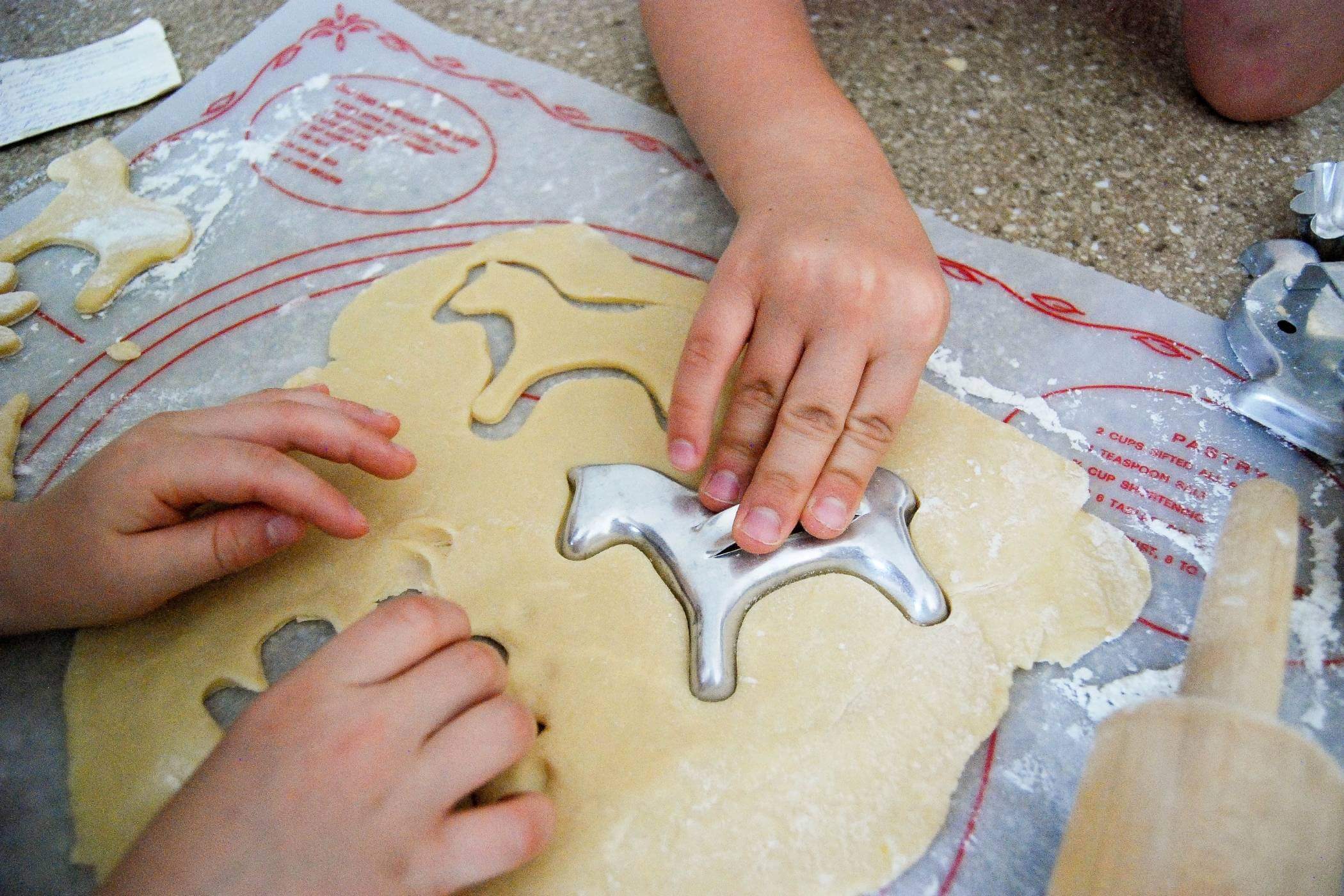 Start by creaming your sugar and butter together.
Next, add the sour cream, vanilla, 2 eggs, and baking soda.
Now comes the flour, and it's a bit of a "feel as you go" process. You'll start off with two cups then slowly add more to the mix until the dough starts to become manageable (it will be quite sticky at first.) I usually end up using about 5-6 cups of flour. Be careful here since adding too much flour can leave you with a dry, crumbly cookie.
Once the dough is ready (aka, not sticking to the side of the bowl), divide it into two. Then wrap the dough balls individually with plastic wrap, and allow it to chill for at least an hour, and up to a full day if needed. (If chilling for that long you may need to allow your dough to rest and soften for just a bit once you take it out of the refrigerator. Otherwise, it will be too stiff to roll.)
When you're ready to bake your cookies, roll the dough out on a floured surface. Using your favorite cookie cutters cut the cookies into shapes. While these cookies do plump up nicely, be careful not to roll them too thin. You're going for a soft, thick cookie. These are not meant to be crisp.)
Bake for about 8-9 minutes at 375 degrees.*
*A note about baking: These cookies bake quickly. You'll need to watch them carefully to know when to take them out of the oven. They should be the same color when you take them out. If they start turning dark, you've cooked them too long. A good idea is to bake a few cookies as a test batch so you know how long they will take in your oven. I've made these many places and in some cases, have only needed 6-7 minutes before the cookie was ready.
Freeze Them For Later!
I've been known on occasion, especially during the months leading up to the holidays to freeze these cookies. They freeze well in airtight containers and will keep for about 6 months.
So, I hope you try this soft sugar cookie recipe and love it as much as our family does. To us, they taste exactly like home.
Did you try these Soft Sugar Cookies? I'd love to hear what you think in the comments below! And please tag me with a pic on Instagram with the hashtag #frontrangefed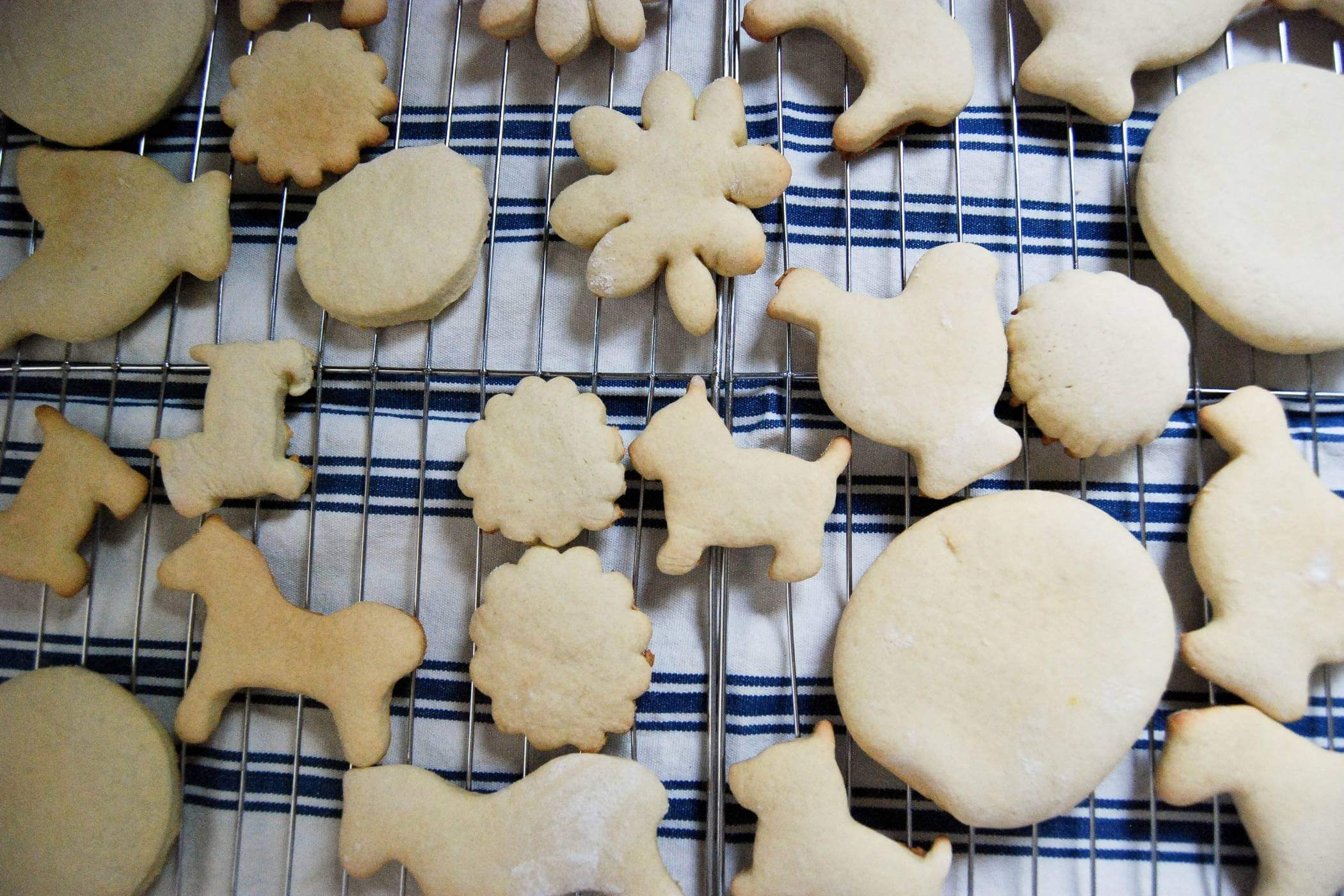 More Cookie Recipes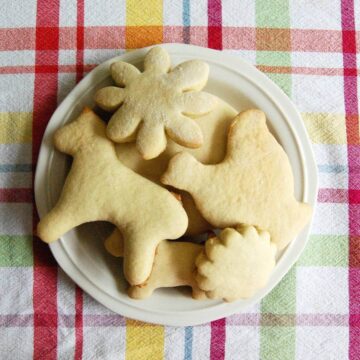 Soft Sugar Cookie Recipe
This old-fashioned soft sugar cookie recipe has been in my family for generations. The secret to these cookies is sour cream, which creates a soft doughy texture and an irresistible cookie that is loved by everyone. You won't be able to eat just one!
Ingredients
2

cups

sugar

1

cup

butter (at room temperature)

1

cup

sour cream

1

teaspoon

vanilla

2

eggs

2

teaspoon

baking soda

5-6

cups

all-purpose flour (plus more for rolling out the dough)
Instructions
Cream the sugar and butter.

Add the sour cream, vanilla, 2 eggs, and baking soda.

Add two cups of flour and stir to combine.

Slowly add more flour until the dough becomes easy enough to handle (you will think that you are doing it wrong and are adding way too much flour, but trust me, it will just add to the texture and flavor of the cookie.)

Once the dough is mixed (usually when it's not completely sticking to the sides of the bowl), divide it into two and wrap the dough balls in 2 large sheets of plastic wrap. Chill for at least an hour. (This will make the dough easier to roll and it will be easier to cut your shapes out.)

Once the dough has chilled, turn it out onto a well-floured surface and roll it to your desired cookies. (A note – these cookies will plump up just slightly, but don't roll the dough too thin! These are great as soft, thick cookies and are not meant to be crisp.)

Cut the cookies with cookie cutters and bake at 375 degrees for about 8-9 minutes. (Watch the cookies carefully – they should be the same color when you take them out of the oven - if they start turning dark, you've cooked them too long.)
Notes
This recipe usually makes around 48 cookies for me, although that number may vary depending on the size of your cookie cutters.