These Easy Red Chicken Enchiladas are so simple to make and taste delicious. Corn tortillas are stuffed with shredded chicken, and green chiles, and smothered with a delicious homemade red enchilada sauce, and Mexican cheese. These cheesy chicken enchiladas will be a regular in your meal rotation!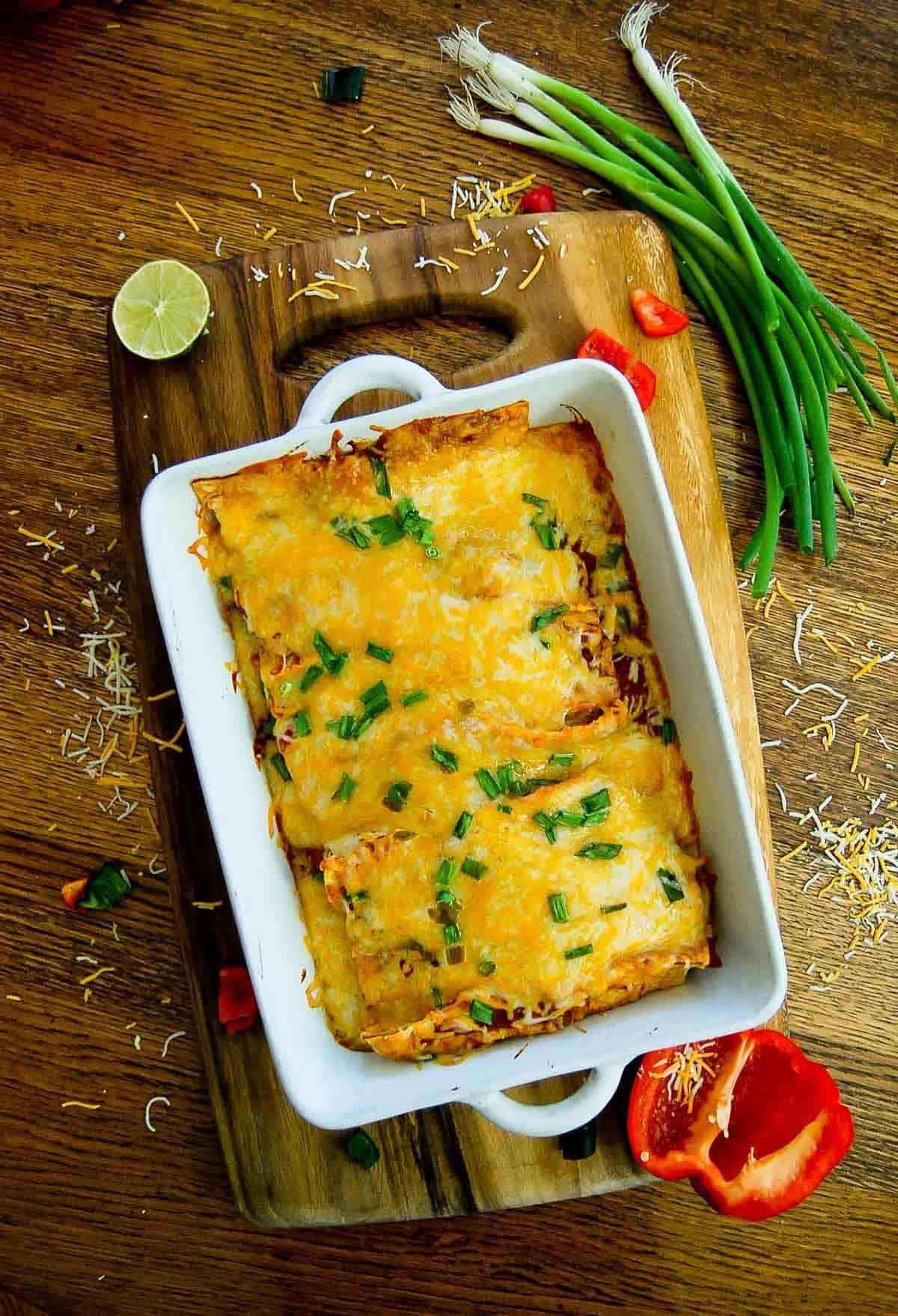 I love a good casserole dish and these easy chicken enchiladas don't disappoint. They're super comforting with their melty cheese and delicious red enchilada sauce - we make this easy chicken recipe on the regular. It's so delicious!
What makes this the best chicken enchilada recipe:
Delicious and comforting. Cheesy chicken and delicious red enchilada sauce make this chicken enchilada recipe the ultimate comfort food.
Uses just a few ingredients. This shredded chicken enchiladas recipe is super easy to make with only 5 main ingredients.
Fast. Want dinner on the table quickly? I love how fast these chicken enchiladas with red sauce come together. You can assemble them in 10 minutes and then it's just another 20 minutes to for these baked enchiladas.
It's a great make-ahead meal. You can make the red enchilada sauce ahead of time if you wish (or even use a store-bought brand to make it simpler). And, if you want to assemble the whole dish it's easy to do so and keeps great in the fridge. Meal prep done! 
They're gluten-free. Because these homemade enchiladas use corn tortillas, they're completely gluten-free. (That's not the case if you decide to use flour tortillas.)
Leftover enchiladas freeze incredibly well!
Ingredients
This recipe for red chicken enchiladas calls for only FIVE ingredients. Here's what you'll need: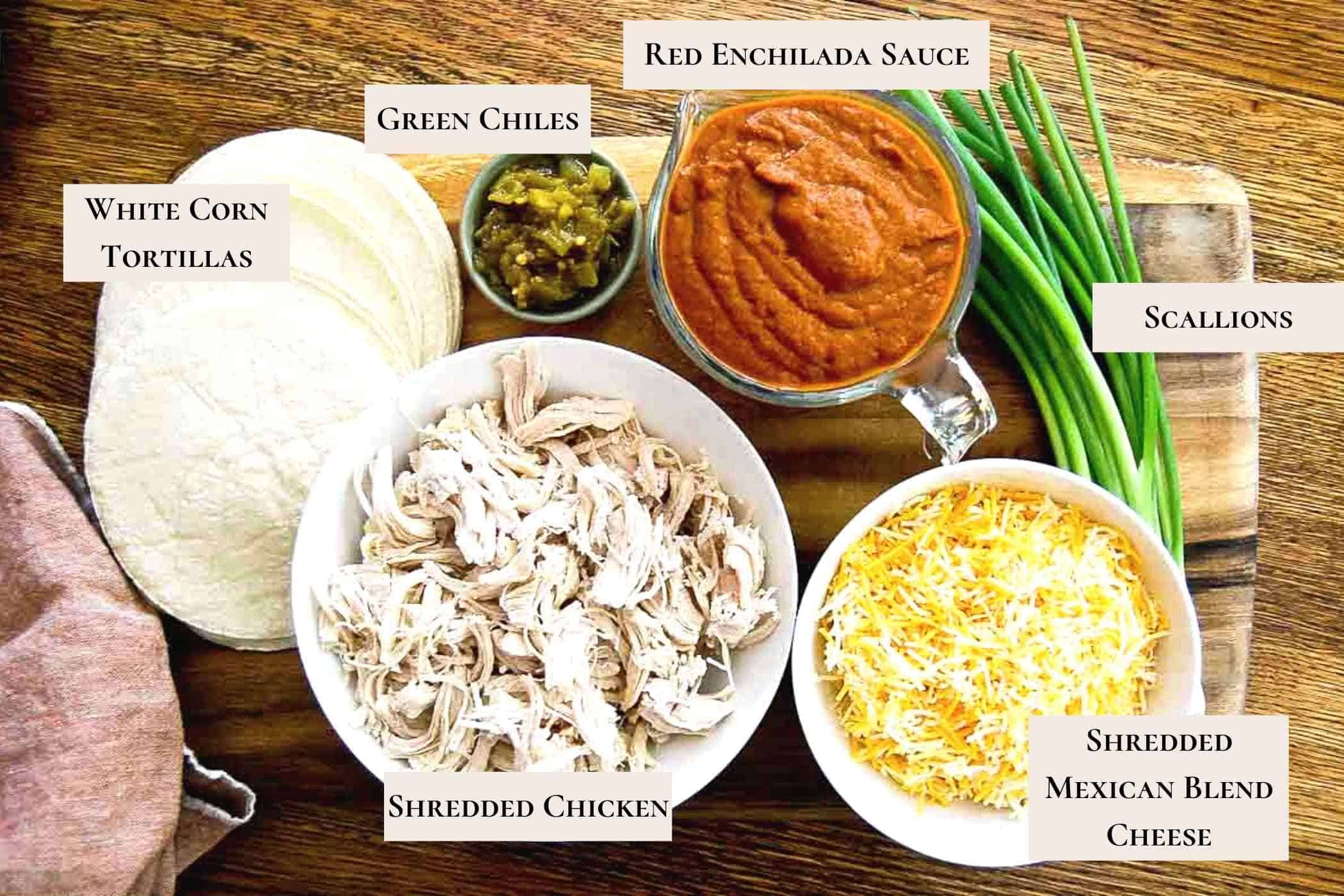 Corn tortillas. This is a personal preference, but I love the taste of corn tortillas in this enchilada recipe. They're a little harder to work with as they're a bit more delicate than flour tortillas, but they make all the difference. Plus, using corn tortillas makes these enchiladas gluten free!
Red enchilada sauce. You can use a store-bought brand here if you're short on time, but if you can, I totally recommend making your own red enchilada sauce. It's pretty easy to do, and the flavors are so much richer than the sauce you buy in a can. This recipe will get you the perfect sized batch for a pan of 8-10 chicken enchiladas and you can even double or triple the recipe and freeze it to make future meals a breeze.
Shredded chicken. Use whatever chicken you have on hand. I cooked a few chicken breasts in the instant pot, then shredded them for this recipe. But I've also made these shredded chicken enchiladas with store-bought rotisserie chicken to save myself some time and it turned out beautifully. 
Green chilies. Feel free to omit these if you don't want the spice, but canned green chilies add a nice subtle flavor here and complement the chicken and red enchilada sauce well. 
Shredded Mexican blend cheese. You can't make cheesy chicken enchiladas without the cheese! I use shredded Mexican blend cheese for these enchiladas, but feel free to sub in alternatives. Just make sure they melt easily!
Optional toppings. I love topping these with chopped scallions, chopped onions, cilantro, avocado, hot sauce, and sour cream. 
How to make homemade chicken enchiladas
Making these easy enchiladas doesn't take a ton of time, but assembly is a tiny bit tricky.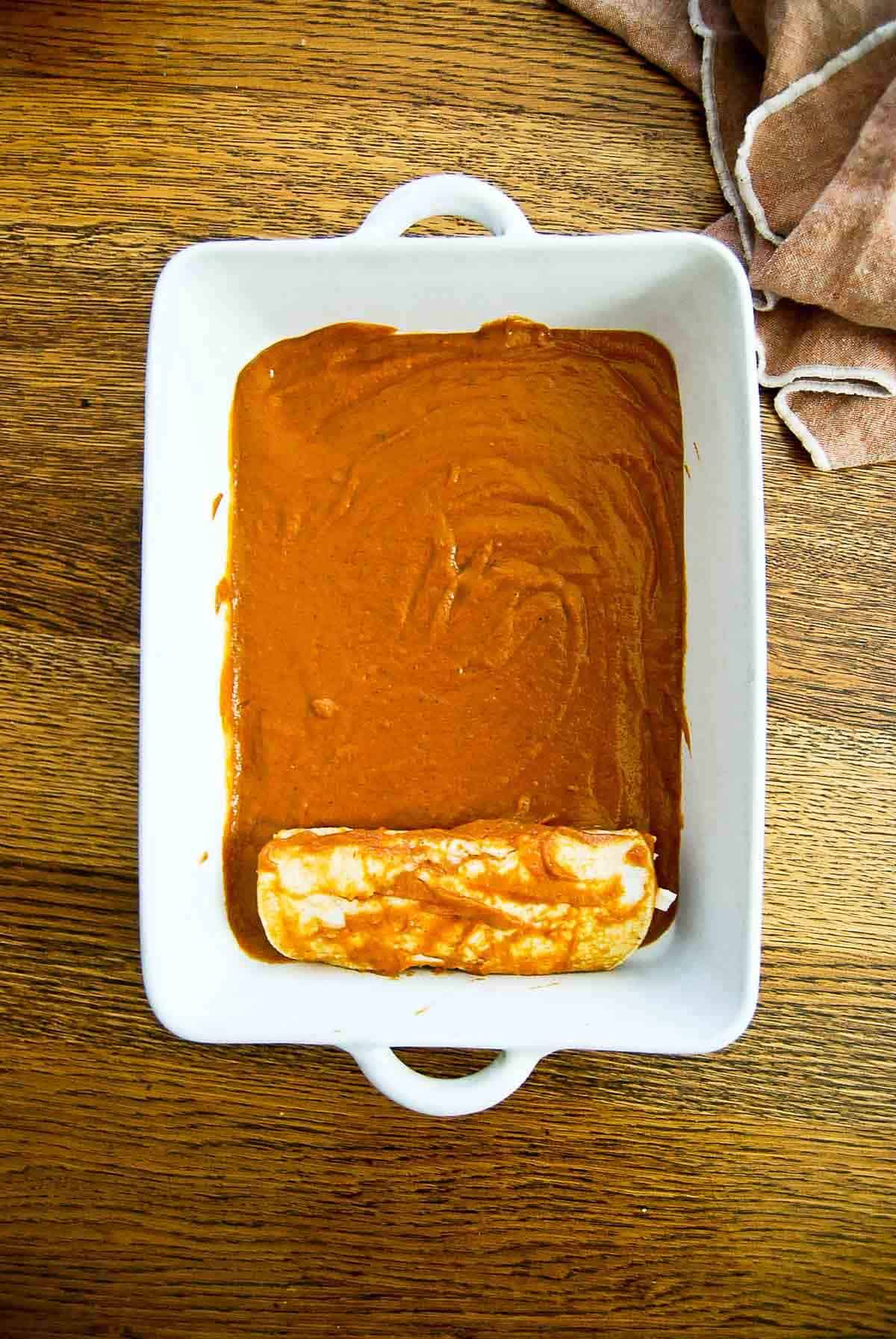 Spread a thin layer of your red enchilada sauce into your baking dish - enough to cover the bottom of the dish. 
Place some of your red enchilada sauce on a large plate.
Wrap your corn tortillas in a damp paper towel and pop them in the microwave for 1 minute, flipping them halfway through. The corn tortillas tend to fall apart if you're not careful and this just helps to make them a bit easier to work with. (Note - if you do use flour tortillas, you can use this same trick.)
One at a time, coat your tortillas in the sauce you placed on the plate. Then, assemble your enchiladas by adding your chicken, green chilies, and a bit of cheese, and roll the tortilla up, placing it seam-side down in your baking dish.
Repeat with all tortillas until your baking dish is full (around 8-10 tortillas). Pour the remaining enchilada sauce over the assembled tortillas.
Top the tortillas with the shredded Mexican blend cheese and any leftover green chiles.  
Bake in a 350-degree oven for about 20 minutes, or until bubbly. 
Serve with cilantro, chopped green onions, sour cream, hot sauce, or avocado.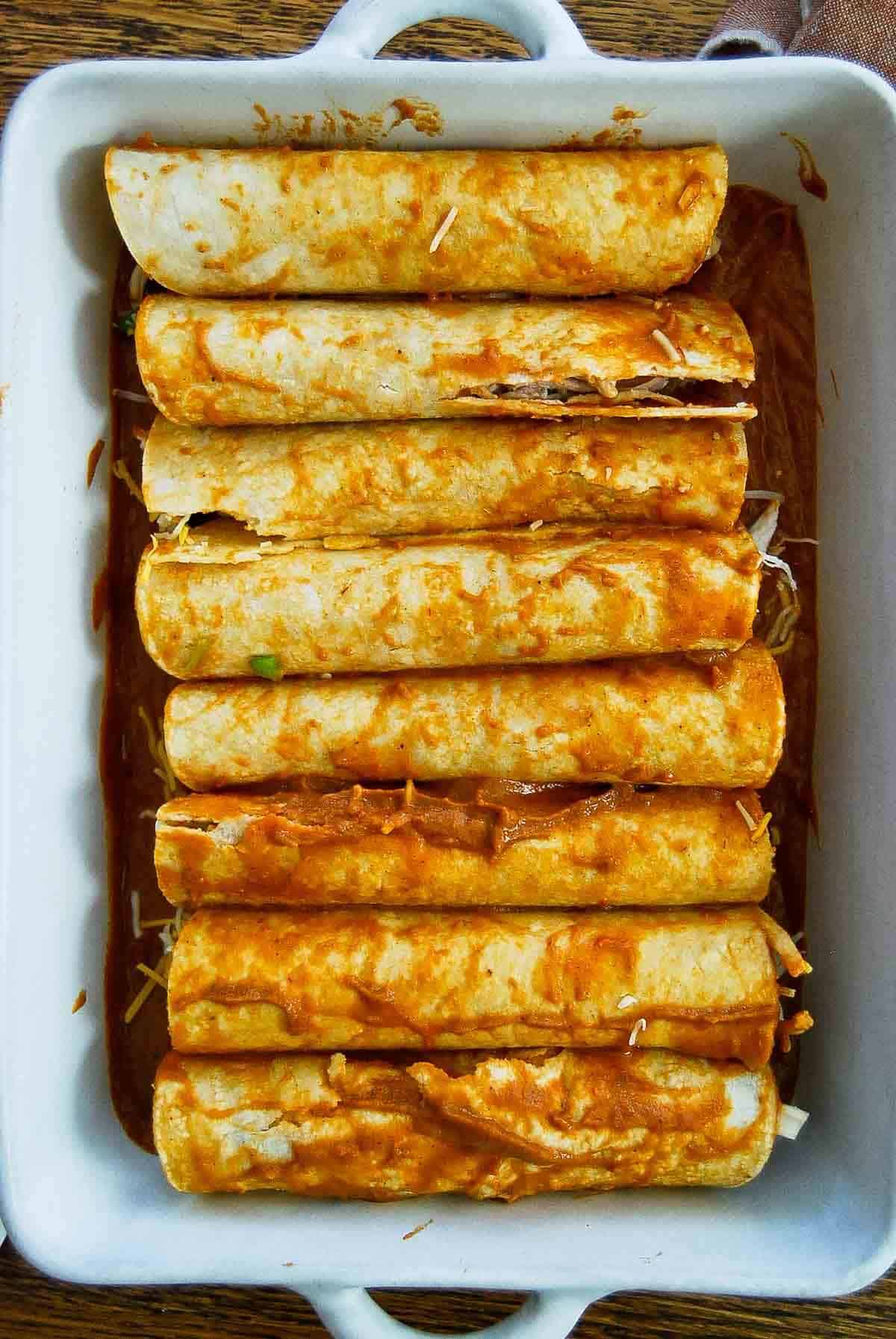 Tips For Success
Warm your corn tortillas before assembling them. Heating them for just a minute in the microwave makes them so much easier to work with. Be sure to wrap them in a damp paper towel though so they don't dry out during this process.
Coat the tortillas with sauce. I find this step not only helps to bind the tortillas together a bit better, but it infuses the delicious red sauce into each and every bite. No dry bits here! 
Be liberal with your sauce and cheese. This is an area I never skimp on. I love a well-smothered enchilada and you really need to ensure you have enough sauce and cheese to cover the entire dish well.
Mix up the flavor. These chicken enchiladas with red sauce are great as is, but you can adjust the flavor easily by adding different ingredients. Add a bit of chipotle sauce for a smokey flavor, and change up your protein by using pork, beef, or even shrimp. Make them vegetarian by using beans and veggies, or making them into pure cheese enchiladas. Or, sub the red sauce for green sauce for a fresher flavor.  They're super customizable with whatever you have on hand.
What to serve with these easy red chicken enchiladas.
You can add all sorts of sides to round out this meal:
Black beans or refried beans.
Mexican rice.
Chips and salsa
A simple green salad with a cilantro lime dressing.
How to store them?
Chicken enchiladas keep well in the fridge for about 2 days. In fact, you can make these enchiladas ahead of time, by assembling everything, covering it, and leaving it in the refrigerator until you're ready to bake them. Easy!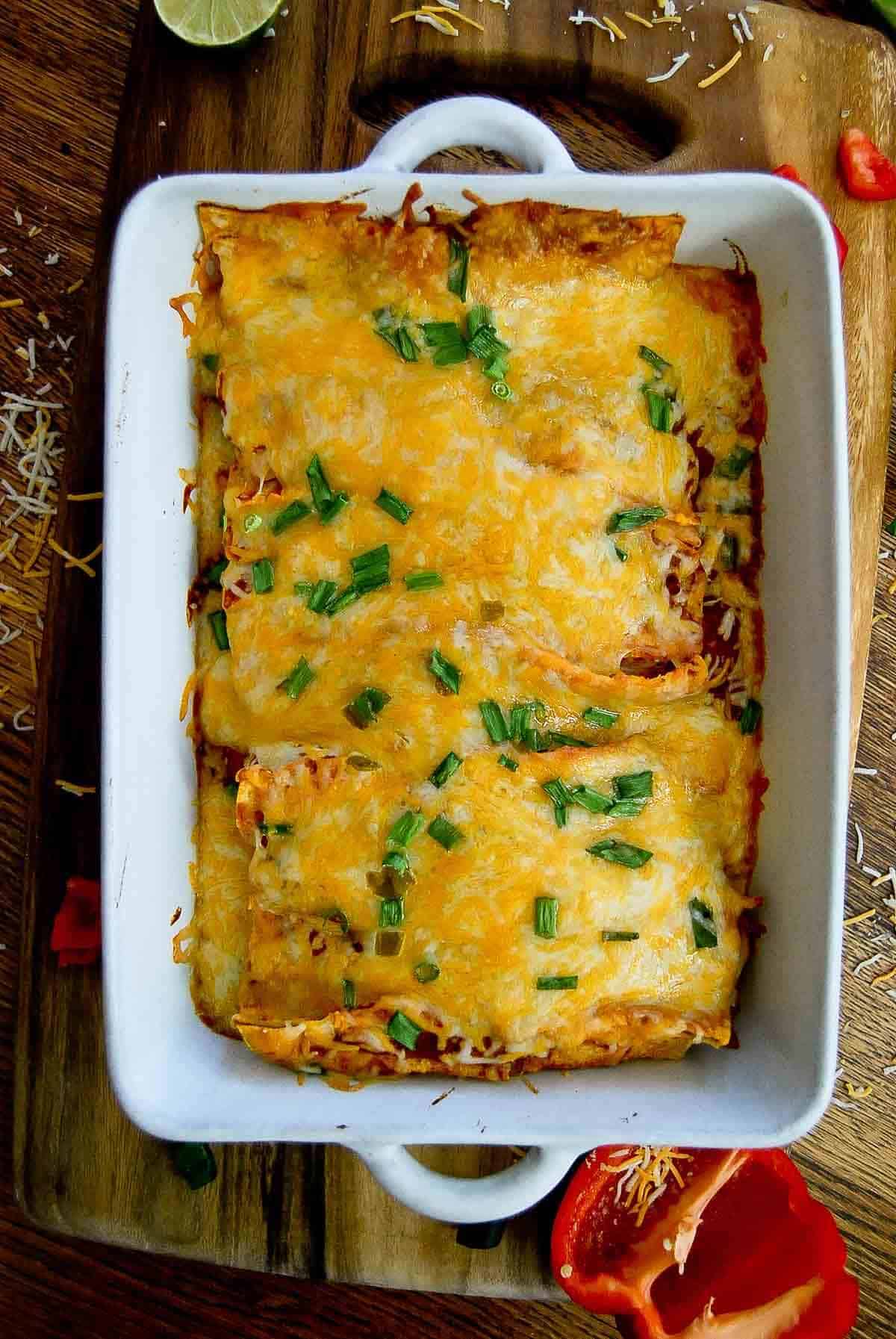 Can you freeze these chicken enchiladas?
These chicken enchiladas with red sauce freeze really well.
To freeze them, allow them to cool completely then transfer them to an air-tight container and place them in the freezer. Chicken enchiladas will keep in the freezer for 2-3 months.
Reheating frozen enchiladas: When you're ready to reheat them, allow the dish to thaw in the fridge, then bake at 350 for 20 minutes.
I don't want to assemble these - any way to make it easier?
I get it - even though it's not that difficult, sometimes you just don't have the time to assemble each of these cheesy chicken enchiladas individually. The good news is you can easily make this as a casserole. Simply layer your sauce, tortillas, chicken, chiles, and cheese as you would in a lasagna, being sure to coat everything well with the sauce and adding a top layer of cheese to finish. Then bake as directed. So simple and it tastes just the same!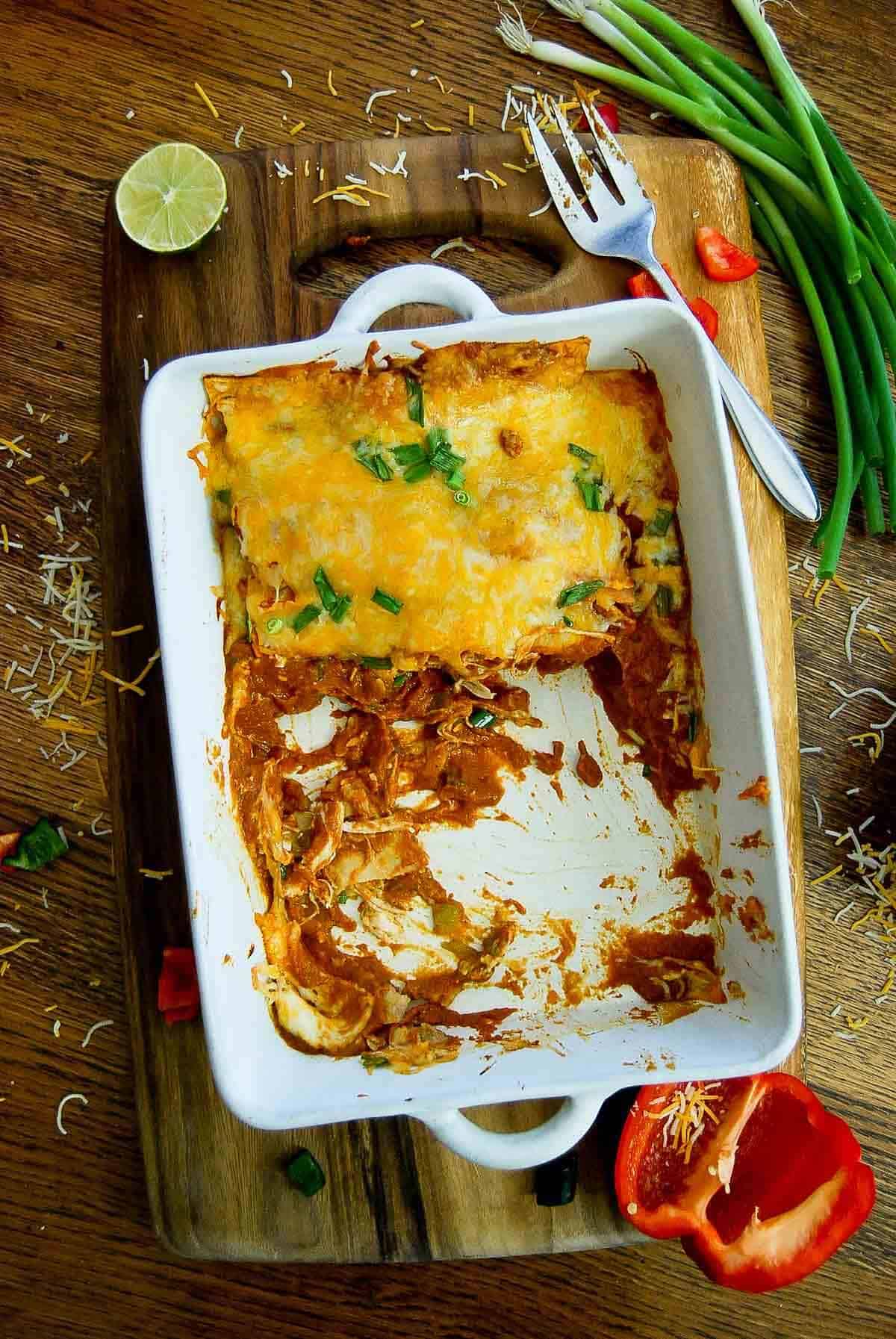 Did you try these Easy Red Chicken Enchiladas? Let me know what you thought in the comments below. And don't forget to tag me with a pic @frontrangefed on Instagram so I can see your masterpiece!
More Comfort Meals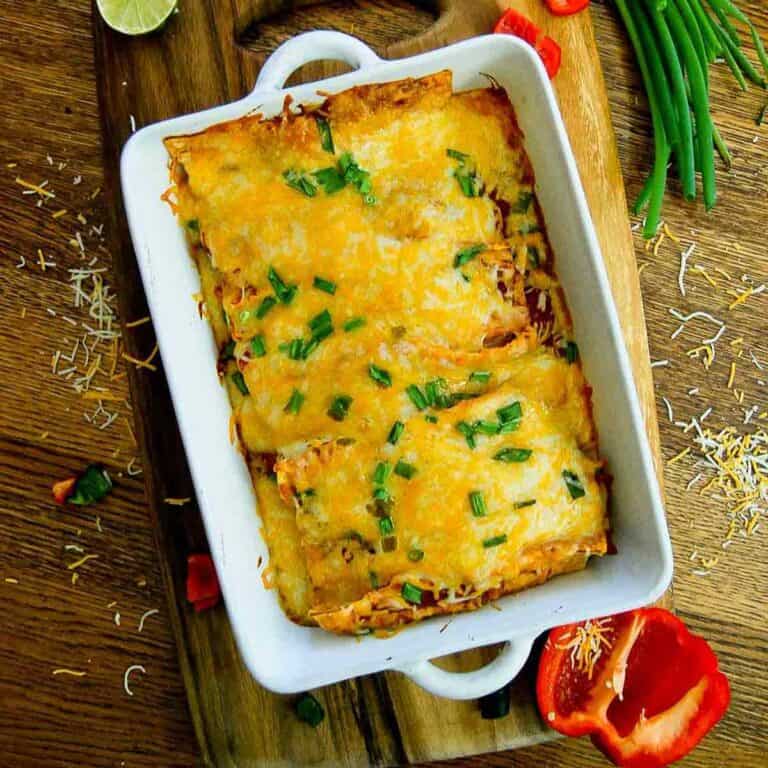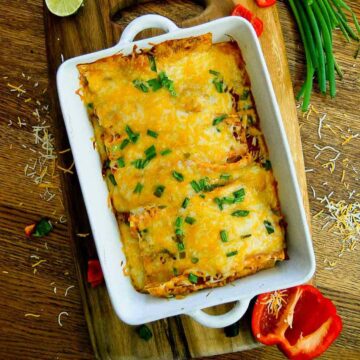 Easy Red Chicken Enchiladas
These Easy Chicken Enchiladas are so easy to make and taste delicious. Corn tortillas are stuffed with shredded chicken, and green chiles, and smothered with a delicious red enchilada sauce, and Mexican cheese. These cheesy chicken enchiladas will be a regular in your meal rotation!   
Ingredients
1 ½

cup

shredded chicken

2

cups

red enchilada sauce

8-10

white corn tortillas

2 ½

cups

Mexican blend cheese

4

oz

can Hatch green chiles
Optional Toppings
avocado

diced onions

chopped scallions

shredded lettuce

sour cream

cilantro

squeeze of lime juice
Instructions
Preheat oven to 350 degrees.

If making enchilada sauce, follow the recipe linked above. Or, you can use your favorite store bought brand of red enchilada sauce.

Spread ½ cup of enchilada sauce in an even layer at the bottom of baking dish.

One at a time, dip each corn tortilla into the sauce, then set the sauce-soaked tortilla on a plate.

Carefully add shredded chicken mixture and green chilies and shredded cheese to each tortilla (don't fill them too full!). Roll up the tortilla carefully then place the tortilla seam side down in the baking dish. Repeat this process with the remaining tortillas.

Pour the remaining sauce over the top of the tortillas, and sprinkle cheese liberally over the top.

Bake the enchiladas for 20 minutes, or until bubbly. Sprinkle green onion, or chopped cilantro over the top and serve with your choice of additional toppings.
Notes
Warm your tortillas in the microwave for 1 minute before assembling to make them easier to handle.
Dip the tortillas in the red sauce before adding the filling. This will help ensure a delicious bite every time.
Use rotisserie chicken to make this recipe fast!
Don't want to assemble the enchiladas? Make a casserole instead by layering the ingredients in a lasagna-like fashion.
Store baked enchiladas in the fridge for up to two days.
To freeze, allow the enchiladas to come to room temperature, then transfer to an airtight container and place in the freezer. Chicken enchiladas will keep for 2-3 months in the freezer. Thaw completely before reheating at 350 in the oven for 20 minutes. 
Make this dish ahead of time! Assemble everything and then place in the refrigerator prior to baking. When ready to bake, remove from the fridge and bake as directed.