This Creamy, Quick-Cooking Polenta Recipe, made with just 5 basic ingredients, can be yours in 20 minutes and tastes way better than the stuff you buy in the grocery store. It's a super versatile dish that can be used in everything from breakfast to dinner.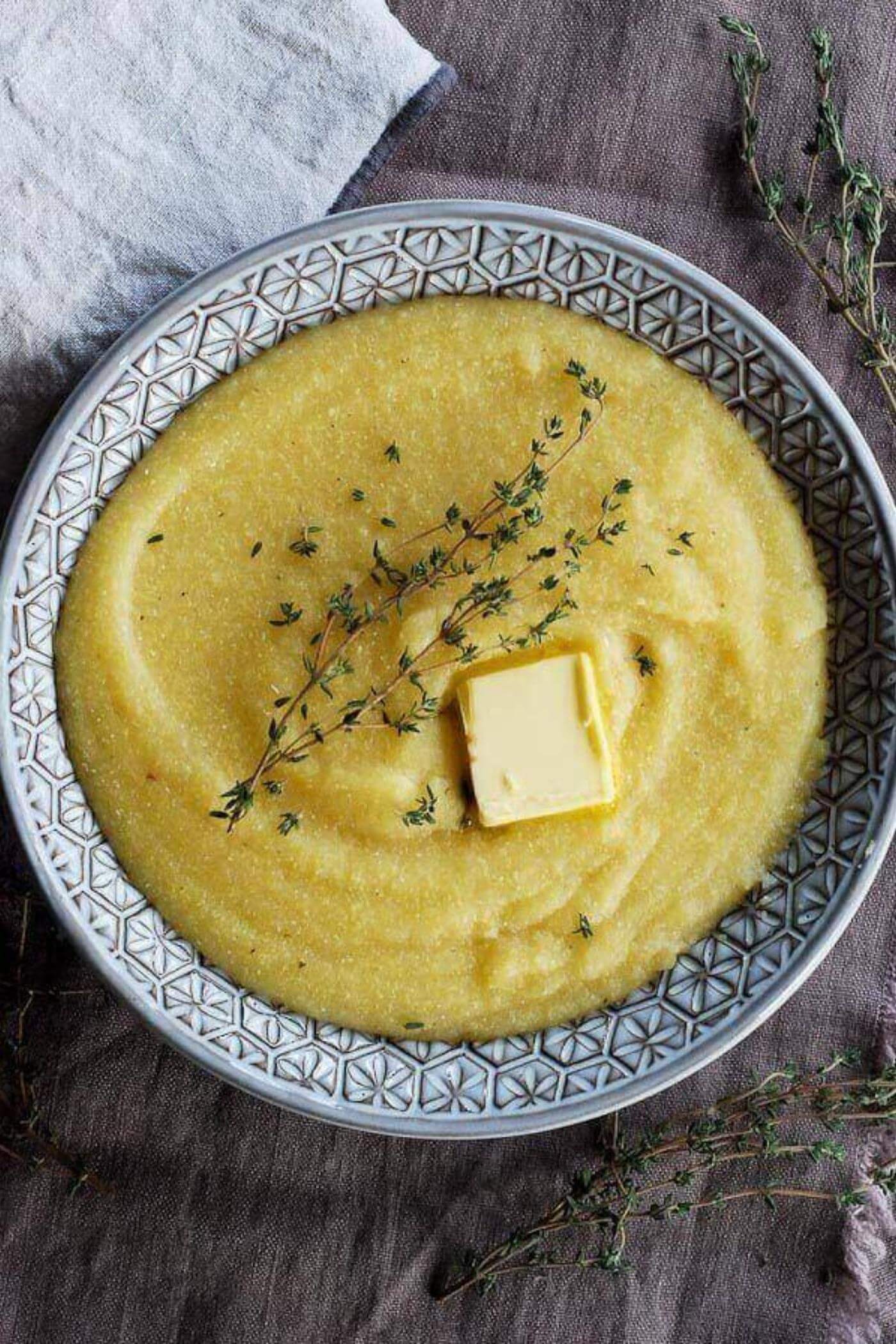 For the longest time, I've bought polenta from the grocery store. Have you ever had it? It's typically sold in a wrapped tube and can be sliced and heated, then topped with whatever your heart desires. I always resorted to this option because I had never made polenta before and thought that it was some drawn-out process (and, let's be real, I am sometimes a bit lazy). But in truth, homemade creamy polenta, could not be easier to make.
What Exactly Is It?
If you're not familiar with polenta, you're in for a treat. Polenta is an old, Italian dish that has been made for years, and back in the day was typically made by peasant or working-class families. The dish is made with cornmeal (and was often referred to as "cornmeal mush") and a few other basic ingredients. At it's core, polenta is really just cooked cornmeal.
Unlike the store-bought pre-made stuff, homemade polenta is creamy and smooth and can be made with ingredients you probably already have in your kitchen pantry.  It's a delicious buttery, corn-flavored dish that can be used as a base for many Italian dishes. And, while some recipes call for stirring for 45 minutes (and even up to 3 hours!), this easy stovetop polenta recipe gets it done in only about 20 minutes, start to finish.  
Is Polenta Gluten Free?
The ingredients in polenta are usually gluten-free. Cornmeal is gluten-free and most chicken broths, as is used in this recipe, are gluten-free as well. Be sure to check the type of broth you use to make sure it doesn't contain added gluten. Or, if you're not sure, you can always just use water to cook the polenta.
Is Polenta Healthy?
Polenta is a relatively healthy dish. It's made with "dent" corn, vs. sweet corn, meaning it contains more starch and less sugar. Polenta is rich in complex carbohydrates and is a good source of protein and fiber. It's a low-fat, low-calorie dish that has some beneficial vitamins and minerals too (Vitamin A, iron, magnesium, and zinc).
Polenta vs. Grits - What's The Difference?
Many people confuse polenta with grits, but they are slightly different. Grits have a much smoother, chewier consistency (surprisingly, given the name) and are made with white corn, or hominy. Polenta, on the other hand, is made with yellow corn and has a bit of a rougher, coarser texture.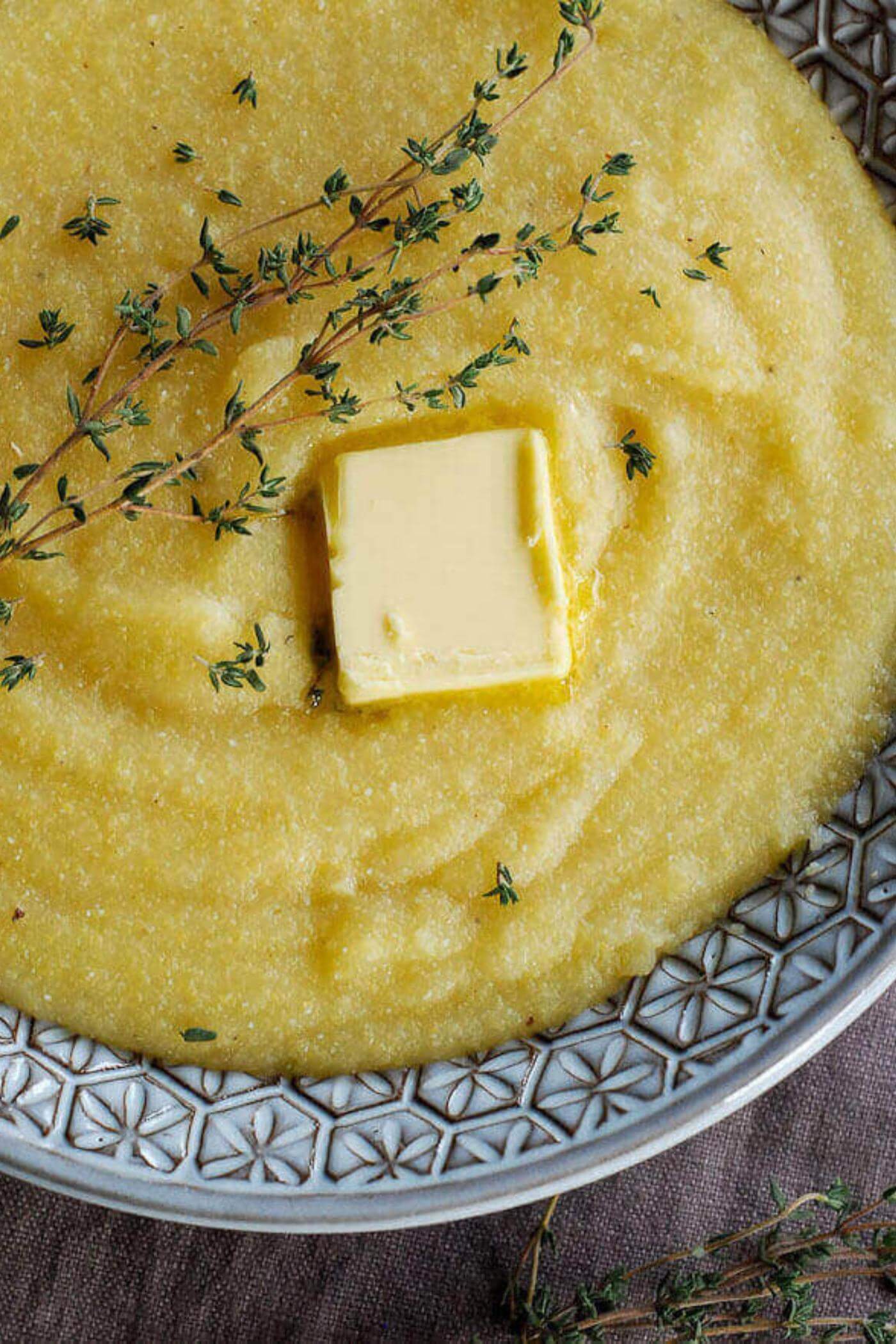 How To Make Polenta
So, how do you make it? This quick polenta recipe is so, so easy! You need just 5 basic ingredients for this simple, creamy polenta recipe: cornmeal, vegetable or chicken stock (you can use water if you're out of stock, but the stock adds a nice flavor), salt and pepper, and butter.
First, add the cornmeal, stock, and spices to a pot and bring to a boil.
Then, just lower the heat and simmer until the polenta has thickened, which should take about 15 minutes.
A note about stirring here – this recipe requires continuous stirring the entire time it's cooking – step away for a moment and you'll come back to a clumpy, burnt mess. It's a bit fussy like that, yes. But well worth it. (Psst….If you want a no-stir method of making polenta, check out this one from Bon Appetit.)
Once the mixture has thickened up, remove it from heat, add a bit of butter, and you're good to go. You'll have a super creamy polenta recipe in just under 20 minutes! If you'd like to dress it up a bit more, add some fresh herbs like rosemary, thyme, or chives.
What To Serve With Polenta
So, now you know how to make polenta, but how do you actually eat it? Sooo many ways. Polenta is a super versatile dish and can be served as a base for all sorts of toppings, or even on its own, with a bit of seasoning. Here are some great ways to serve polenta:
Piled high with a poached or fried egg and veggies
Topped with a beef stew
Served as a base for a tomato sauce (or really any type of Italian sauce, TBH)
Pan-fried and crispy, topped with veggies
Shrimp and polenta
As a cheesy polenta, with parmesan, cheddar, or pretty much any cheese and herbs mixed in to make it super-duper delicious.
As a base for pretty much anything you'd put atop a bowl of pasta!
Variations
While the recipe here is for a creamy polenta, there are also loads of other things you can do with polenta. Here are a few ideas to try:
Polenta cake (it's true! Polenta can make delicious baked cakes!)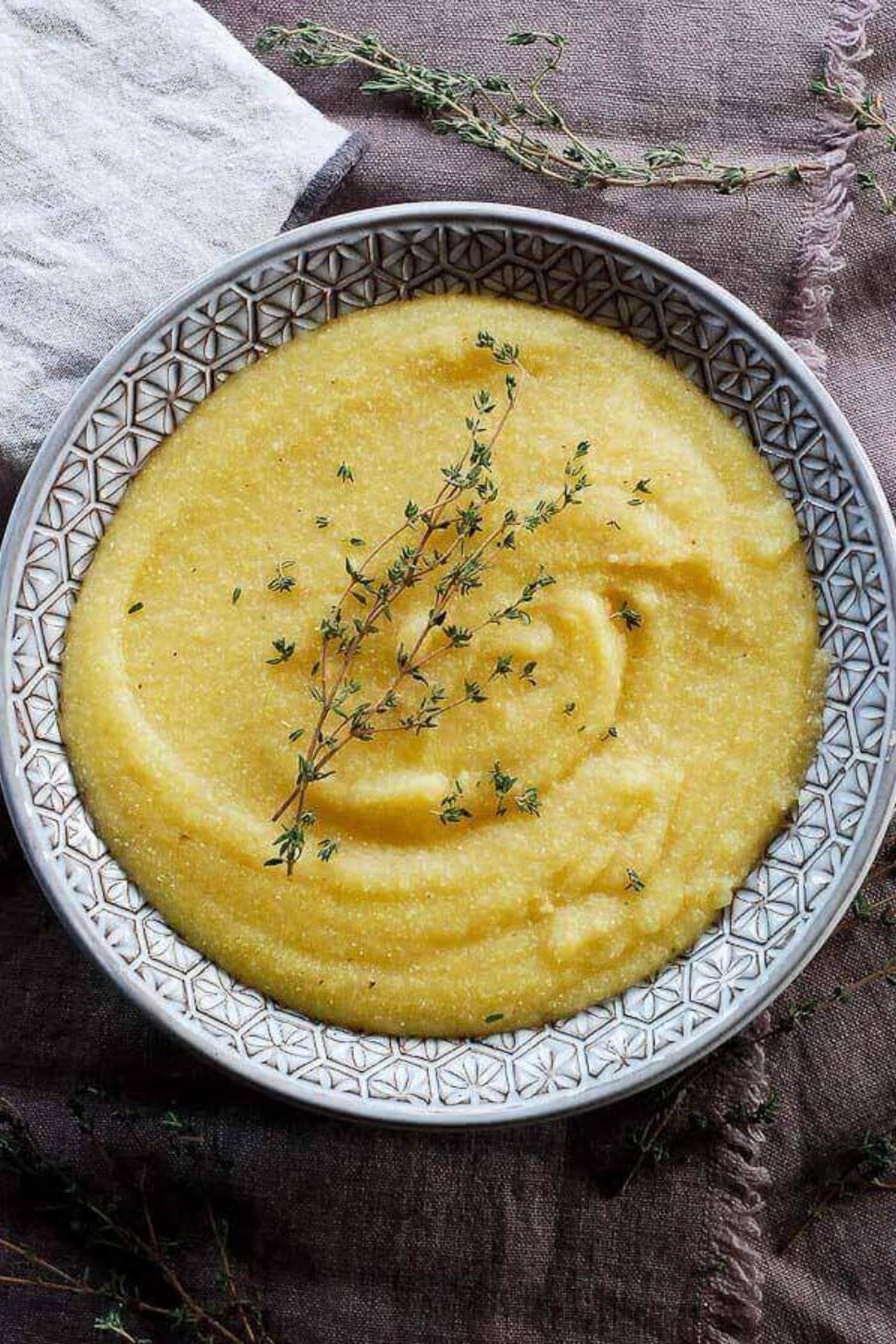 Make this Delicious, Easy And FAST Polenta Recipe today! I promise – breakfast, lunch, or dinner – they will all be better because of it.
I'd love it if you'd tag me on Instagram if you make this quick & creamy polenta recipe!
Try These Other Popular Sides Dishes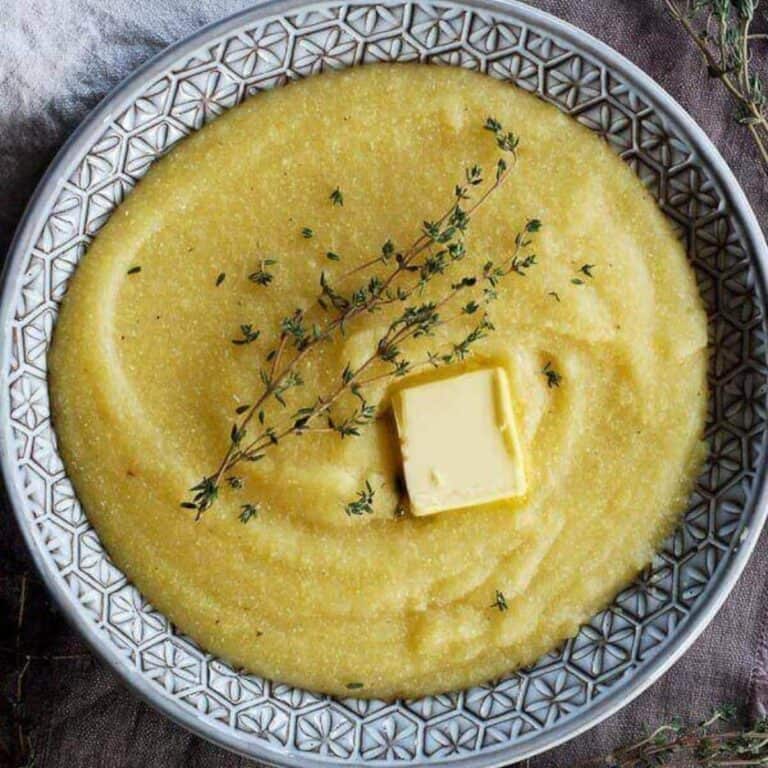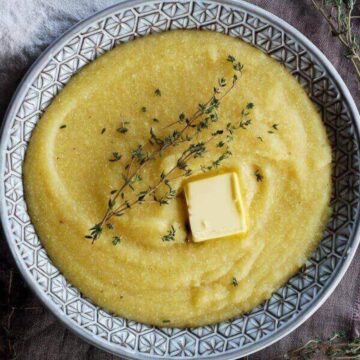 Quick And Easy Polenta Recipe
Creamy polenta, made with just 5 basic ingredients, can be yours in 20 minutes and tastes way better than the polenta you buy in the grocery store. It's a super versatile dish that can be used from breakfast to dinner.
Ingredients
4

cups chicken or vegetable stock (or water)

1

cup cornmeal

salt and pepper to taste

¼

cup butter
Instructions
Combine stock, cornmeal, and salt to the saucepan

Heat mixture to boiling, stirring

Lower the heat and continue stirring until the polenta has thickened, which should take around 15 minutes.

Taste polenta and, if needed, add additional salt and pepper.

Remove from heat. Add the butter, and any additional seasonings you'd like. (Thyme, rosemary, chives, etc.)