This Quick And Easy Pickled Cucumber Recipe is full of flavor and is a great way to try your hand at refrigerator pickles!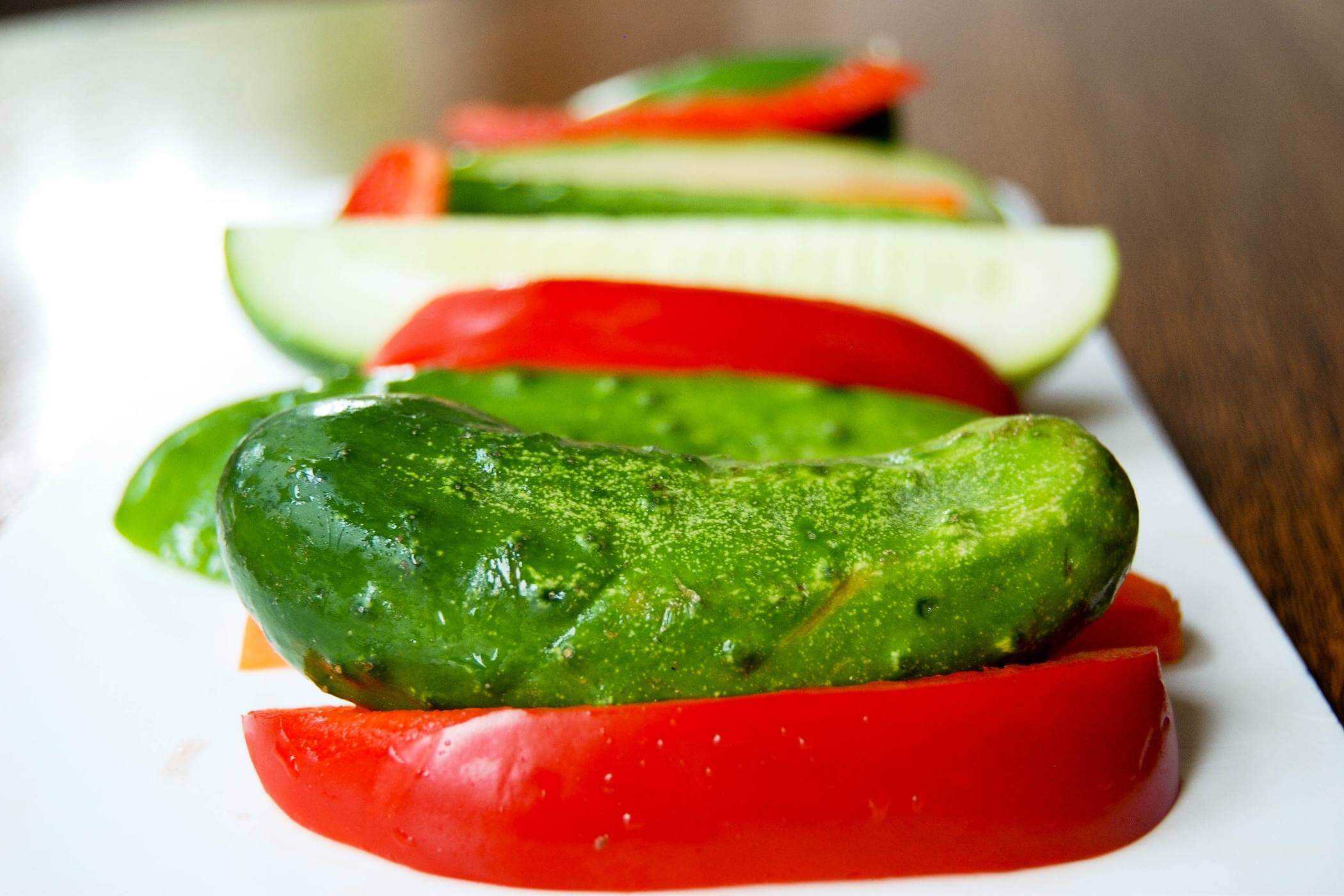 My Grandmother, Charlotte, was a wonderful cook. She and my Grandpa lived on a big lot in the country and grew everything they could themselves – cherries, peaches, green beans – you name it, they probably had it. Grandma was always whipping up something delicious in the kitchen and was meticulous when it came to her recipes. She passed away many years ago, but on a recent trip to my parent's house, my Dad pulled out a large (and I mean LARGE) box of her old recipe books.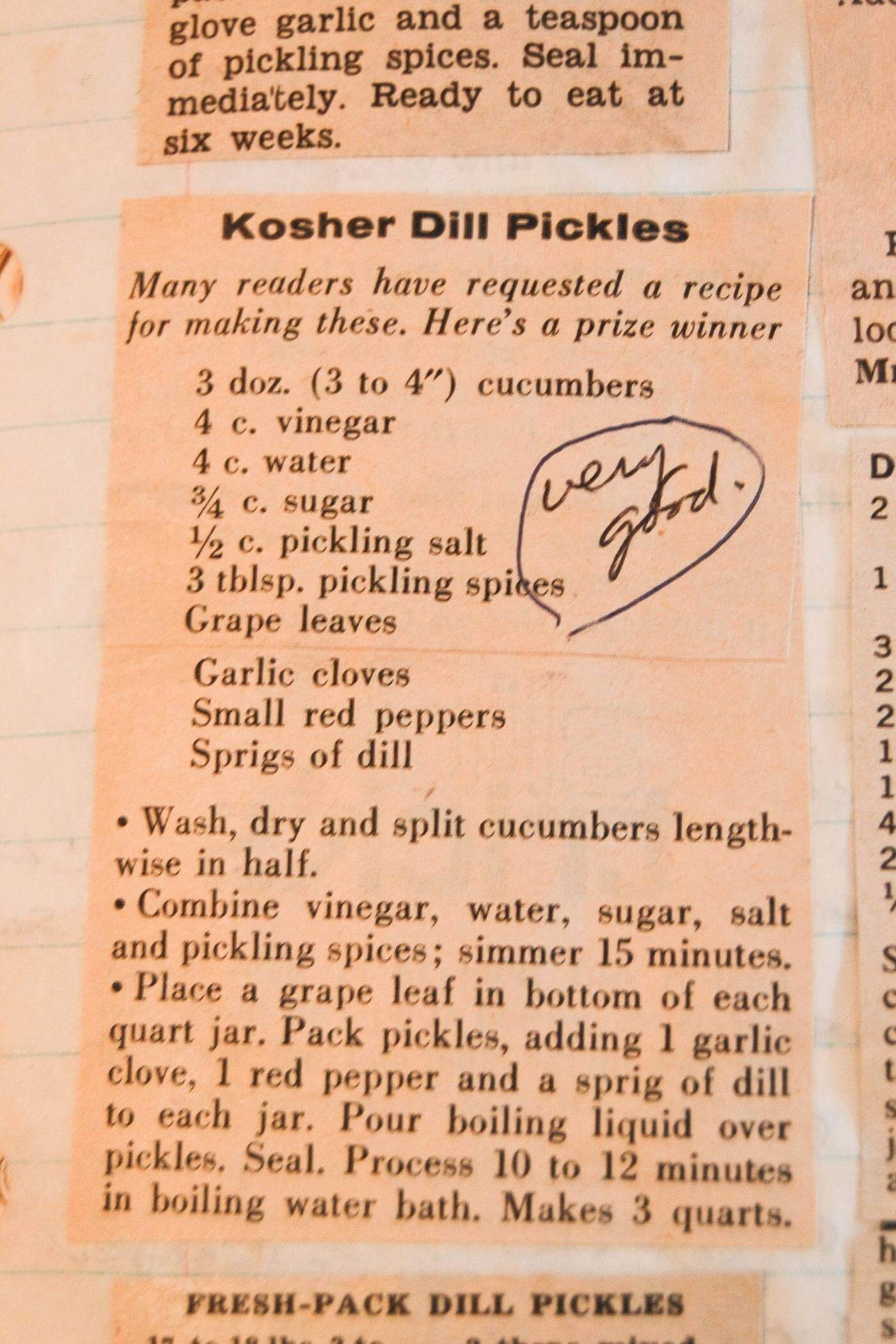 Now, these were not your standard recipe books. These books were all handmade with great dedication and love – spiral-bound notebooks, each dedicated to a specific type of food, with handwritten recipes, cut-out recipes from magazines and newspapers, and recipes she was given from friends and family (and strangers! My Grandma never met someone she didn't become friends with.) The recipes were pasted into every square inch of each hand-numbered page. She had many of these books, and, on this trip, my Dad graciously offered them to me to sort through and take what I wanted. I struggled to decide which ones to save but finally landed on two: Desserts (because, desserts) and Pickles, Relishes, and Preserves.
Now, the last one may seem a little strange – but let me tell you why I chose it. There are literally thousands of recipes in each of these books, and I know my Grandma could not have made many of them (how could she have found the time!). I wish that I would have been able to ask her which books she found most useful, but since I couldn't, I had to look at the clues.
Most of her books had many delicious-looking recipes, but not many markings. But, when I came to the Pickles, Relishes, and Preserves, I found not only tons of handwritten recipes but comments on many of them as well. There were X's on recipes she had tried, "No" written on a few (won't be trying those), and then "Good" and "Very Good" written on several.
Not only that, this book is a treasure trove of recipes to spice up any ordinary meal – cherry relishes, dill pickles, curry pickles, pineapple-rhubarb jam, lemon butter, grapefruit and orange marmalade – you get my point, right? So, it was decided. This book was coming home with me.
I've been wanting to try refrigerator pickles for a while and when I saw pickling cucumbers for sale at the farmers market on Saturday I snatched them up (along with a few other goodies) and made a plan to choose a recipe from Grandma's book.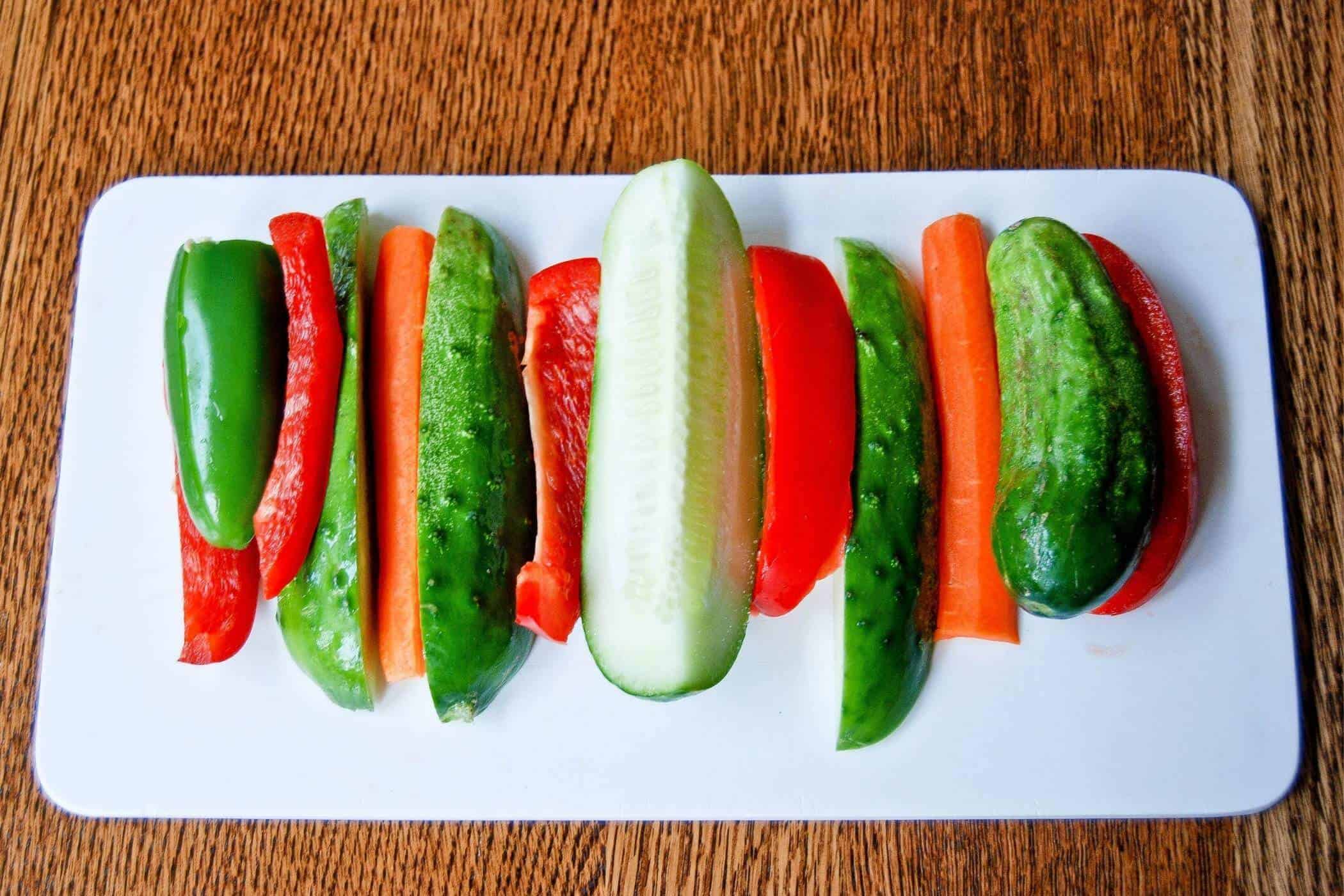 Once I had my veggies it was time to choose a recipe. Flipping through the pages of the book is daunting – there are just so many recipes to choose from. But I finally landed on one that was marked "Very Good" by my Grandma and decided to give it a try.
This recipe was a cinch and was in fact very good. I'm sure it came from some newspaper or magazine ages ago so unfortunately, I don't know who to give credit to. But because it came from my Grandma's book, I'm just referring to them as Charlotte's Pickles and will leave it at that.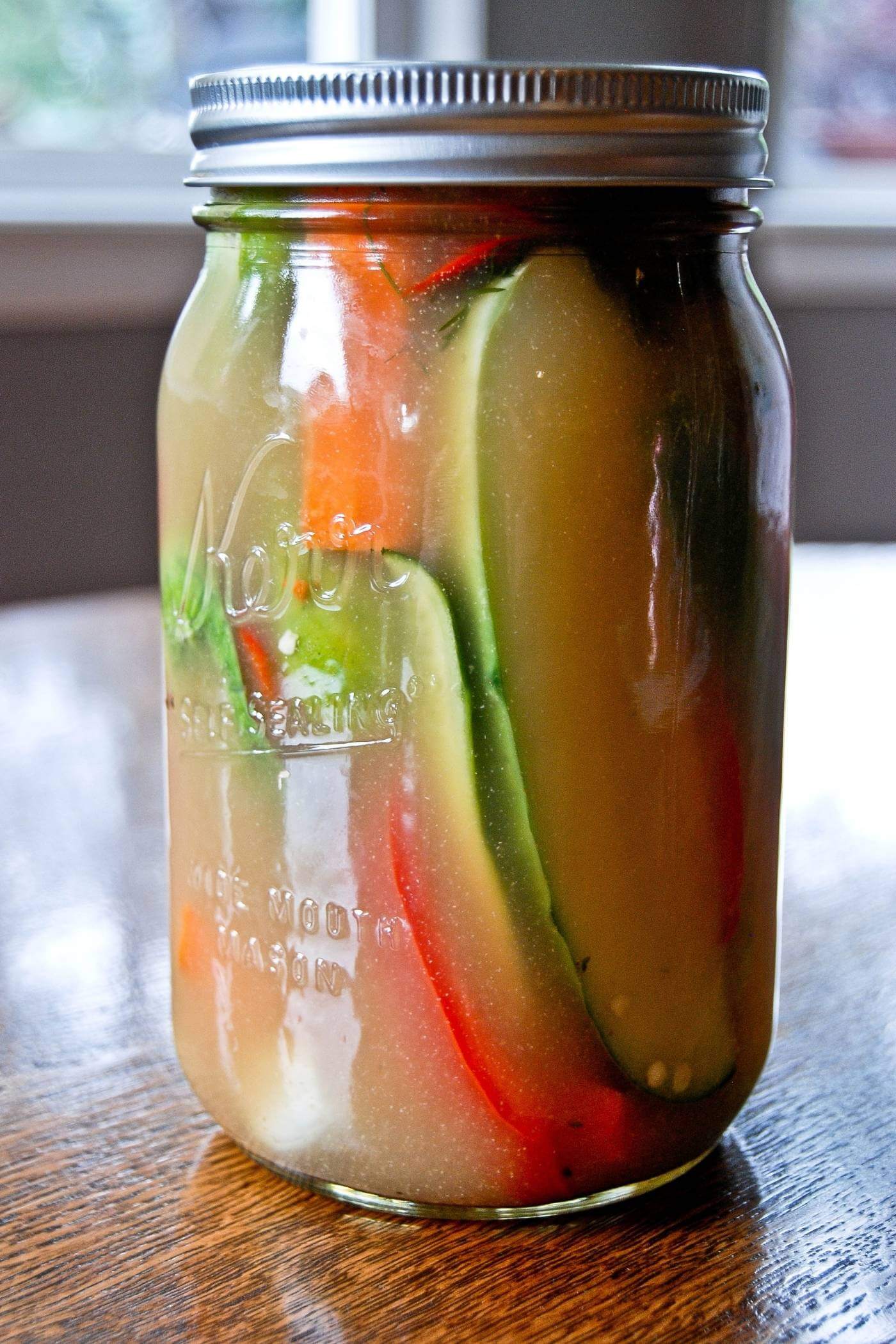 I made just a couple of alterations – the recipe called for pickling salt, but I just used regular old sea salt. I also added some carrots, and a couple of jalapeño peppers to the mixture, which ended up giving it just a tiny kick to balance some of the sweetness.
Grandma, I hope I made you proud.
If you try these Quick And Easy Pickled Cucumbers, let me know what you think in the comments!
More Relishes And Sauces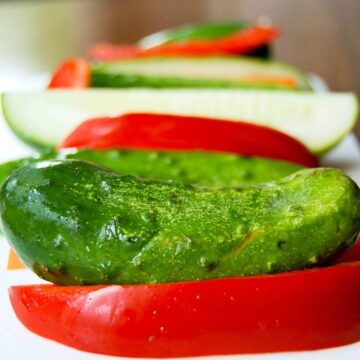 Quick And Easy Pickled Cucumbers
This quick and easy pickled cucumber recipe is full of flavor and is a great way to try your hand at refrigerator pickles!
Ingredients
3

dozen

cucumbers

4

cups

white vinegar

4

cups

water

¾

cups

sugar

½

cup

pickling salt (or regular salt)

3

tablespoon

pickling spices

2-3

grape leaves

sprigs of dill

10

garlic cloves

2-3

small red peppers

2-3

carrots, peeled and sliced

2

jalapeno peppers
Instructions
Wash, dry and split cucumbers, carrots and jalapeños length-wise in half.

Combine vinegar, water, sugar, salt, and pickling spices; simmer 15 minutes

Place a grape leaf in the bottom of each quart jar.

Pack pickles, adding 1 garlic clove, 1 red pepper, carrot slices, 2 slices of jalapeño pepper, and a sprig of dill to each jar.

Pour boiling liquid over pickles, allow to cool slightly and seal before transferring to the fridge.

These pickles will keep for about 4 weeks in the fridge.
Notes
Note: I did not process these jars for preservation/canning. If you're looking for a process to do that, here's a great tutorial.